It's every photographer's dream – a single lens that can do the job of two more more individual optics, that saves weight and space in your camera bag and saves all that tiresome lens-swapping and the missed shots that so often go with it.
The Canon RF 24-240mm f/4-6.3 IS USM has been on Canons RF lens roadmap for a while and we first glimpsed it at The Photography Show 2019. But now it's just been made official, and we've had the chance to pick one up and handle it in the flesh.
It's too early to offer any kind of comment on this lens's optical performance and image quality because we'd need to see a production sample and run in through our usual lab tests, but Canon says its performance is 'RF quality', meaning that it exploits the optical advantages of the new RF lens mount width and flange distance and Canon's latest lens technologies to meet new, higher standards of performance.
That will be good news to photographers wary of 'superzoom' lenses, as even the best superzoom lenses traditionally bring lots of optical compromises in exchange for that extended focal length.
This lens has been designed with the low-cost Canon EOS RP full frame mirrorless camera in mind. It's not one of Canon's high-end L-series lenses, but is instead designed to be light and affordable. It covers a 10x zoom range, from 24mm wide-angle up to 240mm telephoto settings. The maximum aperture is slightly down on other superzoom lenses at f/4-6.3 (normally you'd hope for f/3.5-5.6), but it's a small difference.
The main thing is how well it performs optically (we'll have to wait and see) and how it handles on the diminutive EOS RP body (which we can tell you right now).
Build and handling
A full-frame 24-240mm superzoom lens is never going to be small and we were worried about how this one would match up to the petite EOS RP body – but the combination actually handles quite well. Visually, it looks like a big lens on a small camera, but the weight distribution feels fine, and the RF 24-240mm f/4-6.3 IS USM has a neat, cylindrical profile not the widening front-heavy 'trumpet' shape often seen on bigger lenses.
The long zoom range means there's a two-stage barrel extension as you zoom towards the maximum focal length, but this still doesn't really upset the balance. The finish does feel a little plasticky, but at the same time the lens feels well put together with little or no play or 'wobble', even when fully extended. The finish is not up to the standard of Canon's L-series lenses, but then you're not paying L-series prices.
Performance
The lens we tried was a pre-production version, so we weren't allowed to take pictures with it. The nano USM autofocus felt fast and positive, however, and Canon explained that it's designed both for responsive still image shooting and smooth AF transitions when shooting video. Canon uses STM stepper motor technology for some of its smaller stills/video lenses, but chose its Nano USM AF here because it has more power for driving the bigger focus groups in full frame lenses.
That's pretty much all we can say about the performance right now, except to repeat Canon's assurance that the optical performance reflects the design opportunities of the RF system. We'll see for sure when we get a production version for review.
Canon is also very excited about this lens's 5-stop image stabilisation system. The 'steadying' effect is very visible in the viewfinder, so it's going to be interesting to test it in different low-light, slow shutter speed scenarios.
If you want one, though, you'll have to wait until September 2019, when the RF 24-240mm f/4-6.3 IS USM will go on sale at £899.99 on its own, or £1999.99 with the EOS RP as a kit.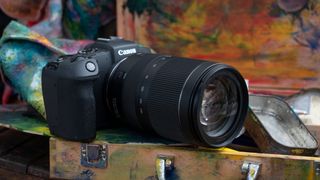 Early verdict
It's been a while since Canon made a 10x full frame superzoom, so it clearly has some confidence in this new lens. It balances much better on the slim EOS RP body than you might expect, and it's priced pretty competitively too, both as a standalone buy and especially as part of a kit with the EOS RP body. It's not likely to appeal to pros, but the price, the zoom range and the step up to full frame image quality could tempt a lot of enthusiasts and upmarket bloggers.
Read more:
• The best mirrorless cameras right now
• Which is the best Canon camera to buy?
• The best full frame DSLRs you can get today