The Hahnel Modus 360RT is a smart, small flashgun that won't weigh you down, but it's not lacking in high-end features, making it a very versatile bit of kit. It's available in a variety of dedicated versions to suit Canon, Nikon, Sony, Fujifilm and Micro Four Thirds cameras, all complete with automatic TTL (Through The Lens) flash metering. It's very much a downsized edition of the fully-grown Hahnel Modus 600RT Mk II, yet retains all of the key attractions while adding a couple of extras. It's actually quite amazing how much Hahnel has managed to pack into this compact flashgun, as we'll come to in 'key features'.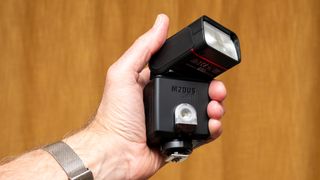 Specifications
Dedication: Canon, Nikon, Sony, Fujifilm, MFT
Gn, ISO 100, max zoom (m / ft): Gn 36 / 118
Bounce range: -7 to 90 degrees
Swivel, left / right: 90 / 180 degrees
Zoom Range: 24-105mm
Manual Power Settings: 1/1 to 1/128
AF-assist beam: LED lamp
Wireless: RF + optical master / slave
Additional Flash Modes: HSS, RC, SS, Strobe
Dimensions (W x H x D): 64 x 150 x 50mm
Weight (excl batteries): 300g
Key features
Unlike many flashguns, the Modus 360RT is powered by a rechargeable Li-ion battery pack that comes with a USB charger, instead of running on two or four AA batteries. This gives it greater staying power and faster recycling speeds, particularly noticeable after high-power flashes. It features a bounce and swivel head, complete with 24-105mm motorized zoom (in full-frame terms) and a pull-out wide-angle diffuser panel and catchlight card.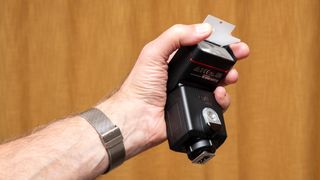 There's a full range of flash modes, including high-speed sync, slow-sync, rear-curtain and even a programmable stroboscopic mode, the last of which you'll generally only find on expensive, top-spec and full-sized flashguns. Another surprise, given the very competitive price point, is that the 360RT features not only infrared wireless master and slave modes, but boasts a built-in RF transceiver. This enables master and slave communication via radio frequency transmission over a much greater range of up to 50m, and is able to cut through obstacles and work around corners. RF is also more reliable than infrared when shooting under bright sunlight, for example when using fill-flash to banish unsightly shadows in sunny-day portraiture. Multi-flashgun setups can be configured in up to three separate groups, and off-camera flash is also available courtesy of Hahnel's Viper RF trigger (sold separately).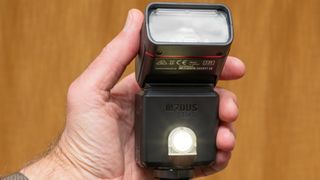 Whereas the larger and pricier Hahnel Modus RT600 Mk II has a conventional red AF-assist lamp, the 360RT substitutes this with a secondary LED lamp. That's good news if you're using a mirrorless camera that doesn't work with red AF-assist lamps. As well as providing AF-assist, you can also use the LED as a modelling lamp and even in its own right for close-up stills and video, with a range of power levels on tap. Another neat feature is a USB port for applying firmware updates as and when they become available, helping to ensure compatibility with new and future cameras.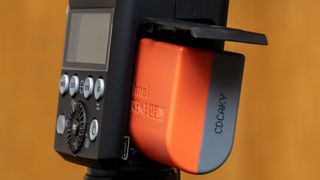 Build and handling
Compact, lightweight kit can often feel a bit flimsy but the 360RT feels solid and robust. It's made from high-quality plastics and has a sturdy metal hotshoe mounting plate, complete with an easy-action locking lever, rather than a more fiddly locking wheel.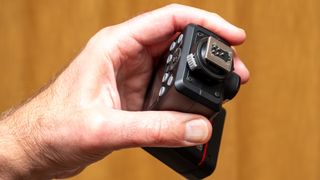 For bounce and swivel, you get -7 to 90 degrees vertical movement, the former being useful for extreme close-ups, as is the LED lamp. Horizontal swivel is more limited, as it only stretches to 90 degrees to the left, although there's a full 180 degrees of movement to the right.

The control interface is pretty old-school, based on the classic combo of pushbuttons and a rotary dial. The backlit mono display screen is pretty small, in keeping with the overall dimensions of the flashgun, but it's informative nonetheless and the backlighting changes from green to orange to indicate wireless master/slave modes.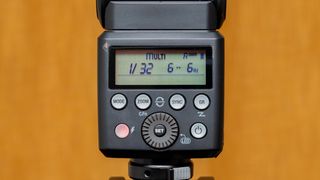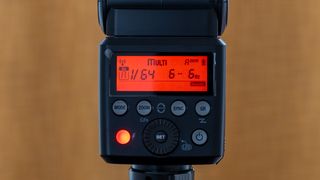 Plus and minus 3 stops of flash exposure compensation is available in TTL flash mode. Switch to manual and you get a range of adjustments from maximum output down to 1/128th power, in one-third stop increments.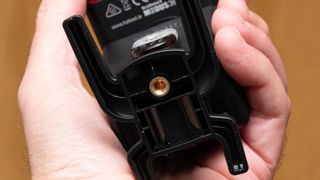 Performance
True to its promise, the Li-ion battery pack enables good stamina and fast recycle speeds. Fully charged, it should see you through around 400 full-power flashes and very many more at lower power settings. Alternatively, it's good for 11 hours running time of the LED lamp at its highest output setting, which delivers 110 lux at a distance of 1 meter, with a 5600K daylight color temperature.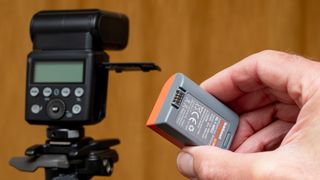 In our tests, the maximum flash output proved a little better than from most low-budget flashguns but a little less than from mid-range models like the Canon Speedlite 430EX III-RT and Nikon Speedlight SB-700. Ultimately, it should prove easily sufficient for direct flash in most scenarios, but you might struggle with bounce flash under high ceilings or with relatively distant walls. In TTL mode, the 360RT proved consistently reliable, with accurate exposure levels time after time.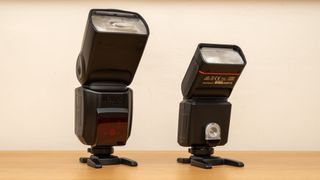 Getting back to recycling speeds, we found them to be virtually instantaneous at flash power settings up to and including a quarter of the maximum output. At one-half power, recycling speed is still a speedy one second, and just 1.6 seconds after a full-power flash, which is noticeably quicker than with most AA battery-powered flashguns. All in all, performance is very impressive for such a compact and affordable flashgun.
Lab results
Power output: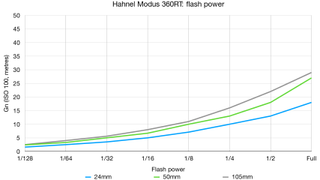 We tested the flash output through the entire range of manual settings, from 1/128th to full power. Towards the top end of the scale, output isn't overly generous and lags behind the maximum output of many mid-range flashguns.

Recycling speed: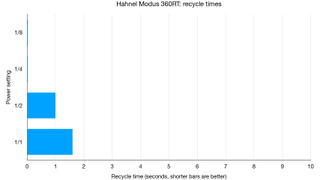 Conventional flashguns running on AA batteries can be a little tardy with NiMH rechargeable cells and downright slow with alkaline batteries, especially as you get further into the latter's lifespan. By contrast, the rechargeable Li-ion power pack of the 360RT delivers consistently excellent recycling speeds and impressive longevity between recharges.
TTL accuracy: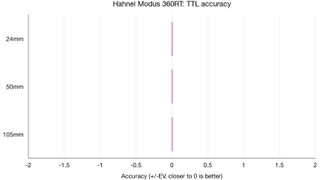 In our tests, the 360RT worked well in TTL flash mode, delivering very well-balanced flash exposures in a wide range of shooting conditions.
Verdict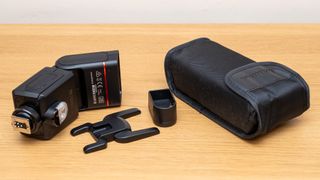 Feature-rich flashguns tend to be big, hefty affairs that make for a somewhat top-heavy combination in the hotshoe of a fairly small mirrorless camera. The Modus 360RT redresses the balance with its compact, lightweight build. Even so, there's a lot shoehorned into its diminutive frame, including RF and optical wireless master/slave modes, high-speed sync and programable stroboscopic modes, and it even has a secondary LED lamp, all powered by a high-capacity Li-ion battery pack. However, maximum flash power isn't overly generous.
How we test flashguns
At DCW, our in-house team of experts are well-versed in testing cameras, lenses and accessories. We review equipment such as flashguns using a combination of real-world and lab testing, rating the power output of the flash, its versatility, its key features and its ease of use. We use our findings from reviews to inform our comments in buying guides. For more, see our guide to how we test and review at Digital Camera World.
Read more:
• Best camera lenses to get
• Best Canon lenses
• Best Nikon lenses
• Best Sony lenses