From the front, the X-T100's design is classic and understated. Remember how old-school amateur 35mm SLRs used to look? Just neat, unadorned rectangles? That's what you get with the X-T100, and it's a million miles from the bulky bulges of a modern DSLR. In a way, mirrorless cameras have given us back the camera shapes we used to have.
It's not much more complicated on the top, with a mode dial, a shutter-release button with a power switch around the outside and two unobtrusive unmarked control dials.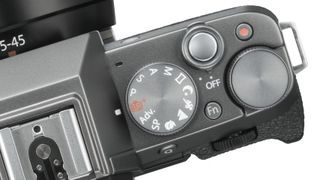 This is where the X-T100's layout departs from the models further up the range. While those cameras swap over to classic external dials for shutter speed, ISO and lens aperture (depending on the lens/body configurations), the X-T100 sticks to the usual digital camera convention of a main mode dial, with shutter speed, lens aperture and ISO settings adjusted via dials and on-screen displays. It's not necessarily better or worse, just what you get used to.
What's interesting, though, is that the X-T100 gives you not just one control dial – the usual setup for an entry-level or mid-range camera – but three. There's the two on the top and a third on the back of the camera used mainly for menu/settings navigation but also for setting the lens aperture in Manual or Aperture-priority mode, and for zooming in in playback mode.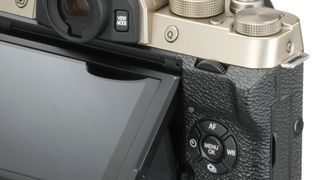 The right-hand dial on the top is usually reserved for exposure compensation, while the one on the left is multi-functional. By default, it cycles between the camera's different Film Simulation modes (very useful) but you can customise it to set the focus mode, metering pattern, white balance, ISO and more.
Customisation fans should note that there's also a Fn button on the top the camera that can be set to a range of uses, and you can customise 'flick' gestures for the touch-screen display. That's a nice touch (sorry), though in general gestures don't work quite so well on the smaller screen on the back of the camera as they might on a larger smartphone screen.
The touchscreen display does work pretty well, however. It's used for camera control rather than menu navigation, and you can set it up for touch focus or touch shutter. It's quite handy to be able just to tap on a subject on the screen and have the camera take a picture in a single action. In playback mode, you can pinch to zoom in on a picture and swipe to move on to the next.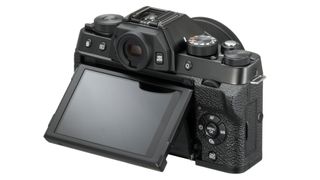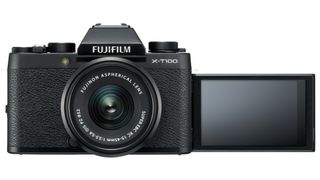 This screen also has a very unusual tilting action. It tilts up and down, which is perfectly common, but it also has a sideways hinge. Not only does this make it great for low-angle portraits and other vertical shots, but also swings through a full 180 degrees for selfies. It's more complicated, but it also feels more robust and predictable than regular side-pivot, vari-angle screens.
The screen, by the way, is bright, contrasty and colourful. In conjunction with the touch-shutter mode it could make you an experimental selfie addict – like the world needs more of those!
There's not too much to say about the pop-up flash, except that it's neat and feels robust and also has the lowest guide number (GN5 @ ISO 100) that we can remember seeing on any camera. Given the decent high-ISO performance of today's digital cameras – the X-T100 included – there aren't many situations where a pop-up flash will add to a picture; often it will make it a good deal worse.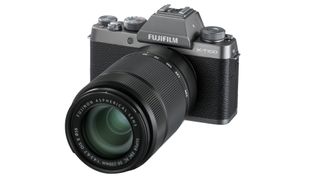 The X-T100's autofocus system is effective, but doesn't feel especially responsive. It's not slow, but it's not fast either, and the mechanical sound of the shutter action is quite drawn out, which can make you feel like the whole process has been more sluggish than it actually is. The X-T100 is not the quickest mirrorless camera out there, though it's easily quick enough.
The aforementioned 15-45mm lens is a mixed blessing. Its small size is a major advantage and its wider-than-usual focal range is extremely useful, but its zoom-by-wire operation lacks the immediacy of a mechanical zoom and you might find it difficult to remember which way to turn the zoom ring to zoom in and out (or it could just be us).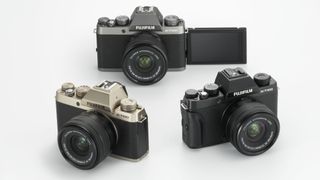 Out of the box, the X-T100 might look a little underwhelming but when you pick it up, all that changes. It feels solid, neat and refreshingly unfussy. It is made of plastic, but the top panel is made of classy anodised aluminium, and you do get a choice of colour schemes: dark silver, black or champagne gold. There's even a detachable grip included for those who can't get on with the stripped-back exterior design.