DxO PureRAW 3 does something rather clever. Like previous versions, it's effectively a batch processing tool for raw files that applies DxO's automatic lens corrections and noise reduction technologies to produce a new raw file in the DNG format that has all the extended dynamic range, color data and editability of regular raw files, but fully corrected and of a much higher quality.
If you use Adobe Camera Raw or Lightroom, you may not be aware that the raw processing is not the best. Adobe's raw engine does a good job with color profiles, AI masking, tonal adjustments, and basic lens corrections, but it's not the best noise reduction software. Adobe Lightroom Classic and Photoshop may be amongst the best photo editing software applications you can get, but they are not perfect. (See our Lightroom vs Photoshop comparison.)
But this is PureRAW 3's specialty. Its lens correction profiles tackle global lens sharpness issues but also edge softness, all via DxO's correction profiles developed in-house for tens of thousands of camera-lens combinations. And with DeepPRIME XD it uses AI-powered noise reduction and detail enhancement to produce truly transformative results. The worse the original raw file, the more dramatic the transformation.
There are no editing tools. For that, you can use your regular software – Lightroom, for example. PureRAW 3 is simply a batch-processing tool for producing higher-quality raw files. DxO claims DeepPRIME XD can produce up to 2.5 stops improvement in noise control, and everything we've seen makes that look like a pretty conservative claim.
Key features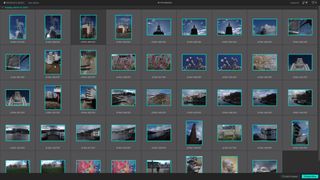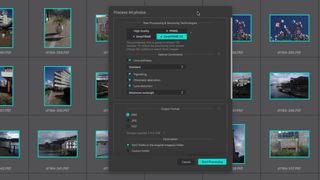 DxO PureRAW 3 works in a very simple way. You feed it a batch of raw files and it processes them into high-quality Linear DNG files which behave like regular raw files in your software, but with the DxO's corrections applied.
You can use PureRAW 3 as a standalone program, adding the files or folders you want to process, launch it directly by right-clicking files in Windows Explorer or the Mac Finder, or run it from within Lightroom, where the PureRAW 3 plug-in will add a processed version of your file(s) to your catalog in a subfolder alongside your original.
The principle is the same as previous versions, but PureRAW 3 adds many new features and capabilities.
The first and most important is DeepPRIME XD (eXtreme Detail) which uses AI and a larger neural network to produce DxO's best-yet noise reduction and detail enhancement. And with the release of this version, DeepPRIME XD now works with Fujifilm X-Trans sensors and their non-standard color filter layout.
PureRAW 3 now offers queued batch processing with the ability to move images within the queue while processing is being carried out and different processing for different batches.
There are new crop options to reflect the original aspect ratio, the 'maximum rectangle' (largest crop), or full sensor area together with blank distorted areas around the edges where lens corrections have been applied – useful perhaps if you want to use content-aware fill tools.
You don't have to output DNG files. PureRAW 3 can also generate ready-to-share corrected JPEG images and now, in version 3, TIFF files. TIFF export will give you better quality for editing without going the raw/DNG route.
Design and interface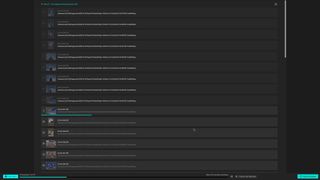 DxO has added some new features to the PureRAW 3 interface, but it remains pretty much as simple to use as it was before. You can just start it up, drag a folder full of images onto its window ('Lightbox'), click the 'Process Now' button, choose your output settings, and then leave PureRAW to get on with the processing while you do other stuff.
There's more choice in the processing settings than before, but they are still pretty straightforward. You can now choose between JPEG, TIFF, and DNG (raw) output files, and you don't have to accept all of DxO's automatic corrections – you can disable those you don't need.
Launching PureRAW 3 by right-clicking files or from within Lightroom is a little different – you still get the same choice of output settings.
Performance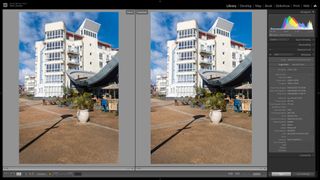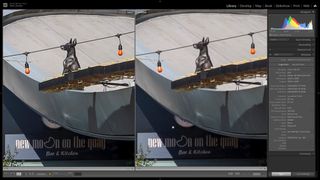 There are two aspects to PureRAW 3's performance; speed and image quality. If you use the DeepPRIME processing, each image can take a minute or more to process. If you don't use DeepPRIME the processing is a lot quicker and you still get DxO's excellent lens corrections.
The image quality is pretty remarkable, especially if you compare DxO's DNGs with raw files side by side in Lightroom. With low-ISO images shot on good cameras with good lenses, the difference is small but visible nonetheless, and with higher ISOs or worse/older camera gear, the quality gap widens considerably. Often it hardly looks like the same sensor or the same lens.
PureRAW 3 does have a couple of quirks and limitations. It doesn't support all camera-lens combinations, and our early version didn't have a correction profile for the new-ish Sony FE 20-70mm f/4 G lens. Also, when you create DNG files, PureRAW does apply sharpening, so you have to remember to disable that in your raw editor later, or you will be sharpening images twice.
Perhaps the biggest drawback is the size of PureRAW's DNG raw files, which are 2-3 times larger than the raw files they come from. That's unavoidable because they are 'demosaiced' raw files where each pixel has full RGB color data, not the mosaic of red, green, and blue pixels in regular raw files.
Verdict
PureRAW 3 isn't just for pixel-peepers. The improvements it offers in image quality are clearly apparent, especially with older or cheaper camera gear and especially at higher ISO settings. It's ideal for anyone who wants to stick with their regular photo editing software but wants better-quality raw files to work from. It's especially interesting as a Lightroom add-on, as it delivers all the advantages of raw but with a quantum leap in quality.
PureRAW 3 might not look cheap for what is essentially a batch processing and optimizing tool, but it's a fraction of the price of upgraded camera gear and better lenses.