The Coolpo AI Huddle Pana is designed to improve the quality of video calls on Zoom, Teams, Meet or your conferencing app of choice. It is one of a number of conference room webcams.
If, like many of us, you've spent more than a year using standard webcams as a gateway into virtual meeting rooms then the flaws of them will be all too obvious. Let's be honest, laptop cameras have a tendency to look directly up their owner's nose for a start. Yet as soon as you attempt to introduce some kind of control, some direction, into the footage you send out, you stop concentrating on the other participants. If there is more than one of you at your end, it's even harder; you need to huddle up to a single camera to be seen at the other end, or find a way to keep changing cameras. It's possible (however unlikely) that one of your distant colleagues will say something useful.
Coolpo AI Huddle Pana: features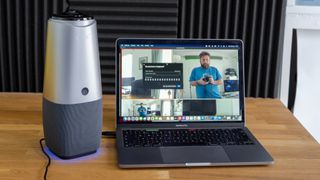 The Coolpo AI Huddle Pana is – despite the name – designed to solve the need for huddling. Instead the camera sits atop its grey pillar, like a sleek pepper mill, and uses facial recognition to identify the speaker, cropping in on them and any other active participants. It does this by dividing the screen area into more than one framing – video windows, in effect – as if it were directing a live TV show. Despite having the effect of a live broadcasting suite, it has only a single power button, and touch-sensitive mute and volume buttons.
Its most obvious use is conferencing, but it clearly has possibilities in distance learning and, in my experimentation, it also served surprisingly well in helping remote grandparents feel that they're with an excessively active toddler from nearly 200 miles away. The only slight worry, depending on your colleagues or visitors, is the lack of any hole in the base for a Kensington lock or equivalent security device.
Coolpo AI Huddle Pana: specs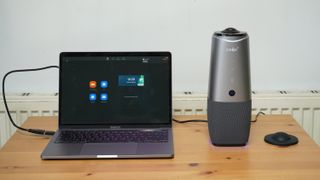 Field of view: 360˚ horizontal, 60˚ vertical
Cameras: 1
Sensor: 1/1.7 inch CMOS 3840 x 2160 30fps
Aperture: ƒ/2.4
Microphone range: 5m (15ft)
Size: 304 x 75 x 75mm
Weight: 2.6lb/1180g
Performance
Given the amount of data available from a single upturned fish-eye lens and four directional microphones the device does a good job of detecting active participants, and highlighting the person talking with a red rectangle is helpful for those at the other end who might be new to the experience. There is an occasional hesitation in re-framing, which will be especially apparent when people start walking around, but that's just as present on the Owl Labs's competitor.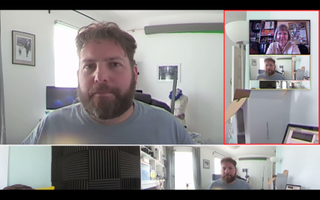 Some have complained about a lack of options, but thanks to software updates it is now possible – but still not necessary – to make choices. A Mac or PC tool called CoolpoTools can be downloaded and it gives you the option to adjust the AI mode (disabling it and framing the shot with the mouse if you prefer), block certain areas of the 360 for privacy, e.g. the monitor in your room. There are also basic Brightness/Hue/Contrast/Exposure options which were useful in combating the auto exposure's slightly gloomy image in one of my test rooms (which has two very bright sunlit windows on one side).
There was one slight irritation that I can't leave unmentioned though; before I made these changes I needed to update the Coolpo which is done by turning off then pressing the power button six times rapidly before using CoolpoTools to perform the update. I wasn't always confident I'd pressed the button enough times so it took me a while to realise that my M1 MacBook Pro was, for whatever reason, not able to perform the update (even though it will happily use the Coolpo for a Zoom meeting). On an Intel iMac there was no problem. To be fair, Coolpo seem to monitor software issues, and this is now reported.
In terms of video quality, I'd caution you not to be over-excited by promises of 4K (remember that CCD is looking at the whole room), but from the other end it's definitely more engaging than a fixed camera pointing down a meeting table. One issue you might encounter is lens flare toward the bottom of the screen.
Build & handling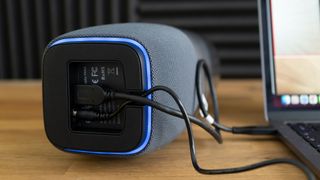 The tower feels convincing in the hand and a typical use scenario would be to leave it in a conferencing space with the supplied USB lead connected to the bottom. This makes the short length (it's under a meter) not so much forgivable as quite handy as you simply power it up with the one physical button. After that you can plug in a machine and select it via Zoom or whichever conferencing app you are using from the speaker and camera menu. At least for the UK adapter I was sent the power lead is also not very long, which is a little less helpful if you don't have a conferencing cable hole in your table. The supplied lens cover, a cap with no clip, might be easily lost but given the shape it is also impossible to misunderstand, so another usability credit is to be added.
Coolpo AI Huddle Pana: verdict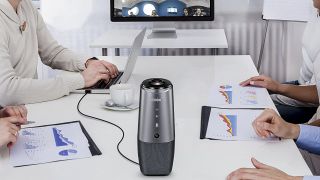 There aren't many cameras like this but it's very easy to see a need for them as we return to shared spaces. Better still this is cheaper and the default video arrangement preferable and free of branding unlike the only single-lens competitor the Meeting Owl Pro (which can't resist putting its logo on the video it sends out). The 60˚ vertical slice the system monitors turns out to be a good choice (keeping most office or home mess out of shot) and while more resolution is always desirable the microphones are very effective within the promised range and filtering of the rich speaker sound near-flawless. Image resolution might not be as high as seen on PTZ devices, but there are no moving parts or maintenance required either and being able to confidently place the AI Huddle Pana in the middle of a table means you get a more even view of everyone. Given this is accompanied by progress in the software for those who can't resist the odd tweak (we know who we are) there is very little to complain about here.
Read more
Best webcams for home working
The best cameras for streaming
Best PTZ cameras
Best document cameras
The best video-editing laptops
Best ring lights