Should you pay as much as you can for a pair of binoculars or as little as you can get away with? The Celestron Nature DX 8x42 makes a compelling case for hedging your bets by pairing some decent optics that behave brilliantly in bright light with a build quality that impresses for the money.
You won't find many binoculars as affordable as the Celestron Nature DX 8x42 that boast a waterproof design, though it's fair to say that these BaK-4 roof prism binoculars aren't the best when it comes to wildlife spotting at dawn or dusk when their limited abilities with low light come to the fore.
However, if you mainly want an affordable pair of entry level binoculars for wildlife watching by day then the Celestron Nature DX 8x42 are hugely likeable and a great candidate for an excellent first pair of binoculars.
Specifications
Magnification: 8x
Objective diameter: 42mm
Field of view at 1000m: 129 metres
Field of view at 1000 yds: 388 ft
Closest focusing distance: 2 metres/6.5 feet
Eye relief: 17.5mm/0.69"
Weight: 629g/22.2 oz
Dimensions: 135x126x52mm/5.3"x4.9"x2"
Key features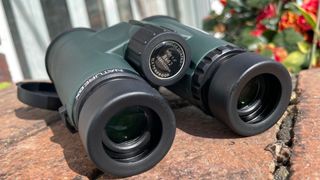 The Celestron Nature 8x42 offers 8x magnification and has 42mm objective lenses. That makes them less than ideal for stargazing and astronomy, which typically requires binoculars with slightly more magnification and larger objective lenses.
That's not to say that the Celestron are not well prepared for the outdoors. They're fully waterproof (something you shouldn't take for granted at this low price) and nitrogen-purged so not likely to fog-up.
Build and handling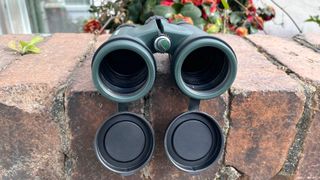 You might expect a highly affordable pair of binoculars like the Celestron Nature DX 8x42 to be very obviously lacking in build quality when compared to pricier rivals. It's true that the Celestron Nature 8x42 has a slightly more plasticky feel than higher-end products, but the faux rubber-coated barrels are reasonably easy to grip. There are a few design flourishes – such as thumb grooves on the undercarriage – and the Celestron Nature DX 8x42 are always easy to hold and feel extremely solid. Nothing is going to snap-off nor get misaligned, which is always a risk at the cheaper end of the market.
That's despite the Celestron Nature 8x42 feeling incredibly lightweight. Their 629g/22.2 oz weight instantly makes them a candidate for travel, though that's largely down to their relatively small barrels and low magnification.
Something the Celestron Nature DX 8x42 has that many of its pricier rivals don't have is firmly attached lens caps. While the eyecups get a standard figure-of-eight lens cap that can be attached to the neck strap, the objective lenses get lens caps with rubber rings. So when you use the Nature 8x42s the lens caps drop down underneath the lenses. This is a design we like because it makes them hard to lose.
What the Celestron Nature DX 8x42 does lack is a decent neck strap; the one supplied box is rather basic and uncomfortable, and worth upgrading. However, the small case supplied is of decent quality, boasting a little padding, and also having a pocket for a small notebook.
Performance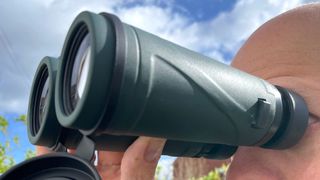 Take the Celestron Nature 8x42 into your garden to look at birds on a bright sunny day and you'll get as good a performance as from almost any pricier rival. While you can get binoculars that offer a slightly closer focus than the two metres/6.5 feet managed by the Celestron Nature 8x42, we were able to get as close to a goldfinch in our garden as we needed to. Taken out on a hike the Celestron Nature 8x42's field of view also proved ripe for sweeping across mountain vistas.
One thing we did notice while using the Celestron Nature 8x42 is that although we got incredibly sharp and detailed images – particularly on bright days – there is a tiny amount of blur at the extremities of the field of view. It's hardly a deal breaker and many will not even notice it. However, sharpness throughout the field of view is something reserved for slightly more expensive binoculars.
For all its quality during the day, the Celestron Nature 8x42 does lack star quality. These are not the binoculars for you if you're after something solely for stargazing and astronomy; they just don't let enough light in. We've also seen better binoculars in a deep dusk, though they've still usable in low light.
Something we did love about the Celestron Nature 8x42 was its fast focus knob, which has a little more give in it than most. Here the knob moves quickly and stops very precisely. It means you can quickly focus on an animal before it darts off into the undergrowth or flies away.
We also like the fact that the eyecups offer a lot of eye relief (good news for wearers of spectacles) and have two settings that are easy and quick to toggle between. The diopter dial is a little stiff, but in our view that's a good thing. After all, you're only going to use this once in a blue moon to calibrate the Nature 8x42 to your own eyesight, so you don't want it to slip.
Verdict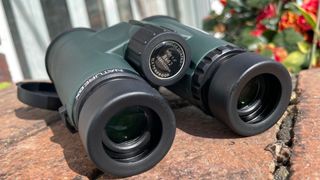 If you're after a pair of binoculars for general use then you'll love the Celestron Nature DX 8x42. Its design may lack a few niceties – such as thumb grooves and a comfortable neck strap – but its waterproof chassis and faux-rubber jacket impress for the price.
With detailed images in bright light yet average results in low light the Celestron Nature DX 8x42 doesn't delight in all scenarios. However, a fast-focus knob, a handy lens cap design that makes them hard to lose and a nice carry case makes the Celestron Nature DX 8x42 perfect for using around your garden, or for putting in the glovebox of your car for general travel and touring.
Read more:
• The best binoculars
• Best budget binoculars under $100
• Best marine binoculars
• Best image-stabilized binoculars
• Best compact binoculars
• Best rangefinder binoculars
• Best opera glasses
• Best binocular harnesses
• Best binocular tripod adapter
• The 10 best spotting scopes
• The best night vision goggles
• The best telescopes for astrophotography