The price tag is enough to make you take a double-take. $1,099/£1,299 for a flashgun? That's more than twice the price of Canon's very capable Speedlite 600EX II-RT and almost as much as a Canon EOS RP complete with 24-105mm kit zoom lens. So Canon's new Speedlite EL-1 should be something pretty special if it's to deserve a place as one of the best flashguns, and indeed it is. We're just not sure if it's quite special enough.
Specifications
Max output (ISO 100, metres): Gn 60 at 200mm zoom
Bounce (degrees): -7 to 120 degrees
Swivel (left/right): 180/180 degrees
Zoom Range: 24-200mm
Flash Exposure Compensation: +/-3EV
Manual Power Settings: 1/1 to 1/8192
Additional Flash Modes: HSS, RC, Strobe
Dimensions (WxHxD): 84x149x136mm
Weight (inc. batteries): 687g
Key features
A headline feature of the EL-1 is that it doesn't run on the usual set of four AA cells. Instead, it has a rechargeable 'LP-EL' Li-ion battery with the promise of far greater stamina and much quicker recycling speeds. But we've seen this before in the likes of the considerably cheaper Hahnel Modus 600RT Mk II and Modus 360RT, as well as the Godox V860II.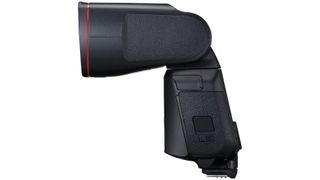 All of these third-party flashguns feature built-in RF (Radio Frequency) transceivers for wireless master/slave operation over a range of up to 100m (50m for the Hahnel 360RT), another of the EL-1's main claims to fame. However, Canon gives a shorter recommended maximum operating distance of 30m for RF transmission, and 10-15m for infra-red optical linking. The Hahnel 600RT II and Godox V860II also match the maximum power rating of the EL-1, with a Guide number of Gn 60 (ISO 100, metres) at the 200mm end of the zoom range. You have to dive deeper into the Canon's feature list and specifications to find advantages.
Build and handling
The EL-1 is a relatively big and weighty beast, tipping the scales at 687g including its battery. That battery, which looks like an oversized LP-E6 series camera battery, can deliver enough juice for up to 335 full-power flashes but, naturally, you can't slot in a spare set of AA cells if it runs flat while you're still shooting. A spare LP-EL battery will set you back around $119/£155, although the flashgun is also compatible with Canon's CP-E4N external battery pack, which costs around $199/£195 and holds eight AA cells.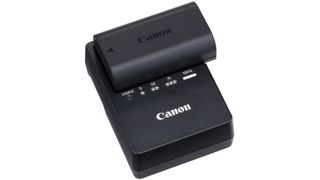 Build quality is simply excellent, as you'd expect from Canon's top-end, pro-grade kit. Unlike most flashguns, the EL-1 is fully weather-sealed, so rain needn't stop play. You don't have to worry much about overheating either, as it features an 'active cooling system' with a built-in fan to ensure cool-running with up to 170 full-power flashes in a single burst. Further finery includes two built-in LED modelling lamps with adjustable brightness and color temperature.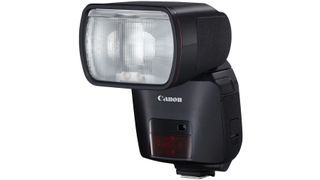 Performance
As they say, power is nothing without control and the EL-1 really does stand out in this respect. Not only does it have a highly intuitive onboard control system, but you can turn the flash down to really low levels, equivalent to just 1/8192 of maximum power. That's great for really subtle flash and for shooting extreme close-ups.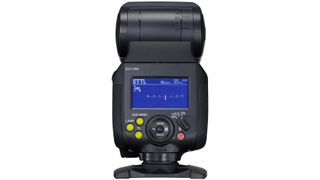 Recycling times are practically instantaneous at low to medium power settings and still less than a second even at the full-power setting. TTL accuracy proved excellent in our tests and the colour quality of the flash remains very consistent even at extremely low settings, which is a significant technical challenge for flashgun technology. All in all, it's a great performer but, then again, you'd expect nothing less considering the selling price.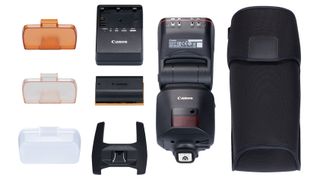 Lab data
Flash power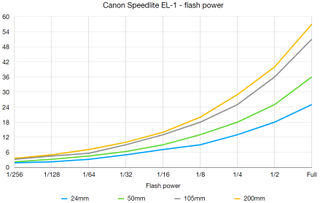 We tested the EL-1 through its full range of power settings and measured the output with a Sekonic flash meter. It's among the most powerful flashguns that we've ever used but also enables very minimal output when required. Our graph goes down to the 1/256 power setting but you can keep going all the way to 1/8192.
Recycle speed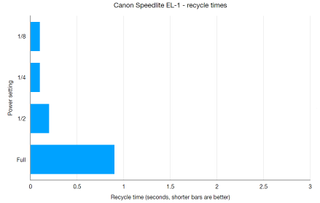 The recycle time until the EL-1 is ready to fire again after a flash is negligible, up to and including the half-maximum-power setting. Even at the full-power setting, it takes less than a second to recycle and can keep on going in bursts of up to 170 flashes, thanks to its internal cooling fan.
TTL accuracy: 0EV
We enjoyed excellent and highly consistent accuracy when using automatic through-the-lens flash metering, in wide-ranging shooting scenarios.
Verdict
For features and specifications, the EL-1 ticks pretty much every box you could ever imagine putting on your wish list for a flashgun. It's immaculately built with robust, weather-sealed build quality, and has a powerful maximum output. Yet it can also deliver very low output for subtle, close-up lighting. Its Li-ion battery pack gives it excellent stamina and ultra-fast recycling speeds, and the built-in cooling fan takes care of any overheating issues. We'd have happily given the EL-1 a 5-star rating but, ultimately, the most remarkable thing about this flashgun is its frankly outrageous asking price. Unless you're a pro shooter who absolutely must have the very best own-brand flashgun to sit atop your EOS-1D X Mark III, the cost is almost impossible to justify compared to a flashgun like the Hahnel Modus 600RT II.
Read more:
The best flash diffusers, softboxes and modifiers for your speedlight
How we test flashguns
At DCW, our in-house team of experts are well-versed in testing cameras, lenses and accessories. We review equipment such as flashguns using a combination of real-world and lab testing, rating the power output of the flash, its versatility, its key features and its ease of use. We use our findings from reviews to inform our comments in buying guides. For more, see our guide to how we test and review at Digital Camera World.