For decades, telephoto zoom lenses were divided into two categories. Budget-friendly consumer models were reasonably compact and tended to have a maximum aperture of f/4-5.6 as you stretch through the zoom range. Professional lenses were bigger, heavier, had higher-grade optics and usually boast a faster maximum aperture of f/2.8 or f/4. The maximum aperture also remains fixed throughout the zoom range, earning them the 'constant-aperture' moniker. The Canon EF 70-300mm f/4-5.6L IS USM broke the mold - offering a half-way house between the two types.
Despite having a fairly modest filter diameter of 67mm, 10mm less than the fast Canon EF 70-200mm f/2.8 L IS II USM lens, the lens barrel is almost the same width. At first the 70-300mm L looks like a budget telephoto zoom packed into an oversized full metal jacket. Look deeper, though, and you'll find a full raft of Luxury-series finery. Build quality feels rock solid, there's full environmental sealing to guard against moisture and dust in adverse shooting conditions, and all switches and moving parts feel of fully professional quality.
Specifications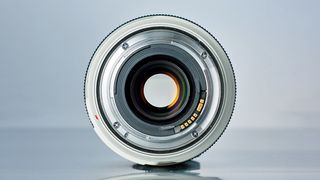 Mount: Canon EF
Full frame: Yes
Image stabilization: Yes (four stops)
Lens construction: 19 elements in 14 groups
Angle of view: 34º - 8º 15'
Diaphragm blades: 8
Minimum aperture: f/32-45
Minimum focusing distance: 1.2m
Maximum magnification ratio: 0.21x
Filter size: 67mm
Dimensions: 89x143mm
Weight: 1,050g
Handling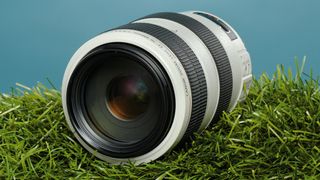 The zoom ring is silky-smooth, without any hint of stiffness, but there's no zoom creep. Even so, the lens features a zoom lock switch, to be on the safe side. The ring-type USM (UltraSonic Motor) autofocus is wonderfully fast, quiet and precise, and features full-time manual override to tweak the focus if needed. The minimum focus distance of 1.2m is fixed throughout the zoom range, giving a maximum magnification of 0.21x at 300mm.
The battleship build quality inevitably has an impact on weight. The all-plastic EF-S 55-250mm IS lens, which performs very well on APS-C DSLRs such as the EOS 90D or EOS 7D Mark II, weighs a mere 390g; the 70-300mm L is more than 2.5 times as heavy, at 1.05kg. Despite the extra bulk and weight, handling feels very natural, even on lightweight bodies like the 550D. And while the 70-300mm L is fully compatible with full-frame cameras such as the 5D Mark IV, it gives really powerful telephoto reach on cameras with smaller sensors, with an effective zoom range of 112-480mm.
The main strength of a faster telephoto lens, with a larger maximum aperture, is that you can fend off camera shake and freeze the action with a faster shutter speed. Conventionally, you'd need a minimum shutter speed of 1/500 sec to avoid camera shake at an equivalent focal length of 480mm. Using an EF 70-200mm f/2.8L IS II USM with a 1.4x teleconverter, you'd get a maximum equivalent telephoto length of 448mm, with a one-stop faster aperture of f/4. However, this combination is significantly more expensive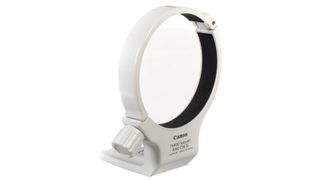 As with most Canon L-series lenses, you get a couple of neat extras included with the 70-300mm L. First up is a an ET-73B lens hood, which has a felt-type inner lining to cut down reflections while limiting ghosting and flare. There's also an LP1424 soft pouch and, while this doesn't measure up to the soft case provided with the EF 70-200mm f/2.8L in terms of quality, it's better than nothing. One thing that's missing, however, is a tripod collar, which a lens of this weight really needs for tripod use. The C (W II) collar, pictured above, is only available as an optional extra, with a hefty additional cost of about $170/£170.
Performance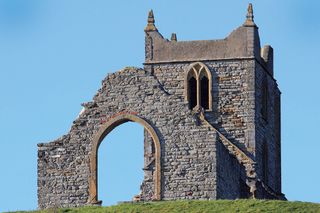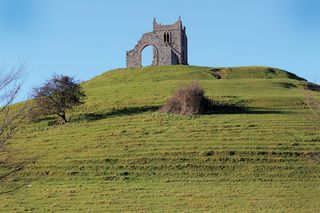 To beat camera shake, the 4-stop image stabilizer on the 70-300mm works brilliantly well. On a EOS 550D, we consistently got pin-sharp handheld shots at an equivalent 480mm focal length, shooting at just 1/30 sec. It's actually a dual-mode stabilizer: Mode 2 applying stabilization in just the vertical plane when panning in landscape-orientation, and vice versa when panning in portrait-orientation. Naturally, no amount of stabilization can counteract movement on the part of the subject but, then again, current Canon DSLRs offer excellent image quality at higher ISO ratings, so it's relatively painless to offset the lens's smaller maximum aperture by increasing the camera's sensitivity. The other bonus of wider apertures is that you can minimize depth of field, but 300mm at f/5.6 still enables you to go really shallow.
The bottom line is image quality, and the 70-300mm L really excels. Distortions are remarkably low for a zoom lens and chromatic aberrations are practically non-existent. The biggest factor, however, is that an expensive lens like this with a relatively modest maximum aperture really has to deliver super-sharp shots with plenty of contrast when shooting wide open. Whereas we'd expect to need to shrink the aperture to f/8 or f/11 for good image quality with most budget telephoto zooms, the 70-300mm gives premium quality at its maximum apertures.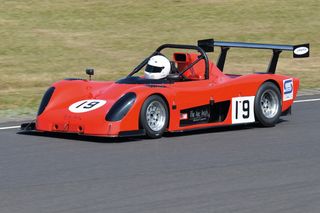 Verdict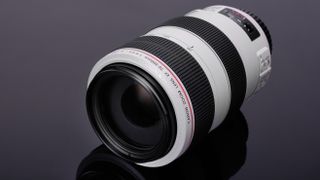 This lens aims to give you the best of both worlds, combining L-series build quality with the 70-300mm range more common in budget tele-zooms. Unfortunately, something has to give, and in this case it's aperture. Instead of the constant-aperture design of most upmarket models, this one has a variable widest aperture of f/4-5.6.
It's tempting to think of this as a budget lens dressed in an L-series cream overcoat. However, this misconception is dispelled when you start shooting. Handling is refined, with silky-smooth zoom and focus rings, and autofocus is very fast and highly accurate. Best of all, image quality is fabulous. Sharpness is stunning throughout the entire zoom range, with practically no drop-off even at the 300mm end.
Read more:
Best Canon lenses
Best wide-angle lenses for Canon
Best Canon telephoto lenses