Do you need a pair of image stabilising binoculars? That depends on your budget, because although they are not particularly affordable, the Canon 10x42L IS WP are some of the most addictive binoculars to use that we've ever tried.
Kudos goes to Canon's image stabilisation technology, an electronic system of motion sensors and a vari-angle prism that gets rid of the wobble. Have you ever held a pair of binoculars to the night sky, or even to a bird, and not being slightly disappointed by the shakiness of your view? Of course you have, and the Canon 10x42L IS WP attempts to cancel that out, a bit like noise cancelling headphones do with ambient noise.
It's all done at the press of a button, and though the tech is not without its drawbacks and is expensive, you will do well to find any owners of image stabilising binoculars that regret their (major) purchase.
Here's everything you need to know about the Canon 10x42L IS WP, the best quality image stabilisation binoculars currently available.
Specifications
Magnification: 10x
Objective diameter: 42mm
Field of view at 1000m: 114 metres
Closest focusing distance: 2.5 metres/8.2 feet
Eye relief: 16mm/0.57"
Battery required: 2xAAs
Weight: 1.1kg/39.2 oz
Dimensions: 8.5x13.7x17.6cm
Key features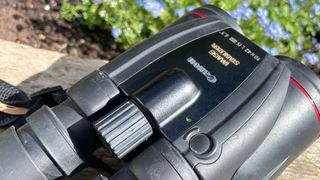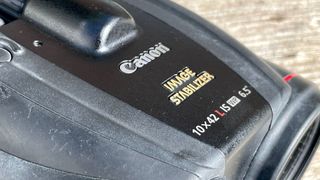 Part of Canon's flagship L series, the 10x42L IS WP are Porro prism binoculars with ultra-low dispersion lens elements to make single points of light clearer. If that's really useful for general astronomy, they also help accentuate colour. Its 10x42 design means a 10x magnification and 42mm objective lenses, which are the ideal size for both stargazing and for wildlife, with its reasonably large objective lenses letting in plenty of light at night and in low light conditions in early mornings and late evenings. They also boast a 'Super Spectra' layer to avoid ghosting as well as a multilayered anti-reflective lens coating.
However, there's no doubt about what is the key feature on the Canon 10x42L IS WP. Its vari-angle system consists of several gyroscope motion sensors, which respond to how wobbly your arms are. There are actuators around lenses to compensate for any movement your arms make, which tweak the vari-angle prism to correct the refraction angle of light coming into the objective lenses. It works instantly just by touching a button on the top of the chassis, which glows red for around a minute before deactivating to save battery power.
If there is a disappointing aspect to the Canon 10x42L IS WP, it's with the extras that you get inside the box. We don't particularly like the lens caps included for the objective lenses, which are of basic quality and slightly too large to fit reliably. There are also individual components, so they're easy to lose. It's a similar story with the dual figure-of-eight cover for the eyepieces, though at least that can be attached to the neck strap, so it's always on hand and harder to lose.
Build and handling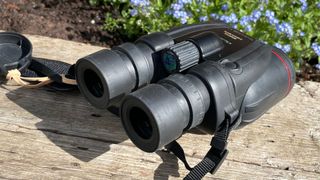 The Canon 10x42L IS WP is one tough product. In fact, since they're completely waterproof, and nitrogen-purged, we'd put them in the class of marine binoculars, though mostly they're used for astronomy and wildlife. Tough they may be, they're also very heavy. At 1.1kg/39.2 ounces, you could argue that they need their clever image stabilisation technology to be usable over long periods.
To that end there's a tripod thread built-in to the bottom of the Canon 10x42L IS WP. That means that they can be mounted on a tripod and used completely stable without having to use the image stabilisation technology. It also means that you can mount them on a tripod if you want to share observations with others.
Something else we loved about the Canon 10x42L IS WP is that they have twist-out eyecups that offer lots of eye relief, which is handy if you wear spectacles. They have an exit pupil of 4.2mm and a close focus of 2.5m/8.2 feet, which is useful for wildlife.
Performance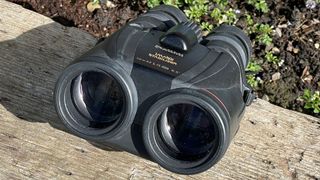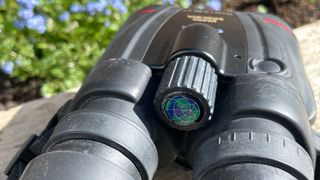 Do you stick your arms out when you use binoculars? You should always hold binoculars reasonably close to the end of the barrels, nearer to the objective lenses, and keep your elbows resting on your torso. That way, you will limit the wobble.
However, when you are using the Canon 10x42L IS WP none of that is imperative. You can lift them up, and point them at, say, the Moon, and simply press the 'magic' button. The Moon looks almost completely still. It's a revelation for astronomy, but also for wildlife. You get to see more for longer. They also help compensate for the wobble caused by safari truck drivers who won't switch-off their engines when game-viewing.
If you see a slight blur when using the image stabilisation feature then you're working the Canon 10x42L IS WP too hard. After all, those actuators can only compensate for 0.8° of movement. So it's still best to keep your arms as still as possible by bringing them into your torso.
With or without the image stabilisation tech the Canon 10x42L IS WP offer lusciously coloured and clear views of anything you care to point them out. However, it's still important to calibrate them to your individual eyesight using the diopter ring on the right hand eyecup, which is easy to use and stays in place.
However, the Canon 10x42L IS WP aren't perfect. As well as being heavy to hold for long periods the focusing knob between the eyecups is slow to do its thing, so it takes slightly longer to focus on a new target than it could.
Verdict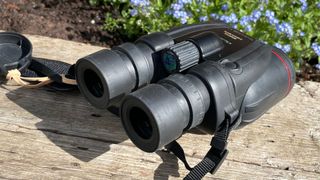 Fed up of wiggly stars? Constantly annoyed by bird watching that sounds fun in theory but rarely gets you a steady look at anything? Although they are very expensive, the Canon 10x42L IS WP is capable of revolutionising how you see the world in close-up.
Their 10x42 specification make them perfect for both wildlife and stargazing, while their tough design and incredibly impressive image stabilisation technology makes them the perfect binoculars to take on trips to the world's special places. Use them properly and they will likely never leave your side again.
Read more:
• Best binoculars
• Best rangefinder binoculars
• Best marine binoculars
• Best image stabilized binoculars
• Best binocular harness
• Best budget binoculars
• Best binocular tripod adapter
• Best monoculars
• Best night vision goggles