While BenQ's entry-level SW240 24-inch PhotoVue monitor has been making the headlines (and winning awards) for its combination of exceptional affordability and performance, it's likely that many pro-level users will want something more… at least as their primary working display.
As far as 27-inch professional photo monitors are concerned, the BenQ SW271 still has excellent affordability on its side, but more significantly it has a 4K resolution display, a more flexible set of inputs and some additional operating conveniences to assist with workflow efficiencies.
First and foremost, the combination of a 27-inch display and 4K resolution is a good one for both photographers and video-makers alike as it is able to better resolve the fine details delivered by the current generation of higher-res sensors in both DSLRs and mirrorless cameras. It also ensures rendering times are still very short and, in physical terms, it's not too big so it's comparatively easy to move around and doesn't take up an excessive amount of workspace (particularly if it's being used as a secondary monitor).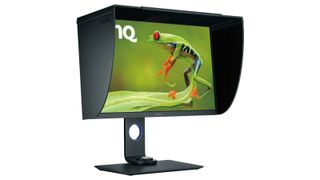 The SW271's 3840x2160 pixels display gives a healthy 163 ppi so high-res stills simply pop off the screen. This further helped by the display's 10-bit color depth which delivers a palette of 1.07 billion colors, giving much smoother shading, color transitions and tonal gradations.
In terms of reproducible colors, the SW271 delivers 99 percent of the Adobe RGB color space (so, obviously, 100 percent of sRGB) and 93 percent of DCI-P3 which is a cinematographic color space that's now taking over from sRGB (it has a 25 percent wider coverage) as a standard for color reproduction on transmissive displays, including tablets and smartphones. As far as most working photographers are concerned, it's the Adobe RGB coverage that's important because it encompasses the much wider color gamut of printed images produced on either pro-level inkjet printers or when using the CMYK offset litho printing process for outputs such as this magazine.
The display panel itself is an IPS type with LED backlighting. IPS stands for In-Plane Switching and this is a display technology which enhances the off-axis image performance by minimizing any brightness reduction or color shifts when viewing the screen from the sides. As a result, the image still looks perfectly good at wide viewing angle of up to 178 degrees, either vertically and horizontally. This isn't really going to matter to you, but it means that any clients (or students) looking on will still be getting the full effects of the color, brightness, contrast and dynamic range.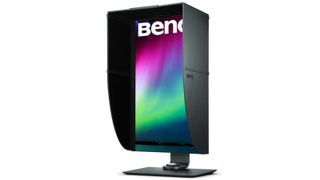 You want more?
As with all the BenQ PhotoVue monitors, the SW271 is calibrated before it leaves the factory and a printed report is included in the supplied documentation. Subsequently, hardware calibration – via an external colorimeter – is performed via BenQ's proprietary Palette Master Element software (supplied on a CD-ROM). Hardware calibration is generally considered superior to software-based calibration (which also requires a colorimeter), but the latter will still ensure you keep the monitor within specifications over time.
Three calibration settings – which are essentially application-based such as, say, print or Web – and two custom profiles can be included in the monitor's colour modes, alongside Adobe RGB, sRGB, DCI-P3, Rec 709 (the colour space for HD TV displays), DICOM (the standard for medical imaging), B&W and Darkroom (which optimises the brightness and contrast for working in darkened situations such as a video editing suite). Additionally, again primarily with video-makers in mind, there's an HDR mode which supports HDR10 inputs.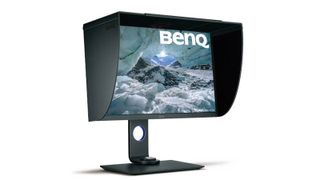 The adjustable parameters for the custom profiles include brightness, contrast, sharpness and black level which are adjusted via on-screen sliders; plus color temperature (5000, 6500 – the default – or 9300 degrees Kelvin presets and a user-defined setting), gamma, hue and saturation. Six gamma settings (1.6, 1.8, 2.0, 2.2, 2.4 and 2.6) are provided for optimizing the contrast ratio and color saturation to the application. Also adjustable are various system functions such as the menu display time, auto power-off timings, and audio settings. Usefully, the menus can be set to automatically rotate when the monitor is used in the portrait orientation.
Unlike the budget-priced SW240, the SW271 is supplied with BenQ's 'Hotkey Puck' which essentially serves as a wired remote controller (with its own dedicated connector port). It has its own circular recess in the monitor's base (but you can put it anywhere you like) and provides a set of three multi-function keys, an 'Exit/Return' key a four-way navigator pad and an 'OK' button which serves as the 'Enter' key. This by-passes the five function keys arrayed along the lower right-hand front of the monitor (also the location of the on/off button), and works in conjunction with the monitor's on-screen menus for set-up and adjustment.
The Hotkey Puck is particularly handy if you need to regularly switch between color modes as three of them can be assigned to the puck's main keys (for example, Adobe RGB, sRGB and B&W), but it's generally more intuitive and less time-consuming than using various combinations of the unmarked keys on the monitor itself. However, either method can be used to select on-screen menus for the input source, screen brightness and contrast, aspect ratio and a big selection of color adjustments which is also where you create and saved your custom color profiles. These adjustments include color balance, saturation (with individual channel controls for red, green, blue, cyan, magenta and yellow), hue (again with the same individual channel controls), gamut, gamma and black level.
A neat feature is called 'GamutDuo' which is a version of the picture-beside-picture (PBP) display mode that enables you to simultaneously view an image, for example, in the Adobe RGB and sRGB color spaces. As an aside, there's also a picture-in-picture (PIP) viewing mode.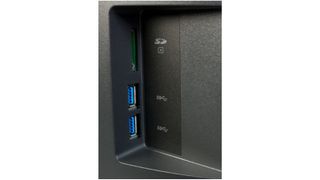 Putting it together
The SW271 is very similar to the SW240 in terms of styling with super-slim bezels, a gently curved back casing and an adjustable stand which comprises a base and a support column. These two components couple via a beefy three-claw bayonet mount which simply twists into place and is tightly secured via thumb-screw.
The column slots – and automatically locks – into the back of the monitor, after which it can be adjusted for height over a range of 15 centimeters as well as tilted or swiveled. It's all well-made and certainly looks very strong and ensures good stability.
The display's surface has a matte finish to help reduce glare, but an
six-section, clip-together modular hood is supplied to provide proper shading and more effectively eliminate reflections, ensuring optimum viewing conditions regardless of the time of day. The hood's modular design means it's easily reconfigured with the monitor is being used in the vertical orientation.
The connection options comprise a pair of HDMI ports (Version 2.0), Display Port, USB 3.0 (upstream for hubbing) and USB Type C plus a 3.5mm stereo audio headphone output. Two downstream USB 3.0 ports are located on the rear left side of the monitor along with a slot for SD/SDHC/SDXC memory cards which, apart from the convenience factor, also frees up one of the main USB ports for the great many photographers using this format. A circular port in the support column serves as a cable run to keep everything tidy.
Performance
The SW271 has a 14-bit 3D LUT (Look-Up Table) which enables hardware calibration independent of your computer's colour management. However, to test this monitor's performance we ran software-based calibration using the new SpyderX Elite colorimeter from Datacolor. As of yet, PME doesn't support the latest generation SpyderX for hardware calibration, but the monitor still calibrates well, delivering more accuracy. That said, the factory calibration results are pretty good for the monitor straight out-of-the-box, but the good news is that SW271 can do even better and has great calibration potential.
It scores highly for colour accuracy and the uniformity of colour accuracy (i.e. across the screen) also gets a big tick. The uniformity of brightness – always a challenge with backlighting using LEDs – isn't quite so good with, in particular, the top corners exhibiting some slight fall-off although it's unlikely create any real issues when editing images or preparing them for print. The response time is 5.0 ms – which is more than fast enough for video applications – and the refresh rate is 60 Hz.
For most photographers, it's the Adobe RGB colour mode that will be most important and here the SW271 performs exceptionally well across the wide gamut, delivering impressive accuracy and vibrancy along with tonality and texture. Additionally, the gradation from saturation to subtle is seamlessly smooth, and the colour fidelity is complimented by deep, solid blacks. The 4K resolution ensures beautifully rendered fine detailing and seamlessly smooth tonal gradations, as well as enabling better – and easier – assessments of image sharpness. An added attraction for both photographers and video-makers is the availability of an HDR mode and the associated increase in dynamic range.
Verdict
There's plenty of competition among 27-inch 4K pro-level monitors and from manufacturers who have been in this space a lot longer than BenQ, but the company is a quick learner and has been steadily improving its products specifically targeted at photographers. The SW271 still has affordability as a major attraction, but it competes quite successfully with pricier 4K models in terms of performance, utility, flexibility and calibration potential so it's more about sheer value-for-money than the actual price tag. Add the USB-C port, HDR mode and hardware calibration, and you're getting a lot of pro-level monitor for your money.
BenQ is now definitely a force to be reckoned with in pro-level photography monitors (and, indeed, seems more dedicated to these users than some of its rivals), and the SW271 is arguably its best advertisement yet. A calibrated monitor is a key element of managed color workflow, but with so many demands on the budget, it can be an expense many photographers may find challenging. Not anymore.
Read more
The best monitors for photo editing in 2020
Best video-editing monitors
Best monitor arms
What to look for when choosing a monitor
The best ultrawide monitors for photo editing
Best USB-C monitors for photo editing
The best photo editing tools and accessories
The best monitor calibrators
The best photo editing software