I now have so many devices on my desk that keeping them all topped up with power is becoming a real nightmare. Down by my feet, I have a powerstrip fit to burst with several differently powered chargers for my MacBook, my phone, my cameras, my watch… you get the idea. This in turn leads to wires trailing up and down the back of my desk which I continually catch with my feet when I am fidgeting.
Anker Prime 240W: Specifications
Total power: 240W
Single port: 140W, 100W, 100W, 22.5W
Ports: 3x USB-C, 1x USB-A
Size: 104.5 x 78.4 x 33.8 mm (4.11 x 3.09 x 1.33 in)
Weight: 656 g (23 oz)
There are numerous laptop chargers that offer a couple of high-powered outputs capable of charging demanding devices like laptops, although these don't solve the multiple trailing wires issues. However, desktop power hubs are here to save the day. These are devices like the Anker Prime 240W charger that sit atop your desk with one mains wire, the charger can then distribute power from its multiple ports with shorter or more organized cables.
The Prime 240W is the latest version from Anker and has gone through a bit of a redesign from prior iterations, made to stand tall rather than lying flat. As the name might suggest the charger has a total power output of 240W shared across its four ports. For just single port use, this breaks down as one 140W USB-C port, two 100W USB-C ports, and a 22.5W USB-A port.
This is all made possible by GaN (Gallium Nitrate), the revolutionary new material that allows GaN chargers to conduct more power while creating less heat, but just to be safe, the Anker Prime range comes with Anker's Activeshield 2.0 which apparently monitors heat over three million times a day to protect its chargers from getting too hot.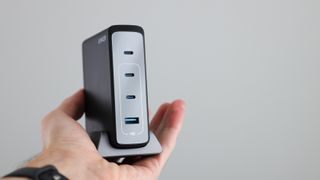 Anker Prime 240W: Design & Handling
The Anker Prime 240W looks really good, I am really happy to have it sitting on my desk. The body is a dark matt grey with a steel-looking frontage and stand, it looks sleek and sophisticated if a little futuristic for a more traditional desk.
Standing tall, even with the stand it has a very slim profile and I could easily tuck it in between other objects or into little gaps in my desk. You are not required to use the stand, and it detaches, so if you want to use the charger lying down on its long edge or fit it under a desk tidy or laptop riser then this is possible. Wedging the charger into too tight a gap might hinder its ability to dissipate heat, but thankfully in my testing, even when pushed it managed to stay remarkably cool and the heat was never pronounced.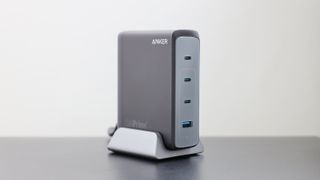 One issue I did have with uprighting the charger in its stand was that it was too easily pushed or pulled over when putting in or taking out cables. The length of the stand doesn't match the charger body, and the material is also a little slippery, so it too easily rocks back and forth. Even holding the charger with one hand while removing cables it wasn't very stable and pivoted forwards, and it did cause it to slip from its perch for me a few times which was mildly inconvenient.
Now for a niche complaint that won't affect everyone, but the power cable is hardwired into the back of the charger, rather than being removable, which meant that getting the charger on my desk or repositioning was a chore. My desk (from that popular Swedish furniture store) has a small hole for inserting wires through that also keeps them tidy. It is not large enough for a mains plug but can fit smaller figure eight plugs or barrel plugs, like those used by a monitor or other desktop charging hubs. All this meant that I was disappointed I could not keep the wire as "invisible" and organized as I had hoped.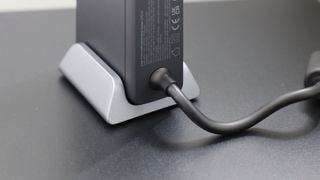 Anker Prime 240W: Performance
For powering a whole desk full of devices, the Anker Prime 240W did its job to perfection. From simple setups to just charging my laptop and a few low-powered devices like my phone, watch, and headphones, all the way to pushing it with simultaneously charging and using a MacBook Pro 16in (i7), a MacBook Air (M2), my Pixel 8 Pro, and an Anker Prime 20,000mAh power bank, it handled it all with no dropouts and the charger remained cool.
Checking the individual ports, each port was able to deliver the maximum power. Most of my devices can't take nearly as much power as this charging is capable of outputting. An iPhone for example can charge using the 140W port, but will top out at around 30W and won't charge faster. Depending on what devices you have charging rates will differ, but charging my 16-inch MacBook Pro from empty to full took just under two hours when not in use.
I tested it with some devices that demand a constant high level of power. Anker's 20,000mAh power bank was able to charge at its top rate of 100W, and I use the Zhiyun Molus X100 light which requires a 100W USB-C PD connection that had no issue running off any of the 100W USB-C ports, and with 240W to play with, and was even able to run two at the same time!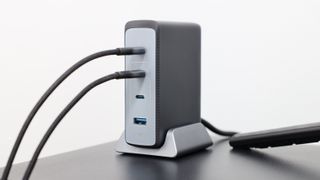 Anker Prime 240W: Final Verdict
The Anker Prime 240W desktop charger is a worthy addition to my desk, and it solves my headache of trying to keep trailing wires from multiple outlets in my power strip organized and under control. Design-wise the charger looks great, very sleek and refined, the stand unfortunately has a few issues with keeping the charger straight in its stand, and the hardwired-in power cable meant I couldn't quite position the charger how I would have liked.
However, when it comes to powering all the devices on your desk, then look no further. The 240W spread across the four outlets was more than enough for me to keep my usual collection of devices up and running, and even when pushed with multiple laptops the charger had no issues and remained cool under pressure. Single ports at 140W or 100W were also great for my odd devices that were especially demanding.
The Anker Prime 240W charger is a little on the expensive side though, with less powerful chargers coming in much cheaper, so you need to ask yourself if your current devices can use all the power this charger can give, although it is not a bad idea to be prepared for the future.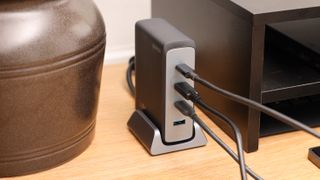 Should you buy the Anker Prime 240W?
✅ Buy this if...
You want a powerful charger for lots of devices
You want to power a demanding laptop
You want to organize your power adapters
🚫 Don't buy this if...
You want a charger to move around with
You don't have a lot of high-powered devices
You might also like...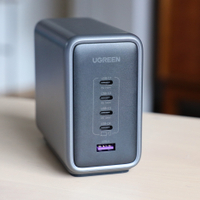 If you want one of the most powerful desktop chargers on the market right now then the Ugreen Nexode 300W desktop charger is one to check out. Besting the Anker's top output by an additional 60W, and adding an extra port means that if you have a lot of devices that need charging simultaneously then this might serve you better.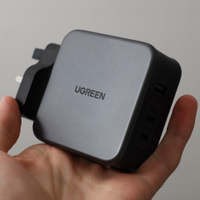 If you want a lot of power but want to also be more mobile, then the Ugreen Nexode 140W charger provides 140W of power across three ports, or all via a single port for one demanding device. The charger is also lightweight and quite compact for powering up while on the move.