The number of devices that can be powered through a USB-C connection is growing exponentially, as is the amount of different devices we each own. As the number of devices we have is outstripping the number of sockets we have in our homes, it is getting more and more essential to find solutions for powering as many devices as possible from the same place.
Ugreen Nexode 140W: Specifications
Max total output: 140W
Max single port: 140W, 100W, 22.5W
Total ports: 2x USB-C & 1x USB-A
Size: 17.1 x 13.5 x 5.7 cm (6.73 x 5.32 x 2.24 in)
Weight: 560 g (19.75 oz)
Luckily charging technology seems to be keeping one step ahead, and there are numerous powerful solutions that offer enough power and ports to keep even several of the most demanding devices topped up with juice.
The Ugreen Nexode 140W is one of the most powerful wall chargers yet, supporting the very latest PD 3.1 charging protocols, enabling it to output 140W of power either spread across its three ports, or all via one of its USB-C ports, it can keep even the most power-hungry creative laptops topped up with power.
The second USB-C port is rated for 100W, and the USB-A port for 22.5W. If you want to use all ports together, you can still get a 65W + 45W + 22.5W charge, which is plenty to keep a couple of power-efficient laptops going, while also still charging a phone or two, or other smaller devices like watches and headphones. The charger also has intelligent power switching built in that can optimize the power to each port for maximum output, which is very useful if you use a combination of high and low-power devices at the same time.
Check out the images below for a breakdown of exactly what power you can get from what port combinations:
The Ugreen Nexode 140W is more on the expensive side for a charger, with lots more budget options around, although you'd have to settle for fewer ports or less power output. I think for the headline speeds this charger can achieve it's not an unfair price to pay, and you do get a 240W capable USB-C to USB-C cable thrown in, but it might make a few people think twice before making the investment. Chargers seem to be frequently discounted though, so this is always something to look out for if you can't justify the full price.
Ugreen Nexode 140W: Design & Handling
The first thing I noticed about the Ugreen 140W charger upon opening the packaging is its size. While still smaller than some older MacBook chargers, this is quite a large charger, although for the power it delivers this is not unsurprising. Despite its large shape however, the charger manages to remain fairly lightweight, so carrying it around is not much of a chore, although it might struggle to fit into smaller bag pockets.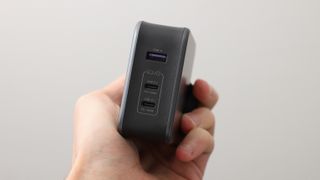 The design is Ugreen's signature gunmetal grey styling, minimal branding, and just a little pop of purple inside the USB-A port. I really like the design of Ugreen's chargers, they are a little space-age but look like they mean business.
The 140W charger has three ports on the back, the two USB-C ports are grouped together under a helpful graphic indicator above that demonstrates these are the two ports designed for phones and laptops (and other high-power devices). The ports also have their maximum single port power output printed right below them which is incredibly helpful as it's often so hard to remember which identical-looking but differently-powered port is which. At the top is the single USB-A port, a connection that has reached the limits of its power, but is still incredibly useful for older and lower-powered devices.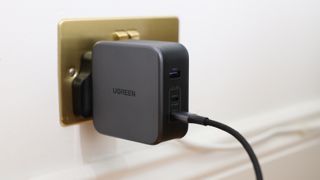 Ugreen Nexode 140W: Performance
Do you need such a powerful charger is a key question to ask yourself. This charger is really only worthwhile if you plan to run a laptop regularly, for phones and smaller devices, all this power might be overkill. With popular phones like the iPhone and Pixel families topping out at less than 30W charging, you can charge these devices at maximum speed with smaller and cheaper chargers. Although this might be an opportunity to future-proof yourself for owning more powerful devices down the line.
If you can take advantage of it, then the power from this charger is immense. For single port charging, the 140W was more than I needed to keep the 16-inch MacBook Pro I tested running, even while pushing the processor with video and photo editing or video games. When switching to using multiple outputs, I was able to power two MacBooks (16-inch i7 Pro and 13-inch M2 Air) and my Pixel Pro 8, all at the same time and all in active use. The charger also kept impressively cool, when being used for several hours, the charger was warm to the touch, but not as hot as more compact chargers like the Anker Prime 100W reach when pushed.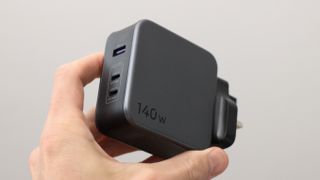 Ugreen Nexode 140W: Final Verdict
The Ugreen Nexode 140W 3-port charger might well be the only charger you are going to need. Powerful enough to support even the most power-hungry laptops and devices with 140W single port charging, and even with all three ports in use there is enough power to keep less power-intensive laptops running, alongside your phone and other devices. I pushed this charger as hard as I could with two laptops and a phone and it kept all three juiced up while running with no issues like power drop-outs or overheating.
The charger itself is well-designed and looks great, the charger is lightweight, but it is a little larger than some of the lower-powered devices on the market, so will take up a little more room in a bag, or require a bit more space around your wall outlet. This also isn't the cheapest charger on the market, but for the power and future-proofing, I think this is a great investment.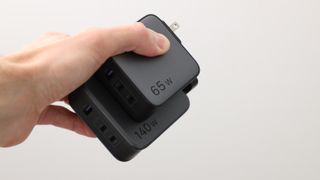 ✅ Buy this if...
You want one of the most powerful single-port chargers
You want to fast charge multiple devices
You want a consolidate the amount of chargers you use
🚫 Don't buy this if...
You want the most compact charger available
You only have low-powered devices
You want to charge more than three devices at the same time
You might also like...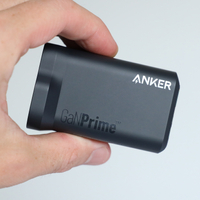 If you won't take full advantage of all 140W, then a slightly less powerful option is the Anker Prime 100W charger which has the distinct advantage of being much more compact than Ugreen's charger, while still managing to squeeze in three powerful ports for a myriad of devices.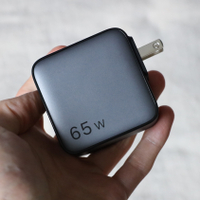 If you like this Ugreen 140W charger but love to travel and don't mind something less powerful then the Ugreen Nexode 65W charger is a more compact charger that comes with the option of three click-in international adapters and a handy carry case so you can charge up to three devices anywhere you go in the world.
Read more: check out our top picks for the best iPhone charger, or the best laptop charger for more options.