As a cut-down version of Adobe's Premiere Pro, Adobe Premiere Elements 2021 is an entry-level non-linear editing app that's designed to help video-makers trim, fix and share their video footage as polished programs, complete with titles and transitions.
We throw the term non-linear around assuming everyone is familiar with it, so a quick history lesson is in order to explain the jargon. In the early analogue days of video editing you required a video tape player and a recorder to edit footage into a tightly edited program. Due to the linear nature of the tape-to-tape workflow you had to start editing from scratch if you needed to change running order of the shots.
The best video-editing software nowadays, including Adobe Premiere Elements 2021, are all digital non-linear apps allow you to re-arrange the running order of your clips with a simple drag and drop, enabling you to work much more quickly. Non-linear editing is as revolutionary to the video maker as a word processor is to the author who previously used a typewriter.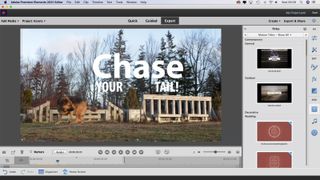 Key features
Adobe Premiere Elements 2021 boasts a sophisticated set of post-production tools, such as the ability to make selective adjustments to the colors and tones of a sky without changing the foreground exposure for example. Premiere Elements 2021 enables you to apply multiple effects as non-destructive adjustment layers, giving you more freedom to experiment with a range of creative looks. Premiere Elements 2021 is available for Mac and PC.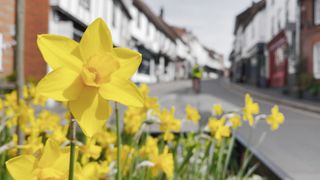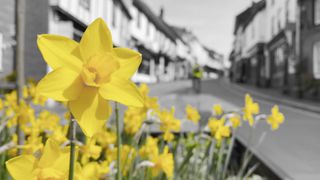 Thanks to our ever-present smartphones we may shoot as many clips as we do stills, leading to an asset management problem. Fortunately the Elements 2021 Organizer uses Adobe Sensei Artificial Intelligence technology to analyze the content of your footage as well as your photos. It then adds Smart Tags that cover common subjects such as sunsets, dogs, cats and so on. Premiere Elements 2021 can also organize clips according to faces, so you can search through auto-generated stacks of clips to identify particular people more quickly.
Interface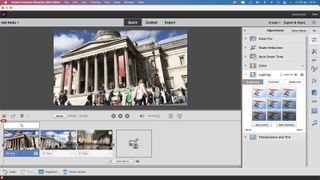 Once you launch Premiere Elements from the Organizer you're presented with three workspaces - Quick, Guided and Expert. The Quick workspace is a good place to trim single clips or stitch a few shots together in the timeline before sharing them as a short sequence. You can also add titles and transitions here. The novice video editor might be wise to explore the Guided workspace. Here 25 themed Guided Edits walk you through the video production process - from the basic tasks of importing, re-ordering and trimming clips in the timeline to adding 'icing on the cake' post-production graphical elements. In the Guided workspace step-by-step text instructions are accompanied by pop-up highlights around various buttons and panels, so you can quickly learn how to find and use key editing tools.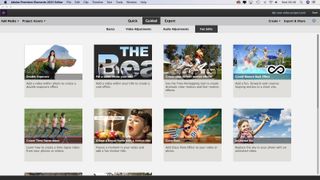 Premiere Elements 2021 adds two new creative Guided Edits to its repertoire (building on those found in Premiere Elements 2020) - Double Exposure and Animated Mattes. Double Exposure enables you to creatively combine part of a video layer with a photograph using a range of layer blends. This Guided Edit provides a springboard to a variety of creative montage effects that will catch potential viewer's attention as they swipe through their social media feeds.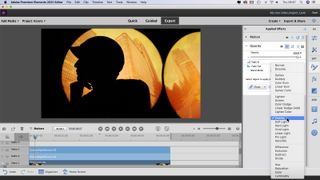 The Animated Mattes Guided Edit enables you to introduce a clip's main subject in a variety of creative ways. Instead of fading (or mixing) up from black you can reveal your subject via animated effects such as geometric patterns. This type of Guided Edit adds texture and variety to your programmes as well as introducing novices to more advanced post-production techniques such as Luma keying.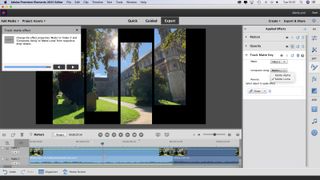 After spending time trying the tricks and techniques introduced by the Guided Edits you'll become more confident in exploring the Expert workspace. The Expert workspace looks very similar to other non-linear video editing apps with a timeline along the bottom, a bin full of project assets at the right and the edited programme is displayed in the viewer. Extra tools such as filter effects can be summoned by clicking icons on the right. Unlike the Quick workspace you can add video and audio content to multiple tracks to combine footage in more creative ways.
On the Mac version of Premiere Elements we found that the contents of the Add Media and Project Assets panels weren't always visible until we'd clicked on them multiple times. This is a new glitch that wasn't an issue until we updated the app to the latest version (2021.1). We also found the app a little sluggish when it came to dragging effects and transitions into the timeline. This occasionally involved multiple drag and drop attempts before we succeeded in applying an effect (while running Premiere Elements on a 27 inch 2017 model iMac).
Quality of results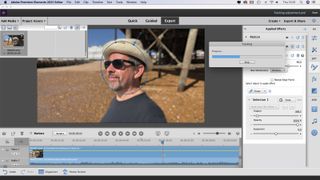 Premiere Elements 2021 does a great job of letting you trim long shots into shorter slickly edited shows complete with titles, transitions and extra 'bells and whistles' such as picture-in-picture effects. A new feature is the ability to apply effects to specific objects and then have those effects follow (or track) the subject throughout the video. In the official Adobe demo video we see a child running through a field. The image is blurred with an effect and then the child is selected with a quick scribble. Auto tracking then ensures that the child remains sharp while she runs through a blurred background.
In practice we found that auto effect tracking worked well if your subject remains at a similar size in the frame throughout the clip (as the girl does in the demo). However when faced with a running dog Premiere Elements couldn't keep track of the subject's changing size in the frame. This auto tracking feature would benefit from a Guided Edit as it takes a while to get to grips with it. You can download a trial version of Premiere Elements 2021, that gives you 30 days of full access to the app, enabling you to take it for a thorough test drive.
Verdict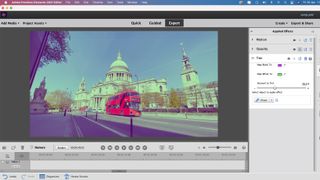 Adobe Premiere Elements 2021 helps video-editing novices hit the ground running as it guides you through simple and then more sophisticated techniques. You can then stretch your creative wings using the tools in the Expert workspace. If you're already using Photoshop Elements then Premiere Elements 2021 will slot nicely into your content-creating workflow and expand the contents in you social media feed. If you're already using Photoshop Elements then Premiere Elements will slot smoothly into your organizing, editing and sharing workflow. It is worth pointing out that Premiere Elements 2021 is particularly good value if you buy it at the same time as Photoshop Elements 2021, as a twin-pack deal.
Read more:
• The best laptop for video editing
• Best cinema cameras
• Best 4K cameras for video
• Best vlogging cameras
• Best video editing monitors in 2021
• Best keyboard for video editing
• Best audio recorders
• The best desktop computers
• The best photo-editing software you can buy
• The best VPN
• The best website builders for photographers
• Best recovery software for photos
• Best password manager