The 2021 Historic Photographer of the Year Awards is open now – enter your best archive photos to be in with a chance of winning a $685/£500 cash prize.
Open to amateur and professional photographers around the world, the competition runs until 19 October 2021, at 23:59 GMT [19:59 EDT/18.59 CDT/16.59 PDT].
Historic Photographer of the Year celebrates the very best historic places and cultural sites across the globe, from obscure little-known gems to the most popular national treasures.
And with varying travel restrictions in place across the world, the competition organisers are calling for entries already captured – rather than asking entrants to head out and explore anew.
Images can be entered in two categories: Historic England; and Where History Happened, in association with Sky History.
As the name suggests, Historic England is limited to images of that country.
Entries should be "… inspired by the beauty, breadth, and brilliance of England's history," states the competition website, "… real rare and rousing sights which best describe who the English people are and where they have come from."
In contrast, Where History Happened is a global category, and the judges will be looking for "sensational shots of locations that have witnessed fascinating moments from history."
"It need not be a moment that changed the world; it could equally be something that had an important impact on local or social change."
Click here to enter Historic Photographer of the Year now!
Official partners for the 2021 awards include History Hit TV, a multi-channel history network led by historian and broadcaster Dan Snow; the leading broadcaster Sky History; the Association For Historical And Fine Art Photography; and Historic England.
The overall winner of Historic Photographer of the Year will receive £500/$685 in cash, and have their work showcased on the official competition website.
Each category winner will also receive their own "unique money-can't buy experience."
Entries will be judged on originality, composition and technical proficiency, alongside the story behind the submission and its historical impact.
Meet the 2021 Historic PotY judging panel
Dan Snow, the broadcaster and historian;
John Hanke, CEO of Niantic Inc and co-founder of Google Earth
Claudia Kenyatta, director of regions for Historic England
Dan Korn, VP of programming at Sky History
Matt Emmett, award-winning heritage photographer
Marina Amaral, author and leading historic digital colourist; and
Kira Zumkley, chair of The Association for Historical and Fine Art Photography
Overall winner of the 2017 awards, Matt Emmett, said: "With photographers combing through their archives, last year saw a fantastic array of entries covering everything from ancient Roman cities to Victorian piers and picturesque medieval churches.
"We're now laying down the gauntlet for this year's awards to challenge entrants to match and even better those astonishing images.
"Historic Photographer of the Year shines a light on the history that exists all around us, opening our eyes to the wonders that sit on our doorstep, and we want people to tell the story of these fascinating landmarks through their sensational photography."
Enter Historic Photographer of the Year today!
Submitting images to the 2021 Historic Photographer of the Year Awards is free.
Click here to enter Historic Photographer of the Year now!
Entrants will need to provide a short commentary in the "Tell us about your photo" section. They may also select which – if any – of the categories they may wish to enter.
For full terms and conditions, see the competition website.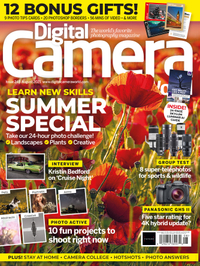 Digital Camera World is the world's favorite photography magazine. Every issue is packed with the latest news, reviews, tutorials, expert buying advice, tips and inspiring images. Plus, every issue comes with a selection of bonus gifts of interest to photographers of all abilities.
Read more
How to shoot amazing artistic architecture
The best tilt-shift lenses for shooting architecture