Phase One, known for high-res medium format cameras, has announced a drone-specific camera – the P5 – intended for survey work from lightweight unmanned aerial vehicles (UAVs).
The Phase One P5 weighs in at 700g, making it suited to survey drones, but it packs 128MP. By contrast a typical 100MP medium format camera, the Hasselblad X2D 100C, clocks in at 895g with its battery before you add a lens. The 150MP Phase One XC weighs a hulking 1,820g including integrated optic.
Phase One has stripped away all the 'extras', like buttons and a viewfinder, since the camera will be controlled via software. If this seems a little familiar, it wasn't that long ago we were reporting on the Sony ILX-LR1, a small, light full-frame camera, also built with aerial work and other remotely-controlled operations in mind – but the Sony still has some buttons and is 'only' full-frame.
Phase One's video (above) shows how the company collaborated with Quantum Systems and Trimble. Quantum Systems produces a drone that takes off in vertical style before switching to a more efficient fixed-wing design, well suited to surveying, called the Trinity Pro.
Trimble is a software and hardware supplier with a focus on mapping, and its Inpho Suite is what will be converting the whopping RAW files into useful digital maps using photogrammetry (surveying).
To get the best results in photogrammetry, the operator will aim for a low GSD (ground sample distance) – which Phase One promises the P5 can deliver without blur. The higher resolution means that the drone can operate more efficiently, capturing a larger area than otherwise, which can have an exponential benefit in terms of flight time (especially when you factor in landings for battery changes).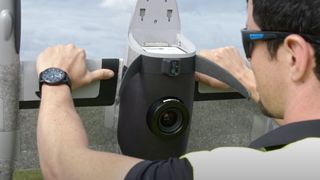 That's why this is a specialized market, though: it is one where there is room to make a difference. The Trinity Pro flies at up to 50mph (22 m/s) and up to 120m (400ft), for around 2 hours 30 minutes. That's a lot of detail from a single flight.
The Phase One P5 can achieve this because it has an electronic global shutter (much like the recently announced Sony A9 III), negating the need for a mechanical shutter and still solving the rolling shutter issue – which meant that early drone surveyors previously had to fly a bit, stop, take the pic, and move on.
"In the realm of specialized camera systems, the Phase One P5 has been meticulously crafted to address the shortcomings of conventional cameras for UAVs in terms of speed, weight, and data quality," says Phase One.
"Purpose-built for aerial surveying via drone, the camera stands as the world's pioneering solution, consistently delivering the highest resolution and accuracy, along with industry-standard metrical calibration."
If you're looking for a slightly more modest start in drone surveying, you can opt for a traditional camera drone. Take a look at the best Black Friday drone deals for a great bargain, and check out the best Black Friday camera deals across all imaging products.