Sony has continued its run of success throughout 2022, with many of its latest products landing firmly on our best cameras for photography and best cameras for video lists. Sony has pulled out something new this year in every segment of the camera market. We are going to look at some of our favorites.
Leading the pack is the Sony A7R V, the latest powerhouse mirrorless camera to come out of Sony's stable. Sony has also produced some very interesting cinema cameras, with the FX30 offering a compact package for cinematic results, and the brand new Sony ILME-FR7 offering a truly unique new way of filming.
Sony hasn't just thought high end though, and it has released a brand new compact camera to capture the vlogging market, as well as the latest Xperia flagship phone, which as you can expect, doesn't scrimp on the camera features.
1: Mirrorless cameras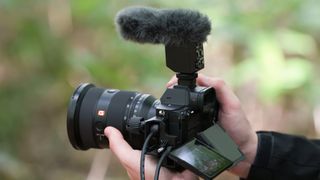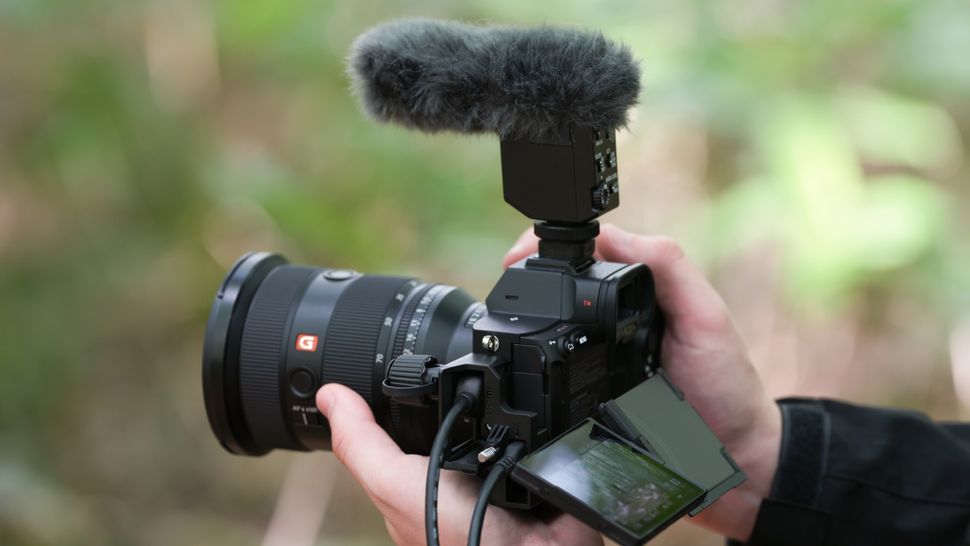 Sony stuck to just one big release for its mirrorless camera range in 2022, but boy did it save it all up for this one. The Sony A7R V is a beast of a camera, with a massive 61.0MP full-frame back-illuminated Exmor R CMOS sensor, offering truly extraordinary resolution.
Not just content on the photography side, Sony also packed in movie recording in stunning 8K at 25p or more useable 4K at up to 60p.
Sony also debuted a brand new state-of-the-art AI processing unit in the a7R V that opens up a whole new world of AI subject tracking, improving animal and object tracking, but introducing a very cool-looking human pose estimation algorithm. You can check this out for yourself in the video below.
Sony really did throw the kitchen sink at this camera, and the good things just keep coming, if you want a feature, it probably has it. Sony continues its tradition of excellent 5-axis in-body image stabilization which offers up to 8-stops of stabilization, which Sony claims can stabilize down to the pixel level.
The a7R V has 693 phase-detection points, can take a focus bracketed photo combining up to 299 images, and shoots up to 583 compressed RAW images at 10 fps. This camera is a serious warning shot to other manufacturers of what Sony is cooking going into 2023.
2: Lenses
Sony's biggest lens update this year was to one of its 'holy trinity' of lenses, these are the three lenses that are considered essential purchases by professional photographers to cover a versatile zoom range with incredible quality.
After giving the Sony FE 70-200mm F2.8 GM OSS II an update last year, this year it is the turn of the Sony FE 24-70mm F2.8 GM II. This updates the previous model with new glass for higher quality images, and new updates to the autofocus motors, for faster and quieter autofocus. Somehow the mark II version still manages to be 191 grams lighter and 16 mm shorter than the previous model, with an overall volume reduction of 18%.
Sony also continued to add to its power zoom range with the new Sony E 10-20mm F4 PZ G. This is Sony's smallest and lightest ultra-wide power zoom, it has a constant f/4 aperture and is available for Sony E-mount APS-C cameras.
Sony also gave some love to fans of wide-angle primes, adding the Sony E 15mm F1.4 G and the Sony E 11mm F1.8 to its rosters. These are fantastic wide-angle lenses for Sony APS-C cameras that offer huge apertures for extending low-light capabilities or getting creative with background blur.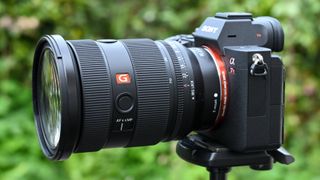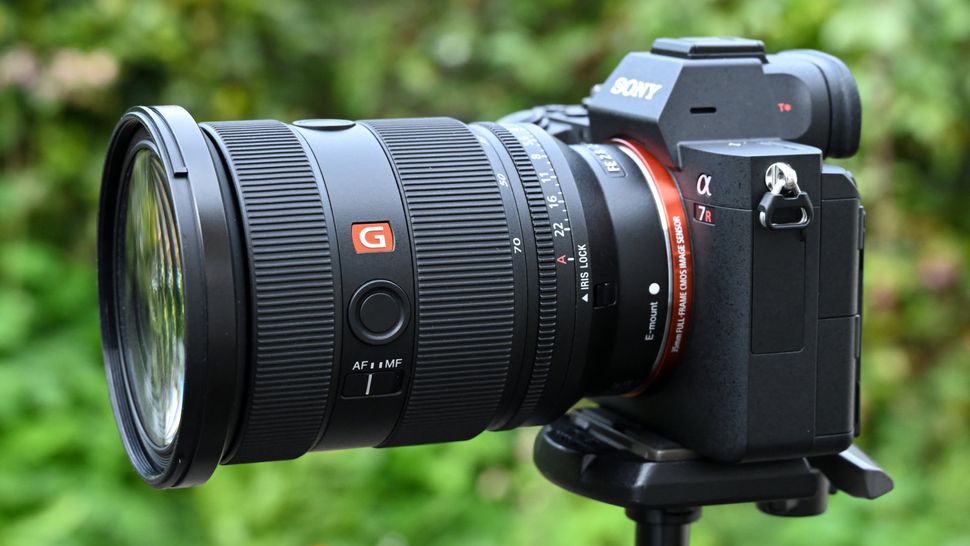 3: Cinema cameras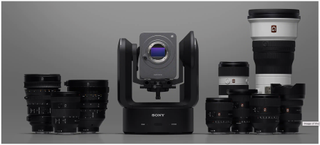 Sony didn't hold back on cinema cameras this year.
Let's start with one of the most interesting cameras of the year, the Sony FR7 Cinema Line PTZ Camera. For the uninitiated, PTZ stands for 'pan, tilt, zoom', and refers to the robotic mount the camera sits on that allows its movements and zoom to be completely controlled remotely. These cameras have been seen in cinematography before, but they are usually very big and very expensive, so it is really interesting that Sony has managed to make a compact version that isn't financially completely out of reach.
The benefits of a PTZ camera are that movements become smooth and slick, offering up new angles and unobtrusive filming positions, and expanding the creative opportunities on offer to filmmakers. Sony FR7 uses the Sony E-mount, so all Sony lenses can be used on the camera from budget lenses to the superb range of G Master lenses many users will already own for its range of mirrorless cameras. It features a 4K sensor, with up to 120fps. Check out the camera in more detail below.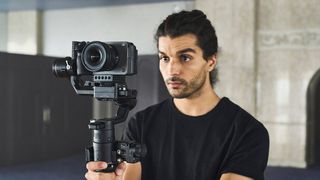 Sony also announced a revised version of its stellar cinema camera the Sony FX3, trimming down the sensor from full-frame to APS-C, the new FX30 offers all the other great features of the FX3, but at a lower price.
This camera should go straight to the top of cinematographers wish-lists who have a lot of Sony's APS-C glass, as the biggest benefit of the FX30 is the ability to natively use Sony E mount lenses (with E-mount lenses the FX3 applies a 1.5x crop and cannot shoot in 4K).
Compact cameras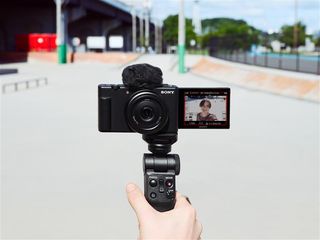 Sony is pushing hard into the vlogging market and has released a couple of dedicated vlogging cameras to try and entice smartphone vloggers to think about upgrading to a dedicated camera. The Sony ZV-1F is the company's biggest play for this market yet.
Based on the Sony ZV-1 that was released in 2020, the new ZV-1F takes the same formula, with its compact body, 1-inch sensor, and 4K video-focused features, but instead eschews the zoom lens of the original model, and adds a tiny fixed pancake prime lens with a 20mm focal length. This makes the ZV-1F one of the most pocketable cameras on the market.
With its new lower price point and much smaller footprint, Sony is hoping that this camera will become the default for amateur bloggers everywhere.
Camera phones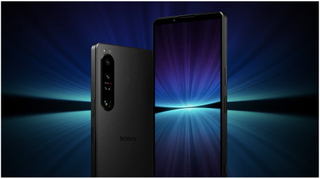 We have seen several photography-focused phones from Sony in the past few years, including last year's Sony Xperia Pro-I, which experimented with squeezing a 1-inch sensor into a smartphone. Sony has dialed it down a little this year, but the latest phone, the Sony Xperia 1 IV, still shows off all the developments Sony is making in its mirrorless cameras.
The Sony Xperia 1 IV is capable of recording 4K HDR movies at up to 120fps, what's more, it can do this on all its lenses. Autofocus from its mirrorless range has made its way down, with eye AF and object-tracking technologies similar to what you would find on an Alpha camera. The camera also features 20fps HDR burst shooting with continuous autofocus and auto-exposure, plus an 85-125mm true optical zoom. And all this can be viewed on a stunning OLED screen.
For more on Sony, check out our Sony rumors hub. You can also read our guides on the best Sony cameras, the best Sony lenses, and the best Sony phones.