This has been the week of all new everything – a new medium format camera, a new APS-C camera, two new full-frame cameras plus a new camera phone. And some of them can even be purchased or pre-ordered right now!
From Apple's 12MP pocket rocket to Phase One's 150MP warhead, the week has revolved around new cameras. So without further ado, let's roll up our sleeves and dive deep into the biggest camera news stories of the last seven days…

Phase One XT: 150MP and $56,000!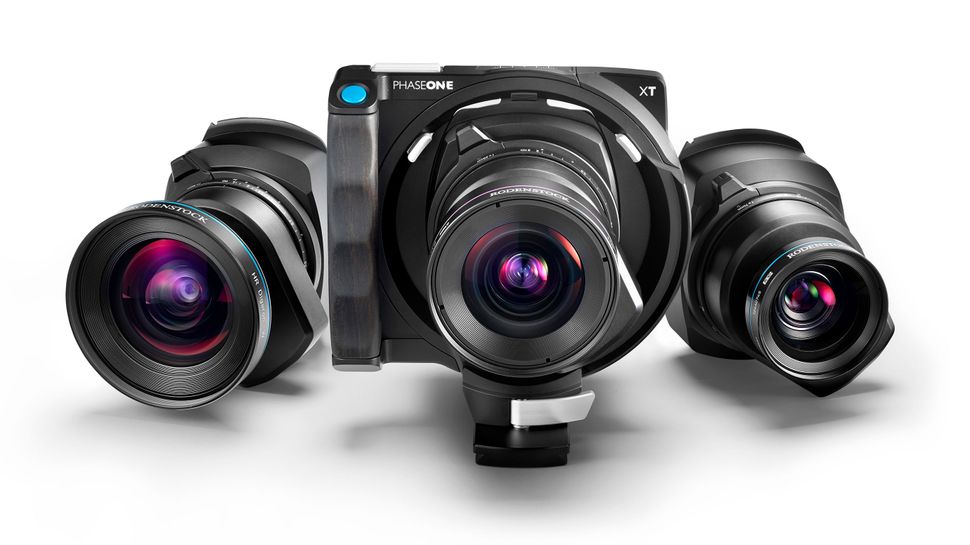 The new Phase One XT is a portable medium format camera that combines Phase One's ultra-high resolution IQ4 camera system with a trio of lenses from renowned optics maker Rodenstock via a slimline camera body.
It's hugely expensive, even compared to the best medium format cameras you can buy right now, but it's not designed for the mass market. Instead, the Phase One XT  is aimed at high-end landscape photographers who need the maximum possible image quality but in a more portable camera than those available to date. It's an echo of old-school 'field cameras' designed for both portability and quality. 
The new camera will be able to use all three of Phase One's IQ4 Infinity Platform modules, including the IQ4 150MP, IQ4 150MP Achromatic or IQ4 Trichromatic. All three have 'full frame' medium format sensors equivalent to the the size of the old 645 format, and larger than those in cameras like the Fujifilm GFX series and Hasselblad X1D (these are 'medium format', but in a smaller size)…
Read more: 150MP Phase One XT Camera System aims to transform landscape photography

80MP Canon EOS RS specs leaked?
There's always more gossip about the Canon EOS R than your average professional football player, and the latest gossip is juicier than usual: specs have been leaked of a purported prototype of a high-res version of the camera, which may materialize as the Canon EOS RS. 
The new camera will reportedly feature an 80MP sensor, dual SD card, a larger LCD screen, a new joystick design and potentially a tilting electronic viewfinder, among other additions.
While obviously these details need to be taken with a pinch of salt, they do at least corroborate a patent disclosing an 83MP Canon sensor; given that a sensor's gross megapixel count is higher than the effective megapixel count (the Canon EOS R, for example, has 31.7MP in total but an effective 30.3MP), it is likely that the 80MP and 83MP reports relate to the same sensor…
Read more: Canon EOS RS specs leaked? 80MP, dual SD cards, new joystick

Meet the photography focused iPhone 11
Apple has officially announced the iPhone 11, which comes in three varieties: the base iPhone 11, iPhone 11 Pro and iPhone 11 Max. The latter two models are photography focused camera phones, boasting a triple-camera array that finally sees Apple catching up to the competition.
As has become par for the course, the iPhone 11 is more about iteration than innovation. While the new models feature a camera with an ultra wide-angle lens, and Apple is trying hard to make "Slofies" (slow-mo selfies) a thing, it's a far cry from the days when Steve Jobs would step on stage and turn the world upside-down with the phone he pulled out of his pocket. 
So do the new iPhone 11 models have what it takes to rank among the best camera phones in this day and age? Let's meet the new family and see what it has to offer…
Read more: Meet the iPhone 11 – camera-focused, functional, but far too familiar

Super stylish Fujifilm X-A7 announced – in a mint green color and with 4K video!
After a week of intense leaks and rumors, the Fujifilm X-A7 has officially been announced. Packed full of tantalizing features, the X-A7 looks like the perfect entry level camera for anyone wanting to step away from smartphone photography. However, with 4K video and a satisfyingly large vari-angle LCD screen, it's also likely to make an attractive proposition for the vlogging community as well.
For those looking for a bit of style from their camera, the Fujifilm X-A7 won't disappoint either; the new camera comes in four different color options: silver, camel, mint green and dark silver.  
One of the most interesting features on the Fujifilm X-A7 is the 3.5-inch LCD monitor. While this means a lack of a D-pad, the screen seems to function remarkably like a smartphone screen. In fact, Fujifilm's press release states that "It provides a touch-response performance equivalent to or better than that of smartphones in general, enabling easy camera operation"…
Read more: Super stylish Fujifilm X-A7 announced – in a mint green color and with 4K video!

Sony A9 II: leaked image and $5,000 price tag
The first (purported) image of the Sony A9 II has been leaked, along with a rumored price tag of $5,000. Some scant additional details also reveal that the biggest changes, aside from the newly designed 36MP sensor, are improved performance such as  autofocus. 
It has also been reported that Sony will announce the camera at its own event in mid-October, days before the Photo Plus trade show (taking place from 24-26 October) in New York – where it was speculated that the camera might have been revealed to the public. However, Sony has since decided to forego the event.
Sony apparently plans to offer loan bodies to professional photographers at the Tokyo 2020 Olympic Games – a space that has traditionally been reserved by Canon and Nikon, and is doubly bold given that the Nikon D6 is alleged to be in the hands of pros at the Olympics…
Read more: Sony A9 II image and price leak: is 36MP really worth $5,000?

Latest buying guides:
The best DJI Osmo Pocket deals in September 2019
Best camera under $100/£100: cheap cameras that still take decent shots
Best iPhone for photography