Wacom has released a new tablet, the Wacom MobileStudio Pro16. This graphic tablet computer hybrid will have a 15.6" display, Wacom Pro Pen 2 compatibility, a fingerprint sensor and a 4K screen. Running Windows 10 Pro and powered by Intel, this tablet is squarely targeted at on-the-go professionals and digital content designers.
An update to the MobileStudio Pro 16 that Wacom released two years ago, the tablet's processor has been updated from dual core to quad core and has been given Thunderbolt 3 connections for a speedier user experience. Thunderbolt 3 has a maximum throughput of 40 Gb/s when used with compatible devices.
• Read more: Best graphics tablets | Best Wacom tablets
The display also has an etched glass surface that's designed to simulate the resistance of pen on paper. Interestingly, you'll also be able to use touch gestures to navigate through menus.
With an ultra high-resolution 3840 x 2160 UHD display and 85% Adobe RGB coverage, Wacom have stuffed this MobileStudio Pro 16 update with as many tantalizing features as possible.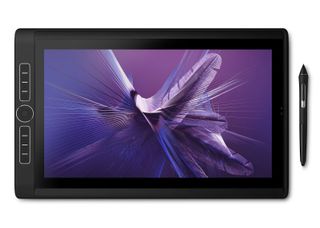 The new MobileStudio Pro 16 will come with the Wacom Pro Pen 2, which is four times more pressure sensitive and accurate than its predecessor. In addition, it doesn't require any batteries or recharging - which will be a welcome feature for busy professionals.
The MobileStudio Pro 16 will also have a USB Type-C port, Wi-Fi, Bluetooth 5.0 and an SD card reader. In addition, it has a 5MP front camera and an 8MP rear camera, which is perfect for snapping quick photos on-the-go.
The tablet will have a 5.5 hour operating battery life, which is a slight improvement on the previous version's 5 hours.
If you're interested in investing in the MobileStudio Pro 16, you can pre-order the tablet for around £3,200 ($3,500). However, just be aware that because Wacom haven't updated the actual name of the product, if you see the tablet on sale for less than £3,000 ($3,000), you're likely looking at the old version. Hopefully, this will be resolved once the latest update has been fully released.
Read more
Best photo editing tools and accessories in 2019
Best monitors for photo editing and photographers in 2019
Best tablets for photo editing and photographers in 2019