Viofo has revealed a new flagship dash cam with dual Sony Starvis 2 sensors, 4K recording, and improved HDR for all three recording channels.
Called the A229 Pro, the dash cam system is made up of a main unit with a front-facing camera recording 4K video with HDR at 30 frames per second through a 140-degree lens. Also included is a wired, rear-facing camera that records at 2K resolution through a 160-degree lens and also shoots at 30 frames per second.
The front and rear cameras both use new Sony Starvis 2 imaging sensors. The former is the 1/1.8in, IMX678 and the latter is the slightly smaller 1/2.8in IMX675.
The Viofo A229 Pro can also be bought with an optional interior camera, to create a 3 channel dash cam system. This uses a first-generation Starvis sensor and records at 1080p and 30 frames per second through a 150-degree lens. As with the other two cameras, the interior view also features HDR, plus it has a set of four infrared sensors for recording greyscale footage, even in complete darkness.
The inclusion of the new, second-generation Sony Starvis 2 sensor is key here. Viofo says the 5-megapixel rear-facing sensor provides HDR footage with a dynamic range 2.5 times wider than the first-generation Starvis, while the 8-megapixel front-facing sensor is also improved. This helps to produce footage with less noise and reduced motion blur, the Chinese dash cam maker says.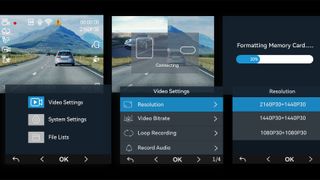 Since HDR isn't yet a standard feature across all dash cams, we're always pleased to see its inclusion – especially when it's used by the interior and rear-facing cameras, as well as the main unit. We're keen to try out the A229 Pro for ourselves and see if HDR on all three channels is worth paying a premium for.
Other features of the new Viofo dash cam include voice control, where the user can ask the camera to start or stop recording, take a photo or turn the dash cam's Wi-Fi connection on or off. The dash cam works with commands spoken in English, Chinese, Russian, Japanese, Vietnamese and Thai. Some of these functions are also accessible via a set of buttons on the main unit, which sit below a square, 2.4in HD display.
Video is stored to a microSD card, like all other dash cams, and when a collision is detected the system saves a 45-second section, including 15 seconds from before the impact and 30 seconds after.
As for connectivity, the A229 Pro has GPS for adding accurate speed, location and direction data to video recordings, and Wi-Fi for transferring footage to a smartphone app.
Lastly, there's a parking mode available when the dash cam is hardwired to your vehicle using Viofo's HK4 wiring kit, sold separately. This gives the A229 Pro a constant source of power from your car's 12-volt battery, which it uses to spring into life and record video when an impact is detected.
The Viofo A229 Pro is available in the UK and US now. Prices start at $329.99 and £270.25 for the front and rear dash cam kit. However, at the time of writing these are both reduced by Viofo to £245.68 and $299.99.