Three-channel systems are something of a niche in the dash cam world. Most drivers can benefit from dash cams that face forwards and backwards, but those that also look into the interior of the car are intended for taxi and ride-share drivers.
With such a system, these drivers benefit from the usual recordings to the front and rear, but also a dedicated camera pointing inwards. The mere presence of an interior-facing camera can help prevent passengers from misbehaving, but also gives a third view of an accident. If the driver was unfortunate enough to be distracted by their passenger, or even assaulted, the best 3 channel dash cams can be there to help capture evidence.
Equally, passengers traveling alone may benefit from the knowledge that their driver is also under surveillance.
This kit from British dash cam maker Viofo has a high-end specification, including 4K recordings to the front and Full HD for both the rear and interior cameras. The latter also benefits from infrared night vision, while the front-facing camera is enhanced by an included polarising lens. The A139 Pro is also available as 1CH or 2CH versions, if you don't need all three cameras. There is also the non-Pro Viofo A139, which makes do with a lower-resolution 2K front camera.
Viofo A139 Pro: Specifications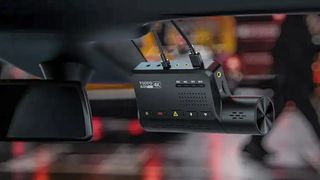 Resolution: 3840 x 2160 (front), 1920 x 1080 (interior and rear)
HDR: Yes
GPS: Yes
Voice control: No
Field of view: 140 degrees (front), 170 degrees (interior and rear)
Display: No
Battery: No
Included accessories: Polarizing lens
Key features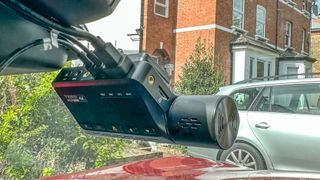 The biggest feature here is of course the interior-facing camera. It records at Full HD, also known as 1080p or 1920 x 1080, and has a wide, 170-degree lens. This is among the widest we've seen on any dash cam, and is ideally suited to the interior camera's role of recording passengers and their driver.
Another key feature is how the front-facing camera records in 4K and uses a Sony Starvis 2 imaging sensor for improved nighttime footage. There's also integrated GPS, 5GHz Wi-Fi for speedy video transfers to your smartphone, and even an optional polarising lens for the front camera included in the box.
We'd also like to highlight the 170-degree rear camera, which is one of the widest we've seen to date.
Build and handling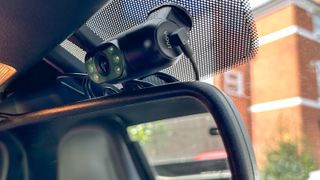 There's a clear sense that someone has really thought about the design of this dash cam, especially the main unit. It isn't a particularly sexy piece of hardware – show us a dash cam that is – but it's reasonably compact, considering its capabilities.
It also has a set of clearly labeled and easy-to-press physical buttons for key functions like manual recording and muting the microphone, a set of equally legible status lights, and a camera that rotates through more than 180 degrees.
The whole unit attaches to a mounting plate that then sticks to the windscreen with an adhesive pad. A magnet helps guide the unit into place and it locks into position with a reassuring clunk.
The rear and interior camera units are almost identical, save for the infrared lights of the latter. They are fairly compact, despite their Full HD capabilities, and attach to the main unit with a pair of long cables. These cables are quite thin, making it easier to tuck them behind the interior panels of your vehicle, and aren't USB. Instead, they use what looks like a tiny coaxial connection, which is circular and rotates freely when connected, making it easy to position each camera.
All of this is further evidence that the Viofo's design has really been thought about.
Performance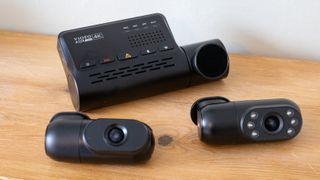 We were very impressed with the quality of video recorded by all three cameras. The front-facing 4K camera produces bright, sharp and accurate video that is smooth and makes crucial details like street signs and number plate highly legible, while the other two are also excellent.
The interior camera's 140-degree lens is plenty wide enough, although it struggled a little bit with color reproduction. The driver's black jacket turned maroon in our test footage, for example, as a result of sunlight reflecting off the red bodywork of the car. But this slight irregularity really doesn't matter, as the footage was still very sharp and clear.
Similarly, the rear-facing Full HD camera provides a great view, and we really have nothing to complain about.
Setup is very easy and while there is a phone app, it isn't necessary. Simply plug the two smaller cameras into the main unit, attach all three to your vehicle, plug the power cable into the 12V lighter socket, and away you go. We liked how the camera beeps briefly to confirm it is switched on, then a voice says that all three cameras are recording – useful, given there is no display to relay such information.
Recordings are quite large, owing to the high resolution. A one-minute recording using all three cameras creates about 300MB of footage, with about half of that being the front-facing 4K camera.
Viofo A139 Pro: Verdict
There's a lot to like here. From the thoughtful design and high quality to the excellent video produced by all three cameras. If you need a three-channel system for front, rear and interior recording, the Viofo A139 Pro ticks every box.
It's not cheap, but it's one of the best dash cam systems we have used in a long time, and a demonstration of what happens when a manufacturer has a clear understanding of how drivers use their dash cams, and how they expect them to operate.
Read more guides:
Best dash cams
Best front and rear dash cams
Best Uber dash cams
The best camera phones today
Best indoor security cameras
Best outdoor security cameras
The 10 best action cameras
The best helmet cameras
Best backup camera