Viewsonic's ColorPro Award ceremony last week was an opportunity for ViewSonic to showcase its ColorPro monitors – and tease an exciting new product due for release in January 2023.
One side of the pop-up gallery space in London's trendy Shoreditch district was taken up with a bank of ColorPro 2776 monitors.
"This is one of two ColorPro series which really focus on the pro market," explained ViewSonic UK country manager, Ricky Kumar.
"It's a fantastic monitor with fast refresh rates so it's good for video, and it because it has the required calibration, you don't need to buy third-party calibration tools – this is the USP for us and gives us a competitive advantage over the competition."
On the opposite wall was a line of ColorPro VP2786-4K monitors, a new model which was announced in August 2022.
"This is the latest and greatest in our range and only came out three months ago," added Kumar.
"It retails for £1,000/$999, excluding VAT/sales tax, so is a very good value product and in terms of the ergonomics, the color calibration and the 4K technology, it is different to what anyone else is doing in the marketplace."
But the biggest cluster of content creators at the launch was huddled around the ColorPro VP16-OLED professional portable display, slated for release in January.
A 15.6in portable monitor that boasts native 1080p Full HD resolution, the VP16-OLED has been designed for use by on-the-go pros and employs the same color performance as Apple's Retina Display. It is powered via a 40W USB-C connection.
"It is our first portable OLED monitor – the blacks on it are fantastic and the color performance is great, too," Kumar enthused.
"OLED displays were a niche market when they first came out, then went into the mainstream when the price came down and we want to bring that [benefit] into our monitor business."
"With a single USB cable connecting to your own laptop or PC, you can use the VP16-OLED as a second display or main display, so it does offer something completely different to your normal monitor."
Alongside computer monitors, ViewSonic manufactures a range of products including projectors, commercial displays and interactive displays as well as software.
It might not be one of the biggest players in the monitor market but the ColorPro range has enjoyed solid growth in the UK in the past few years, said Kumar, and ViewSonic's lineage – founded in California with a manufacturing base in Asia – means it is well placed to devise and deploy innovations nimbly across its markets.
And the ColorPro Award has opened another communication channel between the brand and the end user, although Kumar is keen to stress that the competition is not just a marketing opportunity.
When asked what ViewSonic monitor customers are buying into, Kumar replied: "Innovative, technological products and value for money – that's something that we always want to offer our customers.
"If you're a videographer, then screen refresh rates are vital for you. We understand your needs and wants very closely."
And responding to a comment he made in the pre-award presentation about the use of USB-C connectivity, Kumar said:
"USB-C is fantastic – just that one cable and it will run audio, digital video, internet and touch, if there is touch capability. So that one cable runs everything. Does it allow us to trim the fat? 100%!"
Read more: The best USB-C monitors for photographers and creatives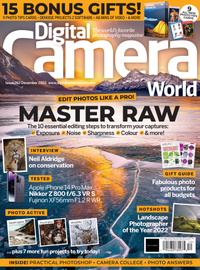 Digital Camera World is the world's favorite photography magazine and is packed with the latest news, reviews, tutorials, expert buying advice, tips and inspiring images. Plus, every issue comes with a selection of bonus gifts of interest to photographers of all abilities.
Read more
The best monitors for photographers
The best video editing monitors
The best monitor stands