The next flagship camera phone from OnePlus is on the horizon. Details are emerging about the upcoming OnePlus 12, specifically its primary camera sensor. The sensor is named 'Lytia', which is a new sub-brand of Sony image sensors designed to market the tech giant's most advanced offerings. The OnePlus 12 will be the first phone to incorporate the new flagship sensor, codenamed LYT-808. This is said to be 1/1.4-inch in size, with a 50MP resolution, and includes "double-layer transistorized pixel technology".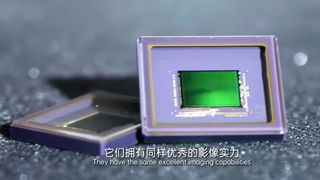 Apparently photodiode capacity and transistor size have been increased, boosting light intake and resulting in a 2x improvement in saturated signal capacity. This is said to translate to class-leading image quality, with "excellent imaging capabilities" including "rich layers, accurate details, and natural light and shadow". The sensor is also supposed to bring multiple high-dynamic range modes and all-pixel autofocus.
The telephoto camera in the OnePlus 12 is also due to be upgraded, and is set to include a OmniVision OV64B periscope telephoto module. This enables a 70mm-equivalent focal length for 3x optical zoom, with an f/2.6 aperture and optical image stabilization. The sensor will be a 1/2-inch, 64MP chip that offers an advertised 483% increase in light sensitivity, making it "the industry's most powerful telephoto in strong light"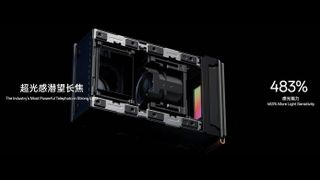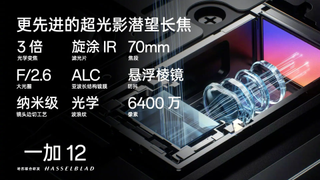 This hardware news comes shortly after Oppo announced an innovative partnership with Hasselblad to develop a new "Super Light Shadow Image System", comprising three core components:
HyperTone All Main Camera System:
Incorporating the aforementioned 50MP LYT-808 sensor, a 16mm ultrawide module, and the 64MP OmniVision OV64B periscope telephoto module.
HyperTone Image Engine:
A 400% increase in computation, giving 30% more clarity, 60% less image noise and fewer digital artifacts. A HyperTone Algorithm has been developed to provide more natural light and shadow, along with pixel-level brightness correction.
HyperTone ProXDR Display:
A new phone screen display technology designed to optimize screen viewing, with 8x enhanced brightness, "lucid layering" (no, we don't know what that means either!) and ProXDR Photon Matrix Display Technology.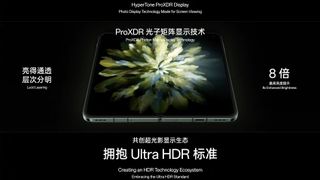 A new Ultra Shadow Image Engine has also been developed, designed to give a more three-dimensional quality to faces in portrait photography, plus better skin tone accuracy, as well as more natural background defocus that better simulates true optical bokeh.
If OnePlus sticks to its previous release schedule, we can expect the OnePlus 12 to launch in January. This could make it the first flagship phone to launch in 2024, potentially beating the hotly anticipated Samsung Galaxy S24 away from the yearly start line.
Story credit: Sparrow News