When you think of portable power banks, you usually think of something the size of a portable hard drive that can slip into your pocket or a camera bag and recharge your phone or camera a couple of times.
The ToGo Power Pioneer 500, now on sale at Adorama in the US, takes this to a whole new level – and a whole new scale. Designed as a portable power supply for all sorts of outdoor activities from camping expeditions to wilderness workstations, but it's especially suited to photographers and videographers running location lighting, laptops, cameras and camera phones.
It's just one of a range of portable power stations, gas-powered generators and solar panels from the maker, ToGo Power.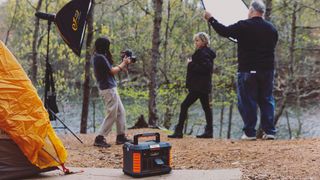 ToGo Pioneer 500 specs and features
It's the size of a heavy duty car battery and weights 13.4lb (6kg), but it's powered by lithium ion technology and offers a huge 461Wh capacity. It has a rugged outdoor design that incorporates a carry handle with an LED lamp and an integrated flashlight.
The ToGo Pioneer 500 offers three QC 3.0 USB quick charge ports, a 10W wireless charger for electronics like laptops, tablets, cameras and phones, a 12V car port output, two DC outputs and a USB-PD 60W outlet.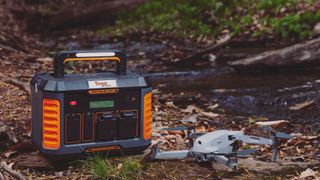 ToGo says it has enough power to charge a laptop around 11 times over, charge a smartphone 46 times and a GoPro 78 times. It can also power compatible LED light panels (most pro flash systems use bespoke battery powered generators of their own, however).
You can charge it up via AC mains power (5-6hrs), a solar panel (sold separately, 6-9hrs) or a regular 12V car charger (8-9hrs), so you can plug it in for a recharge as you head to your next location.
Currently available at Adorama in the US, the Pioneer 500 sells for $499.99.
• Buy the ToGo Power Pioneer 500 at Adorama
Read more:
• Best laptop power banks
• Best solar chargers
• Best iPhone power banks
• Best battery chargers
• Best LED lights