Travelling with your camera gear in a roller bag is great when you need to transport serious kit, but not all bags can meet the strictest airline carry-on size and weight limits. Nobody wants to be told their precious camera and lenses will instead have to be checked into the hold, at the mercy of baggage handlers.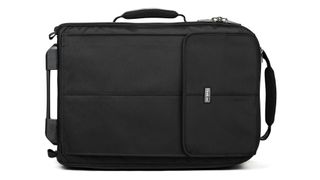 This scenario shouldn't happen with Think Tank's new Airport Advantage XT. At just 3.4kg, it's one of the lightest camera roller bags on the market, and substantially lighter than Think Tank's Airport International V3 roller bag - a bag we rate as one of the very best roller bags you can buy. What's more, the Airport Advantage XT's carefully-considered external dimensions of 35.6 x 53.3 x 20.3cm should also enable it to meet the toughest cabin bag size requirements, with the slim 20.3cm depth being particularly important for sticking within budget airline size rules.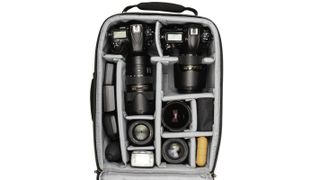 Thankfully, the downsizing has minimal impact on interior storage capacity, as the Airport Advantage XT can still accommodate two gripped DSLR bodies, plus 5-8 lenses. Think Tank's well-designed interior dividers are extensively customisable and are also designed to fit around a DSLR gimbal, or a small drone & controller. A separate front pocket provides space for a 17" laptop and 10" tablet, and on the inside of the front flap are plenty of pouches for memory cards, filters and accessories. A tripod can be carried in an external side pocket, with extra straps provided to harness longer legs. Another nice touch is the extra-long extendable handle that allows the bag to roll well away from your feet - something taller photographers will really appreciate.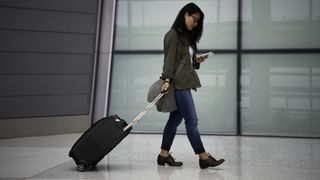 As we've come to expect from Think Tank bags, material quality is top notch, with a durable water-repellent coating applied to the outside, a reinforced plastic base, premium abrasion-resistant YKK zippers, and user-replaceable 80mm smooth-rolling skate wheels with sealed bearings. A separate rain cover is also provided to protect your gear from heavier downpours.
The Think Tank Airport Advantage XT costs $299.75, and is available in black or gray graphite colors and is already in stock at B&H Photo.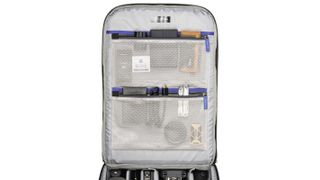 Read more:
The best roller bags for your camera
The best camera bag for travel
The best hard cases for cameras: tough flight cases for photographers