Insta360 is billing this as the world's smallest stabilized camera. Somewhere between a wearable and an action cam, the Insta360 GO weighs just 18.3g and comes with a collection of mounts that let you clip, tag or hang it on "just about anything"
The Insta360 GO captures video at a resolution of 2,720 x 2,720 at 25fps and exports it as regular full HD 1080 video at the same frame rate. Its party trick is its FlowState image stabilization, as used on other Insta360 cameras like the InstaOne X (which we love). Insta360 says this FlowState system gives the GO "gimbal like" stabilization.
• Read our Insta360 GO review – yes, already!
You can shoot much more than just regular video with this camera. It offers a slo-mo mode at 100fps and 1,600 x 900 resolution, a stabilized hyperlapse mode (up to 30 minutes at 6x speed) and a novel Barrel Roll feature for "twisting your shots like a turntable".
It will also capture still photos at an internal resolution of 3,040 x 3,040 pixels and export them at different aspect ratios/sizes.
Insta360 makes some of the best 360 cameras you can get, but the Insta360 GO is a very different product. Obviously it doesn't offer the resolution of the best action cams, and it's not as industrial as a body cam. Instead, the Insta360 GO is a tiny wearable 'lifestyle' camera that captures video when you want it and is almost invisible when you don't.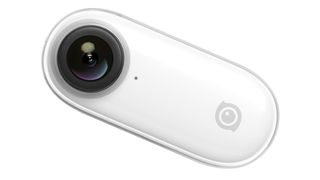 Insta360 GO specifications
Video resolution: 2,720 x 2,720 at 25fps captured, 1080 at 25fps as exported
Slow motion: 1,600 x 900 at 100fps captured, 1,600 x 900 at 30fps exported
Video modes: Standard, Interval Shooting, Timelapse, Hyperlapse, Slow Motion
Photo resolution: 3,040 x 3,040 captured, 2,560 x 2,560 1:1 exported, 2,560 x 1,440 16:9, 2,560 x 1,920 4:3
Photo modes: Standard, Interval Photos
Onboard storage: 8GB
Dimensions: 49.4 x 21.4 x 14.85 mm
Weight: 18.3g
Included accessories: Insta360 GO, Charger Case, Easy Clip, Magnet Pendant, Pivot Stand, Sticky Base, Angle Wedge, Micro-USB to USB Charging Cable, Micro-USB to USB Type-C Cable for Android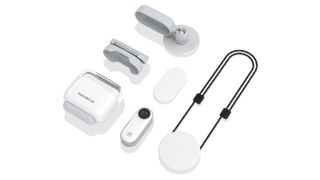 Easy operation and charging on the GO
The Insta360 GO's video specs aren't up to the same level as the best action cams, but this is a wearable camera designed to be ultra-easy to operate. It's triggered by a single button to record clips up to 30 seconds long, and a second press on the button stops recording. It's all designed for simple hands-free shooting.
There's not much space in such a tiny camera for a battery, so the Insta360 GO comes with a dedicated GO Charge Case that fits in your pocket. You pop the GO into the case for a quick recharge between clips, and Insta360 says the case has enough power for about 200 clips per day.
When you're done shooting, the GO Charge Case connects directly to your phone for quick and easy video transfer.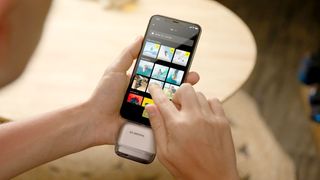 AI editing and the GO app
It's great to capture all this video, but who's got time to edit it? Insta360 has the answer, with its AI-powered Flash Cut auto editing tool. This uses AI to find your best shots and combine them into a stylized edit – it can even sort your content based on subject matter (food, cities, smiles) and the quality of your composition. Insta360 says you can capture, edit and share your day in just a few taps.
The companion smartphone GO app also features a full video editing tool. Even better, you can combine footage taken on the Insta360 GO with video captured on your own smartphone.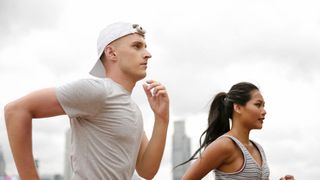 Insta360 GO price and availability
The Insta360 GO is available now and costs $199.99/£209.99, either from the Insta360 shop or via retailers worldwide.
Read more:
• These are the best 360 cameras to get right now
• We pick the best action cams for capturing your adventures
• These are the best body cams: it's like a wearable dashcam!