Insta360 isn't content with capturing the whole world with 360-degree video and photos, it wants to capture its full three-dimensional depth too. So normally you'd think this would take two cameras, but the Insta360 EVO's clever folding body gives you two cameras in one.
It uses two 180-degree camera units joined by a hinge. You can fold them back to back to capture 360-degree images joined seamlessly in-camera, just like any other 360 camera, or you can unfold the camera and snap both units into a side-by-side horizontal configuration for capturing 180-degree 3D VR.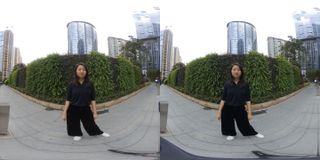 How does 3D work?
Camera makers have been experimenting with 3D vision for as long as there have been cameras, practically. The impression of 3D comes from taking two pictures from two positions, with a distance between them ('baseline') similar to that separating the human eyes. That bit's not hard. The hard bit is finding a display device that can 'recombine' them in a way that lets you perceive that third dimension.
The Insta360 EVO gives you two ways of doing this. The first is to use the Insta360 VR app to connect the EVO to a VR headset for wireless playback and transfer.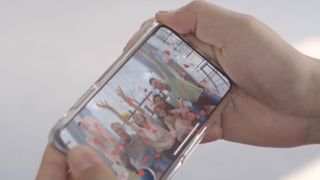 Insta360 HoloFrame for smartphones
The second is to use Insta360's new HoloFrame attachment for smartphones, sold separately. Currently this is available to fit the iPhone X, XS, XS Max and XR, with versions for the Samsung Galaxy S8, S8+, S9, S9+ and Note 8 coming soon. This doesn't need special glasses and uses eye-tracking to align the images with your eyes – Insta360 says the effect "has to be seen to be believed".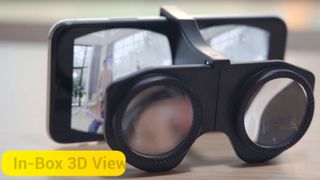 Our sample unit also came with a simple pair of folding glasses which offers a low-tech third route. You then switch the smartphone display to a stereoscopic side-by side mode and clip the glasses on to your phone. They have a central baffle which blocks the view so that your left eye only sees the 'left' image and the right eye only sees the 'right', and even this simple system gives a powerful impression of depth.
360 imaging and specs
With the EVO folded so that the two cameras are back to back, it swaps to 360 imaging mode, capturing a spherical view of the whole scene around it either last 18-megapixel still images or as 5.7k video.
The camera unit itself is extremely simple with just two buttons – a mode button and a power/shutter button. You get full control over the settings via the dedicated smartphone app, which reveals some surprisingly sophisticated options.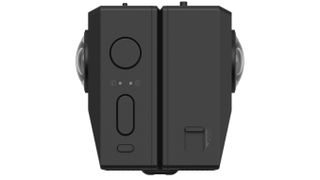 These include Insta360's TimeShift mode for time-lapse or hyper-lapse photography, log video and HDR video. For stills, you can also capture timed photos, interval photos, HDR and raw (DNG) files.
The Insta360 EVO uses 6-axis gyroscopic stabilisation to offer the gimbal-like FlowState stabilisation that works so well on the Insta360 ONE X, and it has a new and as yet unnamed but "groundbreaking" new stabilisation system for its 3D VR capture.
The Insta360 EVO weights just 113g, measures 98.4 x 49 x 26.3mm (unfolded), 50.3 x 49 x 52.5mm (folded) and has a 65-minute battery life. It's available to order now at a price of $420.
Read more:
• Best 360 cameras
• 10 best action cameras
• The best GoPro cameras