Some smart detective work by nokishita has uncovered a Bluetooth registration application for a camera that appears to be alongside the Fujifilm X-T3 and X-T30 in the Fujifilm range, but isn't either of them. The new camera, registered simply as 'FF190002' could be the long-rumored new X-Pro3 camera.
Actually, it would be no surprise at all for Fujifilm to launch this camera, as it's a logical progression from all the Fujifilm cameras released so far. The key is the new 26.1-megapixel sensor, upgraded autofocus and processing system already seen in the Fujifilm X-T3 and X-T30. The X-Pro2 and X-H1 are the only two high-end Fujifilm cameras in the X-series range yet to get the new hardware, so surely it's only a question of time?
The new model designation COULD be for a new professional X-H2 model to replace the X-H1, but we're starting to worry that Fujifilm may have lost faith in its pro camera experiment, and that a new X-Pro 3 is more likely.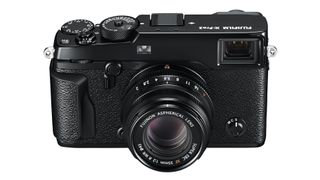 So what is the X-Pro2 and what would the X-Pro3 have?
The Fujifilm X-Pro1 is the camera that practically kickstarted Fujifilm's interchangeable X-mount camera range. It's styled like a traditional rangefinder camera rather than a DSLR, and has a unique hybrid optical/electronic viewfinder that offers the same bright, clear 'direct vision' viewing system of legendary rangefinder cameras like Leica's (though with autofocus rather than manual rangefinder focusing).
The X-Pro2 is big, chunky, beautifully made and has the classic external exposure controls seen on other Fujifilm cameras. If you prefer a DSLR-style design, the X-T3 or smaller X-T30 will be more your thing, but the X-Pro has a big following amongst those who prefer rangefinder-style handling.
The current X-Pro2 has Fujifilm's 'old' 24-megapixel X-Trans sensor, so it seems a no-brainer that any X-Pro3 will have Fujifilm's newer 26-megapixel sensor. The 2-megapixel increase in resolution is a secondary factor – the main improvements will be to the autofocus system (more phase detection AF points, wider coverage), video and image processing performance.
We're pretty sure the X-Pro3 is coming, and we expect the same enhancements we saw in the upgrade from the X-T2 to the X-T3, and from the X-T20 to the X-T30.
The question is not IF it's coming, but WHEN…
Read more:
• Latest camera rumors: what (we think) is coming next, and when!
• The best Fujifilm cameras you can buy right now
• DSLR vs mirrorless: how are they different, and which is best?