The original iPhone was arguably the device that sparked the touch screen revolution, with touchscreen phones, tablets and laptops now ubiquitous. But despite Apple's trend-setting touch-sensitive phones and tablets, it's never produced a touchscreen MacBook. However, that may be set to change. According to Apple insider and Bloomberg reporter Mark Gurman, Apple might be releasing its first touch-screen Macbook in 2025. That still seems like a long way off given that touchscreen laptop tech is hardly cutting edge, but that's the alleged timeframe.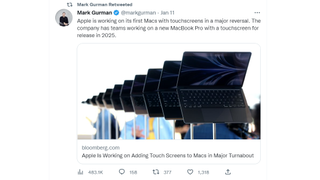 This news may not seem like a big deal to Windows users, who have had touchscreen laptops for many years, but it could mark a significant change of direction for the MacBook. Apple's steadfast refusal to give the MacBook a touch screen stems from a comment made by Steve Jobs in 2010 where he said that touchscreen notebooks would be "ergonomically terrible." Or, in more detail:
"We've done tons of user testing on this, and it turns out it doesn't work. Touch surfaces don't want to be vertical.
It gives great demo but after a short period of time, you start to fatigue and after an extended period of time, your arm wants to fall off. It doesn't work, it's ergonomically terrible.
Touch surfaces want to be horizontal, hence pads.
For a notebook, that's why we're perfected our multitouch trackpads over the years, because that's the best way we've found to get multitouch into a notebook."
Of course since then we've had the Touch Bar implemented into MacBooks, though Apple now appears to be abandoning this feature, as it's now only present on the 13-inch M2 MacBook Pro. It'd be fair to say the Touch Bar received a mixed reception, but I for one rather like it. Having a touch-sensitive interface right next to the keyboard is simply more convenient than having to reach up to the screen.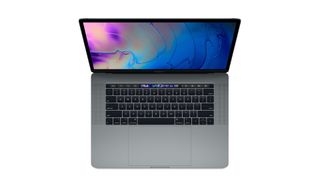 The purpose-designed, context-sensitive touch bar controls also highlight another bugbear with conventional touchscreen displays. Unlike the Touch Bar, a touch-enabled Windows interface is always a compromise between touch control and mouse control. While a touchscreen laptop is useful when swiping through image slideshows or swiping up and down documents and web pages, Windows app buttons and sliders have often been designed to be mouse controlled, and are therefore frustratingly small to operate by touch. It'll be intriguing to see how Apple overcomes such potential ergonomic compromises if it does indeed add touchscreen control to macOS.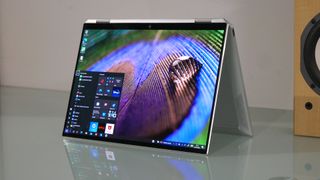 Gurman speculates that the introduction of a Touch-enabled MacBook could coincide with Apple's first MacBook to feature an OLED display (again, better late than never?) and that such a device would "likely" retain a macOS interface, along with a conventional keyboard and trackpad.
Whatever your opinion of touch screen laptops, Apple's immense expertise in both the laptop sector and the touch-driven phone/tablet sectors must surely mean it could make a success of combining the two interfaces, right?
Read more:
• Best MacBooks
• Best student laptops
• Best Chromebooks
• Best Ultrabooks
• Best photo editing laptops
• Best laptops for video editing
• Best desktop computers
• Best Mac printer
• Best Mac webcam
• Best external hard drives
• Best monitors for photo editing
• Best USB-C hubs