Michael Collins, who died aged 90 this week, was the least famous of the three American astronauts on the best-known space mission of all time. Whilst Neil Armstrong and Buzz Aldrin got to walk on the Moon, Collins was the designated driver, and was left in orbit in the Command Module Columbia as his two crew mates took off in the Lunar Module.
But Michael Collins did take one of the most iconic images from the mission - a photograph as internet memes will tell you shows every living person, except himself. In the foreground of the image is the Lunar Module Eagle returning from the moon's surface with Aldrin and Armstong. In the distance is Planet Earth, with all the rest of the human race. The blue planet beyond the barren white moon references the breathtaking Earthrise image that William Anders had taken on the Apollo 8 mission the year before. Michael Collins' photograph eloquently sums up the incredible feat of the 1969 US space mission... but also marked him out as the world's loneliest man…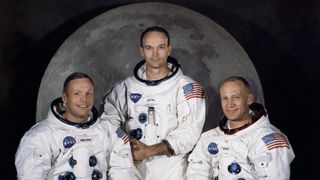 Remarking on Collins' role, a NASA press officer later told reporters: "Not since Adam has any human known such solitude." He had spent 22 hours on his own in orbit some 60 miles above the Moon's surface, as his comrades took their small steps on the lunar landscape.
The best-known pictures from the mission are those taken by Neil Armstrong - who had taken the images from the moon walk. But for this shot, taken on 21 July 1969, it was Collins who was the official photographer, using one of the specially-adapted Hasselblad medium format cameras that they had taken with them.
Read more
Nikon, Leica and Hasselblad: The cameras that have been to space
Astrophotography from your backyard
Best lenses for astrophotography
How and when to photograph the moon