While the western world was tying itself in knots buying all the Black Friday bargains, something very important happened in Japan: it was revealed that Sony sold more full-frame cameras than anyone else in 2019, overtaking Canon for market share.
In short, this means that Sony has won the full-frame mirrorless race in 2019; despite their best efforts, the Canon EOS R and Nikon Z7 simply couldn't keep paces with the awesome sales of Sony's Alpha cameras.
The news comes courtesy of BCN+R, the Japanese retail analysis service that monitors point of sale data in the nation. In its report, BCN+R announced that Sony now holds dominant market share of 38% in the full-frame arena, followed by Canon at 36% and Nikon at 24%.
This is in stark contrast to 2018, which saw Canon hold a 37.8% share, Sony 31.6% and Nikon 29.1%.
"In September last year, Nikon launched the Z7, Nikon entered the market with Z mount, Canon entered RF mount, Panasonic, Sigma and Leica with L mount," said the report (machine translated).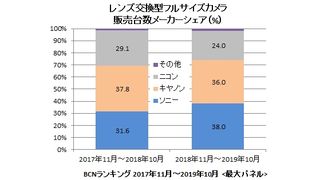 "However, Canon and Nikon have already been brilliantly defeated, partly because they have been wary of fighting against the full-size model that is being developed with a single-lens reflex camera. Even if the full size model of mirrorless and single-lens reflex camera is added up, the result is that only Sony is growing after all."
So, despite Canon and Nikon launching their own full-frame mirrorless systems AND combining those sales with sales of their full-frame DSLRs (which Sony does not make), Sony still beat them with mirrorless alone.
What is interesting, however, is that between the 'big three', full-frame cameras are an incredibly small part of the puzzle (albeit the most profitable). According to BCN+R, full-frame only accounts for 10.4% of sales (6.4% of that being mirrorless, 4% DSLR); APS-C cameras account for 89.6% (55.7% mirrorless, 33.9% DSLR).
Still, the fact that Canon is no longer the king of full-frame imaging is a pretty significant milestone. Christmas has come early for Sony!
What do you think – did Sony only win because its mirrorless cameras had a head start? Will canon and Nikon turn it around next year, now that the RF and Z mounts have matured? Or is APS-C the real battleground worth fighting for? Have your say on the DCW forums!
Read more:
The best mirrorless camera in 2019: we pick the best compact system cameras
Canon EOS R review
Nikon Z50 review