Hot on the heels of DJI's new Inspire 3, Sony has announced three separate upgrades for its professional Airpeak S1 drone. These include an RTK (Real Time Kinematic) kit. This is a positioning system that allows for incredibly precise positioning in the air (and was also a major new feature of the new Inspire 3).
The other new features for the Airpeak S1 are a new improved LBP-HM1 battery pack and a new gimbal, the PX1, from Gremsy. This reduced weight and more powerful battery pack increase flight times to 20 minutes (remember, that's with a 61-megapixel A7Rv). Because of its price, the Airpeak is not on our list of best camera drones, but perhaps it should be?
One way you know the Airpeak ARS-S1, or S1 for short, is a Sony is the needlessly involved naming convention. They only have one drone, but already it has a name and a character code! More significantly it was already the lightest drone capable of carrying a full-frame Alpha series camera.
Operators will also need to know their way around the Alpha series; the drone supports cameras such as the Sony A7 IV, A7R V, and A7R IV, and it supports various lenses (24/35/40/50mm).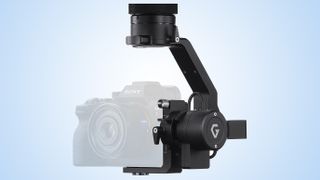 Sony is wisely targeting two key areas of growth in the drone market, film-making and surveying (map-making). There have been plenty of protectionist legal moves in the USA especially which are making it hard for agencies to buy Chinese drones. As we reported, in Florida $200m of drones were grounded in government agencies because of these laws.
Some features, however, aren't finished. RTK provides amazing positioning accuracy, down to a centimeter, which is why the 3D Dolly on the DJI Inspire 3 works, and Sony are also talking about reproducible flight paths.
Sony's announcement, however, leaned toward enterprise uses – inspection and the like – for which these features are just as important, and (of course) more government contracts are up for grabs. The missing element, for some, is the ability to add image positioning data to captured images. This is crucial to 3D-mapping tools, but the option to add metadata, via mobile app, isn't due until 'summer.'
Once in place, this feature will enable mapmaking at speed thanks to the mechanical shutter, a given on cameras but something which was by no means assured on drones. The Mavic 3 Enterprise offers it, but until then most surveyors had been forced to stick with the Phantom 4 RTK.
The LBP-HM1 battery pack is hot-swappable (no powering down), an will cost 45,000 Yen (about $300, or £270) when it ships in May, while the RTK kit will be 540,000 Yen (about $4000, or £3250). The Gimbal PX1 is already on sale for around $4,000.