A law, backed by Florida governor (and US Presidential hopeful) Ron DeSantis, banning the use of Chinese drones in Florida has gone into force, grounding millions of dollars worth of police and state-service-owned drones overnight.
The law, Florida statute 934.50, is an unfunded mandate, meaning there is no new money for departments operating drones to replace their Chinese – usually DJI or Autel – drones with alternatives, and, as many have pointed out, the alternatives often aren't up to the job. DJI is the largest supplier of non-military drones on the planet, with a wide choice of the best DJI drones for most tasks.
Lieutenant Michael Crabb, of the North County Sheriff's Office, told the Florida state senate said: "If there are national security issues with a DJI drone, then show us what it is." He also said: "I'm an American, and I wish we could buy all American-made drones [but] there are limitations with American-made, unfortunately." He indicates that, of a fleet of 25 drones used to monitor active crimes and in other police work, 19 were DJI and would now be grounded.
DJI has said that the Florida decision "ruling against the use of Chinese-made drones for law enforcement is a regrettable development and is unjustified."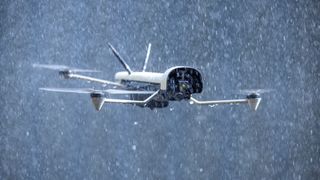 Florida now maintains its own list of approved drone manufacturers. These are Skydio, Parrot, Altavian, Teal Drones, and Vantage Robotics. Oddly – given the security concerns which are cited by proponents of the law – Altavian isn't even able to maintain a secure website. It is owned by FLIR and the site shows only a single fixed-wing design. Teal Drones looks to have an interesting product on the way, the Teal 2, though the controller costs more than a Mavic 3. Vantage Robotics offers a folding Vespar in various configurations which seems the most similar to the Mavic 3 Enterprise.
Palm Beach County Sheriff's Office Col. Robert Allen reportedly said: "We had five failures of the manufacturers on the list. DJI, none."
There is not even agreement over this within the Republican party. Senator Tom Wright has been an enthusiastic proponent of using drones in car chases and other police businesses. He said, "This would require law enforcement agencies and fire departments across our state to throw away nearly $200 million of DJI drones." He has sponsored a bill, SB1514, to delay the law, but it has not yet been heard.
The ban doesn't apply to consumers in Florida, only to government agencies, but perhaps it's worth checking out our Skydio 2+ review to see what American-made drones are like?