Skylum is clearly looking to the skies for its inspiration. We liked the AI Sky Enhancer, we loved the AI Sky Replacement tool and the new AI Augmented Sky tool in the latest Luminar 4.2 update is just out of this world.
Save $10/£10 with our exclusive discount code
If you purchase Luminar 4.2 you can use the discount code DCW20 at the checkout to get $10 USD, 10 EUR, £10 GBP deducted from the regular price!
That's not just a turn of phrase. The AI Sky Replacement tool offered a selection of skies to enhance your landscape shots, but the AI Augmented Sky tool adds all manner of objects to your skies including everything from flocks of birds to giant planets.
It's all achieved with Skylum's steadily advancing AI imaging technology, which can automatically identify and mask areas of a scene and blend in whole new objects so seamlessly that you'd imagine it would take hours of work. It doesn't. It's as simple as selecting an object you'd like to add from a drop-down menu, and while there are sliders and adjustments for fine-tuning the results, you might not have to touch any of them.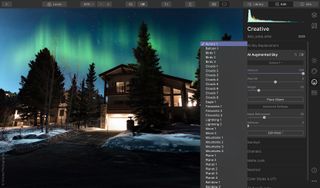 There may well be some controversy over whether adding objects in this way is 'cheating', but given that photographers have been doing this for years in programs like Photoshop, the most likely cause of discontent is how easy it has suddenly become.
We already rate Luminar as one of the best photo-editing software applications you can get today, and the latest version 4.2 updates add some important and impressive new tools.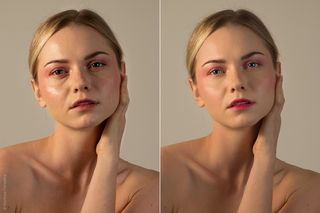 Perfect your portraits in Luminar 4.2
Augmented skies might be the headline news in Luminar 4.2, but it's not the only improvement in this version. The portrait enhancement tools were rather good already, but version 4.2 brings shine removal to tone down skin 'hotspots' and an improved face slimming feature that now adjusts the whole face and not just the lower part.
The portrait enhancement tools are driven by Skylum's AI technology too, as the software's Face Features Detection Neural Network will automatically identify both faces and facial features for individual adjustment. Not only that, it's trained to allow for head tilts, unusual angles, partially hidden faces, bad lighting and even heavy make-up. According to Skylum it can also detect people of any hue of skin or age, as well as identifying all the faces in a group photo.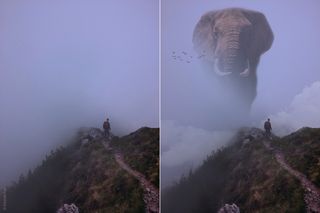 Other Luminar 4.2 improvements
Luminar 4.2 also brings an improved 'Relight Scene' adjustment for the AI Sky Replacement tool which is better at retaining the colors of the original image, and there are all-round performance improvements for both the Mac and Windows versions of the software.
And if you do want to use external plug-ins to achieve specific effects, Luminar 4.2 is now compatible with Aurora HDR, the DxO Nik Collection and the Topaz Labs plug-ins.
Where to get Luminar 4.2
Luminar 4.2 is a free update for existing Luminar 4 users. On a Mac, click in the top menu bar and choose Luminar 4 > Check for updates. If you purchased via the Mac App Store, simply open the App Store and go to the Updates tab. On Windows, in the top menu bar choose Help > Check for updates.
New users can buy direct from the Skylum website via the link below.