If you are wanting to expand your memory for some of the best mirrorless cameras on the market or you're looking for additional storage to shoot on some of the best cinema cameras out there (including the best 8K cameras) then you NEED to scoop up this amazing deal this Monday, June 5, for the Delkin Power G4 1TB CFexpress card Type B… Which will be just $100 at B&H for a limited time only! Usually costing $399.95 - that is a monster $300 saving.
Combining industrial strength and reliability with enhanced performance, the 1TB Power CFexpress Type B Memory Card from Delkin Devices is designed for professional photographers, videographers, and high-end cinematic hosts.
It is well-suited for RAW and continuous-burst photography, as well as recording 8K, 6K video, of course from the best 4K cameras at high bit rates and frame rates.
Thanks to a PCIe 3.0 interface, you can achieve maximum read speeds of up to 1,780 MB/s, maximum write speeds of 1700 MB/s, and sustained write speeds of 1,490 MB/s.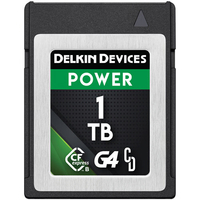 Delkin G4 1TB CFExpress|was $399.99|Now $100
SAVE $299.99 - On June 5th
Boost your image-taking or record time with this amazing once-in-a-lifetime deal for a 1TB CFexpress Type B memory card. This will up your production time, record time, and have your back when more memory is needed on your next photoshoot
To help facilitate card usage in almost any environment, as well as keep your content safe, Delkin designed the Power Series to be resistant to shock, magnets, X-rays, static, UV rays, and extreme temperatures, meaning this drive will keep your footage safe how rough things get. Each card is also backed by a limited lifetime warranty and Delkin's American-based customer support team.
Capable of offloading data at outstanding speeds of up to 1780 MB/s, this Power CFexpress card ensures quick and efficient data transfers from card to computer for immediate access to your files, giving you sooner postproduction start time and overall quicker turnaround in your edits. This is ideal for any photographer, or videographer who needs to quickly unload large amounts of data and get back to shooting quickly
Built to endure even the most strenuous shooting environments, the POWER CFexpress Type B card is durably designed to be shockproof, magnet proof, X-ray proof, antistatic, UV-guarded, and resistant to extreme temperatures. Each card is also backed by a limited lifetime warranty and Delkin's American-based customer support team.
All of the above for a cool $100 on June 5 at B&H is the deal of the century - so set your alarm and get ready to buy!