The newly announced Samsung ISOCELL HP2 sensor is a 200MP camera sensor for "tomorrow's premium smartphones," according to the official release.
The headline feature of the ISOCELL HP2 sensor is a whopping 200 million 0.6-micrometer (μm) pixels in a 1/1.3" optical format, a sensor size that is widely used in camera phones with a 108MP main camera.
And this announcement couldn't be more timely. In a few weeks' time – February 1 2023 to be precise – Samsung will launch a new Samsung phone at its Galaxy Unpacked event, which we think will be the Galaxy S23 Ultra. The specs of the ISOCELL HP2 tally with what's rumored to be inside the Galaxy S23 Ultra, so we can almost certainly expect the new sensor to be inside Samsung's latest and greatest new flagship phone.
JoonSeo Yim, is Executive Vice President of Sensor Business Team at Samsung Electronics. "The Samsung ISOCELL HP2 harnesses Samsung's high-resolution image sensor technologies and know-how at the cutting edge for epic details," he says. "Our leadership comes from innovative pixel technologies that allow our sensors to go beyond the number and size of pixels. We will continue to open new horizons and solidify our presence in the expanding ultra-high-resolution sensor market."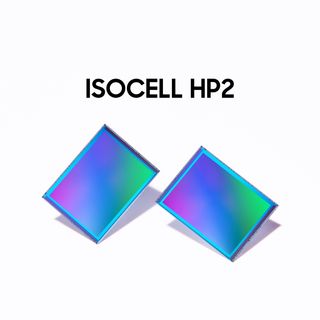 Samsung's sensor is about more than resolution
It's not just about epic resolution with this new sensor. Samsung explains that it will bring advanced pixel-binning technology to smartphones, too with "Tetra2pixel" technology. But what is pixel binning? As Digital Camera's lab manager explains:
"The term 'pixel binning' means taking a group of four adjacent 'pixels' (arranged in a 2 x 2 quad) on a camera's image sensor and treating them as one big 'super' pixel. This is done to improve image quality and reduce image noise (grain). It explains why your 64MP or 108MP camera phone almost always actually outputs 16MP or 27MP images, respectively, as if you combine four pixels into one, you end up with an image that's one-quarter the size."
The idea is that the ISOCELL HP2 will be able to simulate different pixel sizes depending on the ambient light levels. "When in low-lit environments, the sensor transforms either into a 1.2μm 50MP or 2.4μm 12.5MP image sensor by binding four to 16 neighboring pixels."
Samsung doesn't just manufacture sensors for its own phones, but that of brands like Realme and Xiaomi, too. After Sony, it's now thought to be the second-largest producer of smartphone sensors globally.
So the ISOCELL HP2 sensor is big news for the smartphone industry, and indeed for photographers who use their smartphones on a daily basis. But we won't know for sure how it performs in real life until we get our hands on the Galaxy S23 Ultra (probably).
---
Check out the latest phone rumors, and our review of the Samsung Galaxy S22 Ultra. Plus, is the Galaxy Z Fold 5 tipped for same camera as S22 Ultra?