If you're a pixel peeper, Samsung has just revealed the perfect TV for you. The Samsung Micro LED 110" is a 4K television with an incredible 110-inch screen and 8 million pixels.
Revealed at CES 2021 – the world's biggest technology and consumer electronics show, which is taking place this week as an online event until 14 January – the Samsung Micro LED 110" is a true behemoth of televisions in terms of size.
• Read more: Best monitors
It's far more than just an exercise in scale, though. Building on the technology seen in Samsung's amazing modular TV system, The Wall, first shown in 2018, this new screen features the same pure RGB Micro LED display.
These self-illuminating, inorganic, micrometer-sized LEDS eliminate backlighting and color filters by virtue of producing light from their own pixel structures. It accurately matches the color gamut of even the most advanced DSLR and mirrorless cameras, capable of expressing 100% of both DCI and AdobeRGB for incredibly accurate brightness and color, along with deep blacks and incredible contrast.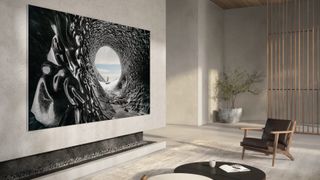 Mirroring Samsung's design ethos of its best camera phones, the Micro LED 110" is almost completely bezel-free to fit organically in just about any room… provided that it's big enough to accommodate it.
Best of all, Samsung claims that these Micro LEDs have a life of up to a decade, so this is a screen that isn't just built to impress, it's built to last.
That size is put to good use, though, with features such as Quad Vue / 4Vue, which can split the screen into up to four different sections, to simultaneously display individual content. So you can edit photos in the main area while keeping an eye on the ticker of your favorite news channel, watching the big game, and monitoring your security or front door camera all at the same time.
We don't yet have a price tag for the Samsung Micro LED 110", but it will go on sale in March this year. Taking a wild guess, though, it's going to be crazy expensive…
Read more:
Best monitors for photo editing
Best video editing monitor
Best 4K screens
Best streaming services