Can't get enough of crazy Samsung smartphone screens? Good, because here's two more: the Samsung Galaxy Fold 2 is a camera phone that will either have a clamshell design, or a folding edge screen on the outside of the phone.
Two different stories have come out recently regarding Samsung's next folding camera phone.
LetsGoDigital reported on a Samsung patent, applied for at the end of 2017 and published on 28 May 2019, for a "Foldable electronic device including flexible display". Like the Galaxy Fold, it has a vertical spine and unfolds like a book.
This buttonless phone would feature a full-screen edge display, akin to the Samsung Galaxy S and Note phones, with no side bar. The camera module is positioned at the top-left of the flexible screen using a punch-hole, making it functional in both folded and unfolded configurations.
The big difference from the original Galaxy Fold, of course, is that the screen would be on the outside of the phone.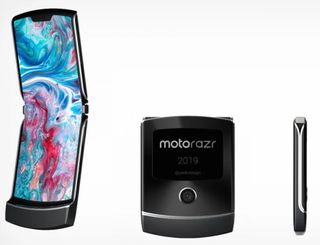 However, another folding Samsung design has been outed by ETnews (via Forbes). This would feature a clamshell design – which is to say that the spine would run horizontally, so the phone would unfold like a clamshell.
Unlike the Galaxy Fold design (and the above design described by LetsGoDigital), which opens into a tablet-shaped form factor, having the phone open vertically means that it can maintain a much more compact body.
In other words, a clamshell would be a phone that folds down to become smaller, rather than the Galaxy Fold that folds out to become larger. According to the site, it would feature a 6.7-inch screen that possesses a 1-inch display for notifications while folded.
The Fold may have been a complete disaster, but we'll give Samsung this – it's certainly exploring every possible option when it comes to folding and expanding camera phone screens.
Read more:
The best camera phone in 2019
Samsung Galaxy Wrap: forget folding – Samsung tries a wraparound screen
Samsung Galaxy Roll: a roll-up phone display that can double your screen size