There are plenty of home photography projects to keep you busy during the current lockdown, and many of them make use of flash to add creative flair. Rather than shooting with a bare-faced strobe, the Rogue FlashBender enables you take control of your light – and now it's available with a $26 discount.
You can buy the Rogue FlashBender 2 XL for just $33.95 from B&H, but this 43% saving expires at midnight EST, so act now before it expires!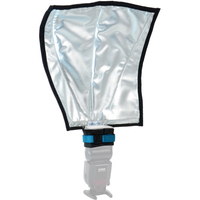 The Rogue FlashBender 2 enables you to do exactly that – to bend the light from your flashgun to give you creative control over your speed lights. The flexible 13x16-inch silver reflector enables you to bend, bounce and barn-door your light, and shape it to prevent spill onto unwanted areas.
The FlashBender packs down completely flat, so it can be stored and transported quickly and easily, making it an essential accessory for anyone who shoots with speed lights.
Read more:
Open for business: The best B&H deals available right now
New flash modifier Rogue FlashBender 3 has been announced
The best flash diffusers, softboxes and modifiers for your speedlight