Fans of folding phones should hold onto their hats, as we now have information on the Samsung Galaxy Z Flip – the Korean manufacturer's latest folding camera phone, which features a clamshell configuration.
The leaks just keep on coming ahead of Samsung's Galaxy Unpacked event on 11 February, where the Samsung Galaxy Z Flip is expected to be announced. First we had the full set of camera specifications leak for the Samsung Galaxy S20 lineup, and now we have intel on the company's next generation of folding phones.
A follow-up to the Samsung Galaxy Fold has long been in gestation, as evidenced by all the smartphone rumors revolving around Samsung's many patents for various folding, bending and wrapping screens.
• Best phablets • Best flip phones
For whatever reason, however – whether it's to distance itself from the beleaguered Galaxy Fold brand, or simply to launch a companion product line – the new phone will have a completely different name in addition to a different design.
Where the Galaxy Fold featured a book-like design, the Samsung Galaxy Z Flip features a traditional clamshell design featured in old school phones – and recently resurrected by the cult classic Motorola Razr, which is a direct rival to Samsung's new product.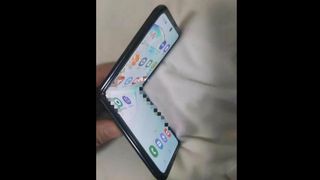 Originally codenamed Samsung Galaxy Bloom, the first information on the new phone was revealed by leak impresario Ice Universe (via GSM Arena), who confirmed the new moniker, leaked an image of the handset, and revealed that it will use ultra-thin glass material rather than the plastic of the Fold (resulting in a screen that's flatter, thinner and potentially wrinkle-free).
Precious little else is known about the Z Flip, other than it appears to feature a centered punch-hole for its front-facing camera (believed to be 10MP). GSM Arena was also able to uncover that it comes with a 15W charger, and believes that it features a dual camera array on the rear with last year's Snapdragon 855 processor – meaning that this will likely be a junior alternative to the higher end Fold.
LetsGoDigital – which also generated renders of the expected design (seen at the top of the page) – posited that the Samsung Galaxy Z Flip might be available as early as April or May, the intended release window for the Fold. It also noted that sources have claimed a price tag of anywhere between $800 and $1,500 (for reference the Fold retails for $1,980 / £1,900 / AU$2,999).
With Samsung's official announcement just weeks away, we won't have to wait long to find out.
Read more:
Best Motorola phones
Best Samsung phones
Samsung Galaxy S20 Ultra specs: 108MP with 48MP tele, 100x zoom + 8K video!
The best camera phone in 2020: which is the best smartphone for photography?
Smartphone news, camera phone leaks and mobile rumors