A collection of rare and unseen photographs from the archives of Helmut Newton have gone on display in London, featuring images of iconic figures such as David Bowie and Karl Lagerfeld.
The Vanity collection at Box Galleries, Chelsea, shows 13 framed, vintage silver gelatin prints taken from 1967 to 1984 together for the first time, with an exhibition price range of £1,650 to £5,050.
Among the highlights are a pair of portraits of David Bowie, taken in Monte Carlo in 1983, shot for Vogue magazine before the star achieved new levels of success with the release of Let's Dance.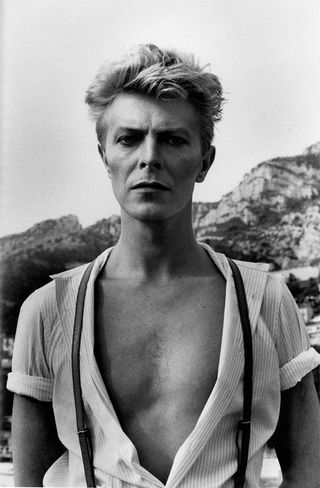 Other subjects of the collection include supermodels Jerry Hall and Winnie Holman, fashion designer Karl Lagerfeld, and the iconic shot of model-turned-jewelry designer and philanthropist, 'Elsa Peretti in Bunny Costume'.
As you might imagine, the black and white photographs are not only marvels in terms of technique and execution, they are also charged with eroticism as well as bold depictions of femininity.
Included in the collection is 'Rue Aubriot', portraying frequent Newton collaborator Vibeke Knudsen standing alone in the Parisian street where the photographer lived for 14 years.
The androgynous actress is styled in the signature Yves Saint Laurent look of the Seventies, lit entirely by the street lamps in the style of Newton's photographic hero, Brassaï.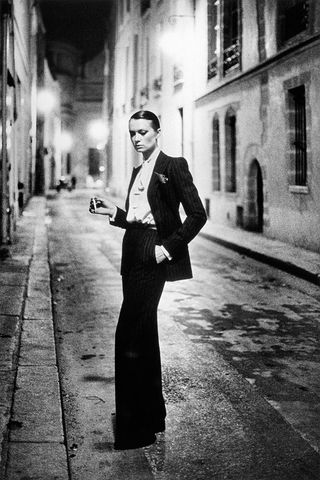 'Winnie on Deck (Cruising from behind)', meanwhile, represents Newton's more overt nature, depicting Holman as a sailor while the ship's captain strikes an exaggerated and sexualized pose behind her.
In addition to these images by Helmut Newton, the Vanity collection also showcases work by artists such as celebrity photographer Douglas Kirkland and narrative oil painter Will Rochfort.
The collection is free to view and is open until 12 August at Box Galleries on King's Road in Chelsea, London. The venue will be hosting special late night viewings until 9pm on 20 and 27 June, and on 11 and 25 July.
Read more:
100 best photography quotes from famous photographers
25 best movies about real photographers
20 famous photographers you must follow on Twitter