This Amazon Prime Big Deal Days camera offer is so good, I had to check three times to make sure it's right: £500 off the Panasonic Lumix S5 II with a lens!
You read that right: half a grand off a camera that only came out in January. And it's a bloody good camera, too! And it comes with a lens! A Panasonic S5 II with 20-60mm for just £1,759 – it's unbelievable.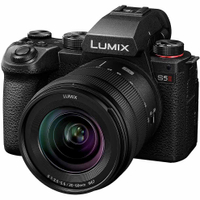 Panasonic Lumix S5 II + 20-60mm f/3.5-5.6|£2,349|£1,759
SAVE £590 – Amazon Prime Deal The Lumix S5 II is a full-frame mirrorless camera with a big filmmaking pedigree. It's built around a 24.2MP CMOS sensor, boasts phase hybrid AF, cinema 4K 60p and 6K 30p – and it's no stills slouch either. It's not surprising we gave it five stars!
The Panasonic Lumix S5 II is already an incredible bang-for-buck full frame camera, even without this wild saving!
It's the first Panasonic camera with phase detect autofocus, its 24.2MP sensor delivers 6K 30p or 4K 60p video, 30fps burst shooting, dual native ISO, 4:2:2 10-bit recording, dual memory card slots… and did I mention it's half a grand off, including a lens?
Take a look at the best Panasonic cameras, along with the best L-Mount lenses for full frame bodies and the best Micro Four Thirds lenses for the smaller cameras.