Parrot has teased that it is announcing a new drone on June 30 - but what will it be?
In recent years it's become all too easy to see the world of drones as belonging to DJI, but once, not so long ago, the Chinese firm were a competitor making their way into a niche effectively created by French company Parrot, who's nylon and carbon fibre AR.Drone was one of the most eyecatching devices at CES 2010.
Of course, ten years ago the idea of an iPhone-controlled hovering toy was a total surprise in a world only just coming to terms with 3rd party apps, and in the years since Parrot kept very visible by continuing to court the toy distribution market.
The firm also acquired significant shares in SenseFly and Pix4D, firms devoted to automated data gathering, which goes some way to explaining the abilities of the newer drones from Parrot – and Bebop, Bebop 2, and a fixed-wing "Disco FPV" – which were able to make some use of the features of these apps.
Parrot kept well connected to the consumer electronics toy space too, with a successful series of Bluetooth controlled MiniDrones which, if anything, were too competitively priced, hitting an awkward note between cheaper poor-quality toys and a growing market of larger high quality photographic drones of which Parrot were only one competitor. Nevertheless, with so many fun products, Parrot remains the brand name many drone operators saw.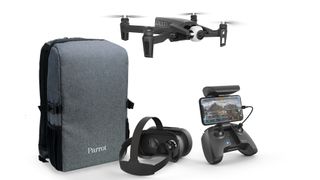 Just when it looked like Parrot were out of the game, the Anafi was announced in July 2018, a folding drone with 21-megapixel camera, 4K HDR video and motorized stabilisation on the camera which put the name right back on people's decision lists just when it seems the DJI Mavic was the only drone anyone would ever buy again.
Since mid 2018, though, we've not really seen an all-new drone from Parrot, so is it finally time and, if so, why such an odd teaser? The Anafi airframe has been relaunched as Parrot Anafi FPV, Anafi Thermal, and Anafi USA. The latter might seem a cynical attempt to trick a famously xenophobic government services department which likes to 'Buy American' into choosing a French drone (arguably, it is) but it has involved moving assembly to the US.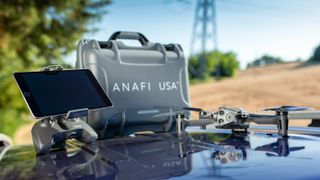 The question now is what we should be expecting from Parrot at their upcoming announcement. For Anafi USA enthusiasts, the date itself might seem significant; it follows that drone's launch by exactly a year. The real question is what we're expecting tomorrow, and if anything can be deduced from the teaser on Parrot's site.
What's expected from Parrot in 2021?
Parrot tell us they're revealing "the new drone for what really matters," which – looking across the market – means photography. Secondary interpretations are more unique to Parrot – mapping, or emergency service work – but these seem more likely to be follow ups.
The firm is not shy about bringing a new communication standard, nor using the words 'new drone', which means we can also probably expect to see new controllers. It'll be interesting to see whether Parrot persist with support for mini tablets, shift to phones, build in a screen, or begin to offer choice in this area.
The answer to that might come from the next line of the teaser, which reads "Full open-source app," the implication not only being that the portable devices we know and love will be involved in the control systems, but that Parrot will not be forgetting their aerial data collection market. Indeed Parrot's whole enterprise market will no doubt be pleased by the prospect of adding their own features.
In terms of features Parrot also list "Autonomous Photogrammetry" – the ability to create accurate maps from aerial photography. What's especially interesting for professionals in the trade is the idea of AutoGCP (Ground Control Points); a new module of the Pix4Dengine which can, some say, reduce the need for marking the real ground with physical markers when mapping.
Finally Parrot mention New Cyber Security. The latter is a broad term, but in 2020 Parrot partnered with WISeKey, a security company who provide technology which meets US NIST standards which suggests Parrot are still keen to pursue American government customers (as well as others with similar security criteria).
What have we seen so far?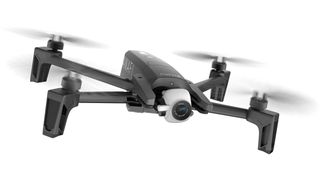 Parrot have managed to show a lot and a little at once, with a photo which appears to be an overhead view of a white drone fuselage, which is also a battery, and two propellors, yet somehow we see no camera or very few other details. A closer look shows a slight angle on the propellor arms which is very reminiscent of the original Anafi, though the glossy white look is a change. With that in mind, it seems likely a new battery will be included with Parrot's new drone.
Disappointingly the propellors appear to be connected by screws. This is an area we've seen DJI go back and forth on recently for patent reasons, so it's understandable that Parrot aren't getting involved. The shape of the battery in the teaser, with nothing surrounding it (but perhaps something beneath it) is also exactly what we'd see of the Anafi from the same angle, but that's not really an problem; DJI used very similar form factors for a long time. What definitely isn't visible from the image is any forward or downward facing sensing equipment or the camera module.
What Parrot thinks Doesn't Matter?
Given their phrasing, "the new drone for what really matters," it's difficult to stop wondering what Parrot thinks does matter. In the past they were ahead of the game in terms of megapixels, which are still key for mapping. Other than the toy drones, Parrot didn't aim for a lightweight A1 category drone, and it seems unlikely that'll change. With that in mind, it seems predicting a similar 600g weight and battery life of around 30 minutes is safe based on the shape.
On the other hand, Parrot have never shown any real inclination to include collision sensing equipment – certainly not to the same extent that DJI have. Yet suggesting that robotic levels of autonomy are likely to be on offer rather implies the drone will have the ability to sense its surroundings. The question is how Parrot can square this circle, and the more likely scenario (based on industry trends) is to add collision sensors at the front and ensure programmed flights are 'forward'. That's despite the fact a quadcopter only really has a 'front' by virtue of the fact there is a camera mounted somewhere.
Which brings me to the last, but not least, question for DCW readers; what kind of change will be seen – if any – in the camera. In the past Parrot have not been afraid of using software to side-step the need for hardware, so perhaps we'll see a fully stabilized camera this time (the image does seem to show a different central fuselage design than the Anafi). Resolution will be important, but with so many mapping clients, I'd expect a relatively narrow fixed aperture for sharp images. Finally, given Parrot's efficiency when it comes to design re-use, I'm sure it'll be possible (for them, at least) to add different cameras to the same fuselage.
The announcement is due at 10am Eastern Standard Tim (3pm BST), 30 June 2021.
Read more:
Best drones
Best drones for beginners
Best drones for kids
Best indoor drones
Best underwater drones