Professional photographer Jeff Cable has revealed the camera kit he's taken to Tokyo to cover the 2020 Olympic Games (yes, that's still the name!).
As a seven-time veteran of the Olympics, covering the Games for Team USA and the US Olympic Committee, Cable is better qualified than almost anyone when it comes to assessing the best professional cameras (opens in new tab), so to get a glimpse into his camera bag gives a real insight into what a working pro at the highest level relies on to get the job done.
Thanks to Jeff's brilliant blog (opens in new tab), that's exactly what we've been privileged enough to see. And what's most fascinating about this insight is that this is the first time that he is relying almost entirely on mirrorless kit, with a DSLR used solely as a backup body.
"This is the first Olympics where I will be relying almost solely on Canon's mirrorless cameras, which meant a totally different lens selection than in the past."
So exactly what's in his bag? Let's take a look…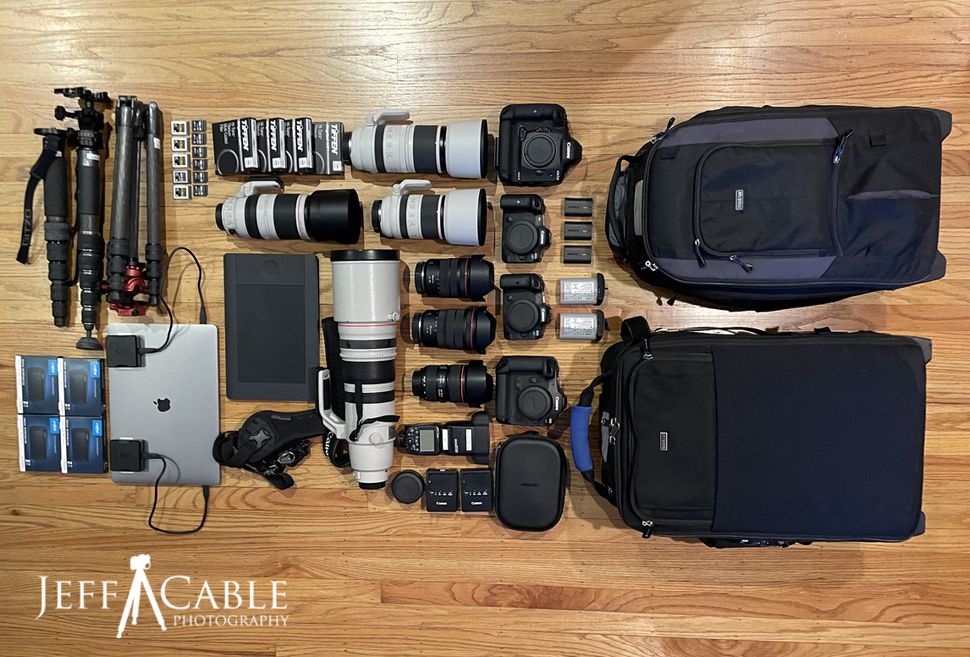 Cable is shooting with the brand new Canon EOS R3 (opens in new tab) (pre-production), Canon EOS R5 (opens in new tab) (x2) and Canon EOS-1D X Mark III (opens in new tab) bodies. As noted, however, the latter – despite being Canon's flagship sports camera – is serving strictly as a bench warmer.
"I am bringing my Canon 1DX Mark III and the Canon 100-400mm lens as my 'backup' camera setup," Cable wrote (opens in new tab). "I am not sure how much I will use that, but since I am so familiar with that setup, I thought it best to have with me for comfort. I do have a couple of the Canon EF to RF adaptors so that I can mount the 200-400 and 100-400 on the mirrorless bodies," along with the Canon EF 8-15mm fisheye.
In terms of mirrorless glass, interestingly he has only packed two of the three 'trinity' lenses – and has opted for superzoom and the RF kit lens instead of the Canon RF 24-70mm f/2.8L IS USM (opens in new tab) that many would have expected.
"I am also taking the new Canon RF 70-200mm 2.8 (opens in new tab) and Canon RF 100-500mm (opens in new tab) lenses which should come in handy for many of the other sports. I decided to bring the new Canon RF 15-35mm (opens in new tab) lens for my wide shots and the Canon RF 24-105mm (opens in new tab) lens for anything in between.
To see what non-camera kit Cable took with him – including which memory cards (opens in new tab), card readers (opens in new tab), monopods (opens in new tab), camera straps (opens in new tab) and UV filters (opens in new tab) he chose – make sure to check out the full blog post (opens in new tab).
Read more:
Canon EOS R5 review (opens in new tab)
Canon EOS-1D X Mark III review (opens in new tab)
Canon RF 15-35mm review (opens in new tab)
Canon RF 24-70mm f/2.8L IS USM review (opens in new tab)
Canon RF 70-200mm 2.8 review (opens in new tab)
Canon RF 24-105mm review (opens in new tab)
Canon RF 100-500mm review (opens in new tab)