In a week where two very different trinity lenses were announced by the two leading camera brands, Sony has stated its belief that "the professional photographer is quite conservative" in discussing its traditional 300mm f/2.8 lens design.
Less than a week ago the groundbreaking Canon RF 24-105mm f/2.8L IS USM Z was revealed – a lens that I called a "trinity buster" for its revolutionary approach to the predictable f/2.8 zoom lens range. Yesterday Sony launched its much-anticipated Sony FE 300mm f/2.8 GM OSS (alongside the Sony A9 III) – completing its lineup of trinity telephoto lenses.
Two brilliant lenses, and two very different tacks. Canon set out to break the mold, while Sony set out to fill a longstanding gap in its lineup – one that has existed since Sony's A-Mount version, released in 2008. Indeed, even Sony shooter and multi-award-winning sports photographer Bob Martin called it "the missing link in Sony's telephoto lineup."
At the launch event in Turkey, we were given the opportunity to quiz Sony execs and engineers. We didn't get an answer to the question of why the 300mm f/2.8 had taken so long to arrive, but we did receive a response when asked a follow-up question of why the lens wasn't more daring. Could Sony have done something more than offer a traditional 300mm prime – try something different, push the optical design, add a built-in teleconverter?
"That's a good question," said Yann Salmon-Legagneur, head of marketing for Sony Europe. "In general, the thing is, I think the photographer is quite conservative, and we mean the professional photographer is quite conservative. So it's always a balance between innovation and the traditional approach in a lens lineup.
"And you can see that some lenses – I think it was the 20-70 [the Sony FE 20-70mm f/4 G] – that we did have some different approach that hasn't been done. But the priority on this lens, on this particular lens, is really to provide the top of the quality in terms of focusing and resolution for pro photographers. So here, on this particular lens, no off-piste."
It's an interesting position. There's definitely something to be said, after such a long wait, for a 300mm f/2.8 lens with more bells and whistles – whether that's a teleconverter or a slightly quirky focal length or whatever else. But then again, that's not delivering the lens that photographers have had such a long wait for.
As much as I love Canon's boundary-pushing pro lenses that do buck convention, whether it's the Canon RF 28-70mm f/2 or that new RF 25-105mm f/2.8, I've no idea how well they actually sell. Maybe they're just prestige optics. Maybe not enough people want them. Maybe they don't justify their R&D cost.
At the end of the day, pro shooters don't want cool stuff – they want what they need. And what they need, in this case, is a standard issue 300mm f/2.8. It's certainly interesting, though, to hear Sony spell things out so clearly.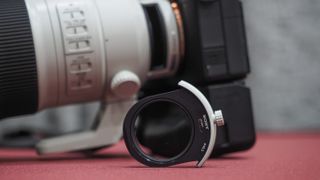 Take a look at the best Sony lenses, and see how the new 300mm f/2.8 compares with the best Sony telephoto lenses and the best telephoto lenses from all brands. If you're looking for seasonal savings, check out the best Sony Black Friday deals and the best Black Friday camera deals overall.