Nikon has announced the winners of its 50th Nikon Photo Contest at a ceremony in the bustling Shibuya district of Tokyo (famous for its 'Scramble Crossing') attended by Digital Camera World.
The overall 'Grand Prize' winner was selected from the five 'Gold Prize' awards given to the themes of 'Change' and 'Identity' (open exclusively to younger 'Next Generation' photographers), with those these subdivided into single image and series categories, plus a short film category with the theme 'Hope'.
Each Gold Award winner took home their choice of a Nikon D850 DSLR or Nikon Z 7 mirrorless and matching 24-70mm lens, with the overall winner also receiving a cash prize of ¥500,000 (£3,875, $4,745).
In all there were 97,369 entries from 33,000 individual photographers, hailing from 170 countries, but there could only be one winner, and the gong went to Sara De Antonio Feu, for her image Ayimpoka, chronicling the plight of a young girl afflicted with albinism in Ghana, and the persecution she suffers over her condition.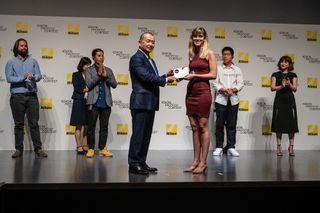 The Gold Award winners
The shortlisted Gold Award winners were:
The winners were selected by an independent international 12-strong panel of judges, led by world-renowned art director Neville Brody, who reprised his role as lead judge from the previous year.
Reflecting on this year's Nikon Photo Contest, Neville Brody said:
"This competition asks a lot of questions, including 'What is the role of photography in the future?'. Photography changes our lives. It's everywhere we look, and these days our world is seen more in images than words. It's an international language that influences the way we are as people and as a society, and can only become more significant. The variety of imagery that has made it through to the awards – the narratives, the connections, and the surprises – will inspire a fascinating debate about the world we live in and how we view it."
Winners of the gold, silver, and bronze awards for each category were selected using a variety of criteria, including their suitability to the category's theme, the strength of the message, and the level of creativity. In addition to the five gold awards, one submission received the Participants' Choice prize and another special prize was awarded to celebrate the 50th anniversary of the Nikon Photo Contest. In total, 47 awards were given.
You can see the all the award-winning images here.
Read more