Over the last 90 years, humanity has been through a lot – and Nikon's Nikkor lenses have been there to capture the vast majority of it.
Nikkor began in 1932 when Nikon Corporation, known then as Nippon Kogaku KK, registered the Nikkor trademark. A year later, the release of Aero-Nikkor aerial photographic lenses started the 90-year production of optical instruments. The Nikkor brand has subsequently grown and is renowned globally for delivering the highest performance on the best Nikon cameras.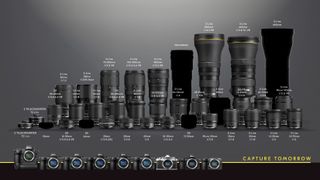 To celebrate the anniversary, Nikon aims to increase awareness of the Nikkor brand through several promotions. A new logo has been designed for the occasion, noting the 90 years of Nikkor, surrounded by silhouettes of 18 standout lenses that helped put the brand on the map.
Inscribed within the ring of lenses is a new message, 'A Story in Every Lens'. According to Nikon, "this phrase expresses the unique characteristics and thoughtful dedication found in all Nikkor lenses, as well as their power to capture precious moments while preserving history and telling stories that resonate with people's hearts."
Nikon will add to the promotions of the Nikkor brand by releasing a number of videos highlighting its value and influence, as well as the history of its lenses.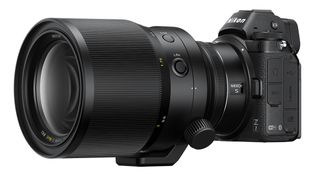 The lenses have been used to capture innumerable historical events over the past 90 years. In 1963, the Zoom-Nikkor Auto 43-86mm f/3.5 was the first standard zoom lens to offer practical performance, and was featured often in Life magazine.
The lenses also played a part in NASA's space missions. In 1971 Nikkor glass was employed on the Apollo 15 mission, and in 2009 the Nikon D3S coupled with the AF-S Nikkor 14-24mm f/2.8G ED lens was ordered to document activities at the International Space Station.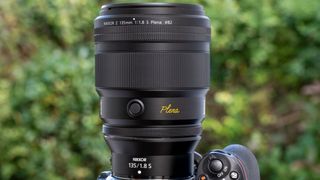 Nikon has continued to push the limits of the Nikkor line with the advent of the Z mount, which boasts the largest diameter mount among full-frame mirrorless cameras – enabling a "new dimension in optical performance" for Nikon. In 2019 the Nikkor Z 58mm f/0.95 S Noct, the flagship among Z lenses, achieved the milestone of being the fastest lens in Nikon history with an aperture of f/0.95.
Nikon remains among the top camera and lens manufacturers, and the transition into mirrorless has enabled it to continue innovating and manufacturing specialized lenses – its latest signature lens, the Nikkor Z 135mm f/1.8 S Plena, being the most recent example.
For any company to remain so dominant over 90 years is a triumph, but it is even more impressive within the fast-paced and ever-changing landscape of technology. Congratulations, Nikon, and happy birthday, Nikkor!
For the best optics for your Nikon body, take a look at the best lenses for the Nikon Z fc along with the best lenses for Nikon Z7 II and best lenses for Nikon Z9 and Z8.