The Nikon Z 135mm f/1.8 S Plena has a tough act to follow. We were highly impressed when we reviewed the Nikon Z 85mm f/1.2 S, but the Plena sets out to take everything to a whole new level. Naturally, it doesn't have such a fast aperture rating (which would be impractical) but the longer focal length still enables a really tight depth of field. We love the way the Plena is perfectly suited to tight head-and-shoulders portraiture but it's equally epic for still-life photography and pretty much any time you want to compress perspective with a medium telephoto focal length, while isolating the main subject within a scene by blurring its surroundings.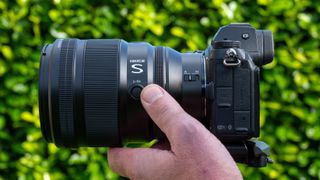 Nikon Z 135mm f/1.8 S Plena: Specifications
Mount: Nikon Z
Full-frame: Yes
Autofocus: Yes
Stabilization: No
Lens construction: 16 elements in 14 groups
Angle of view: 18.2 degrees
Diaphragm blades: 11
Minimum aperture: f/16
Minimum focusing distance: 0.82m / 2.69ft
Maximum magnification ratio: 0.2x
Filter size: 82mm
Dimensions: 98 x 139.5mm / 3.9 x 5.5in
Weight: 995g / 2.2lb
Nikon Z 135mm f/1.8 S Plena: Key features
As we'll come to later, the performance of the Plena is absolutely top-drawer. That's thanks to an impeccable design that puts great glass at the top of the features list. The optical path incorporates 16 elements in total and includes four ED (Extra-low Dispersion) elements, one aspherical element and one SR (Short-wavelength Refractive) element. Nikon's ED glass has long been renowned for delivering excellent sharpness, contrast and color accuracy, even at wide apertures, while reducing chromatic aberrations. The newer SR glass further reduces chromatic aberration at the blue end of the spectrum, while the use of an aspheric element can also reduce aberrations as well as the physical size of a lens.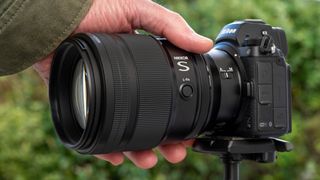 Building on the quality of the glass itself, the lens features ARNEO coating which is particularly effective at minimizing ghosting and flare, as well as Meso Amorphic Coat, which is even more effective at minimizing reflections from light entering the lens from just about any angle.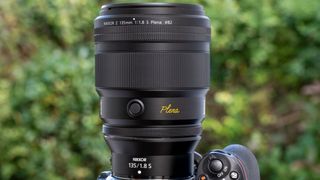 The overall design aims for scintillating levels of sharpness, across the whole frame, along with beautiful bokeh, which we'll come back to later. A particularly well-rounded 11-blade aperture diaphragm helps to maintain top quality bokeh when stopping down.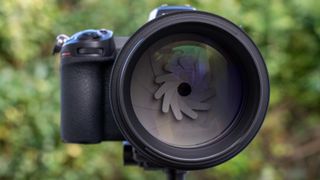 Nikon Z 135mm f/1.8 S Plena: Build and handling
As we've come to expect from Nikon's S-line lenses for its Z-system cameras, build quality feels robust and solid. For a full-frame compatible lens that combines a 135mm telephoto focal length with a fast f/1.8 aperture, it's not overly large and squeaks in at just under a kilogram. As such, handling feels comfortable and assured, even for lengthy periods of handheld shooting.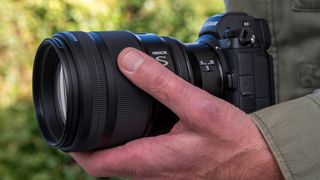 Although the autofocus system is fast and ultra-precise, there's a wide manual focus ring, if you prefer to be in control. As usual with Nikon Z lenses, you can customize the action of this to take on other functions while in autofocus mode, or to enable the usual full-time manual override. A secondary control ring is also on hand, which is useful for stepless aperture control when shooting video, or for adjusting the likes of exposure compensation or ISO.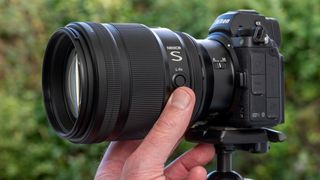 Given the suitability of the lens for portraiture, there's a customizable L-fn (Lens-function) button which is duplicated, so that it neatly falls under the thumb in either landscape or portrait orientation shooting. Typical uses include AF-On and AF-Hold.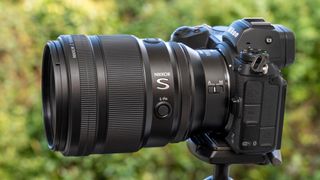 The combination of focal length and aperture can only result in a large front element and, sure enough, the lens has a large 82mm filter attachment thread. Even so, that's no larger than you'll often find in standard and telephoto f/2.8 trinity zooms.
Nikon Z 135mm f/1.8 S Plena: Performance
The proof of the pudding is in the eating or, in this case, the seeing. While the features, specifications, build quality and handling of the Plena are all very impressive in their own right, everything comes together to make this lens more than the sum of its parts. True to its claims, autofocus is fast and incredibly accurate, although it does slow down in really tricky conditions like with very low-contrast scenes or extreme close-ups, ensuring that it really hits the spot with excellent reliability.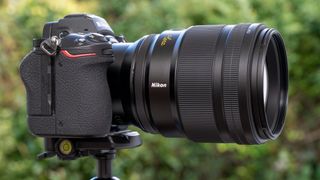 Fast glass can be somewhat notorious for being less than sharp, especially at the widest aperture and towards the edges and corners of the frame. The Plena dispels any such concerns with spectacular sharpness and contrast across the entire image frame, even at f/1.8. Sharpness gets even better if you stop down a little. Longitudinal or 'axial' chromatic aberration is another common problem with fast lenses but the Plena excels here as well, with negligible color fringing around high-contrast edges just in front of or behind the plane of focus.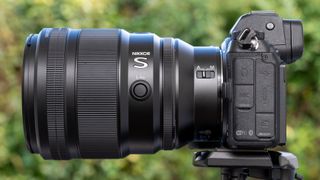 Naturally, it's not just about sharpness. For this type of lens in particular, the quality of bokeh can be even more important as far as discerning photographers are concerned. And that's where the Plena comes into its own. The smooth silkiness of bokeh is absolutely gorgeous, with a really natural-looking roll-off in the transition between focused and defocused areas. But that's not all. Bokeh discs (typically caused by defocused small areas of light) are completely devoid of the dreaded onion-ring effect, and remain amazingly well-rounded even out towards the edges and corners of the frame, rather than taking on the more common cats-eye shape in appearance. Bokeh discs also have a fairly soft outline, despite the lens lacking an apodization filter, as featured in some lenses that are built for bokeh. And yes, the 11-blade aperture really does help to keep a nicely rounded shape for bokeh discs when stopping down a little.
Nikon Z 135mm f/1.8 S Plena: Sample images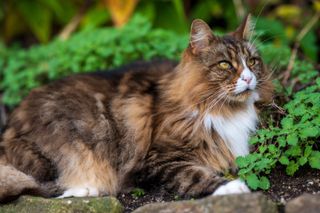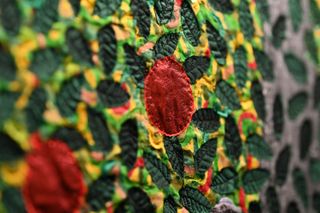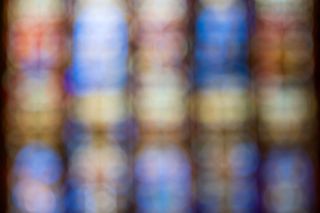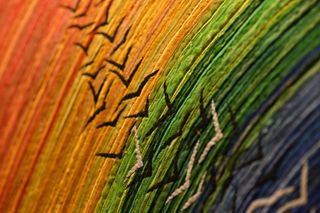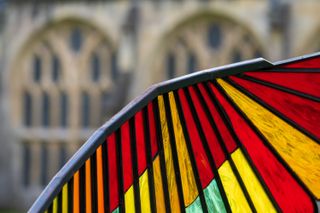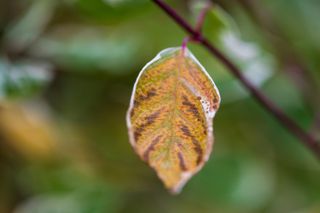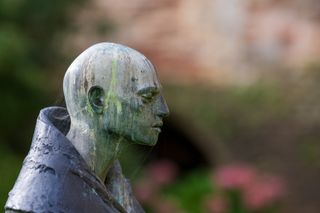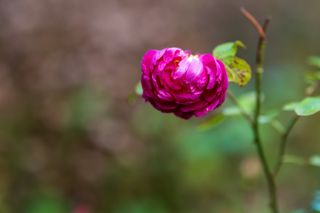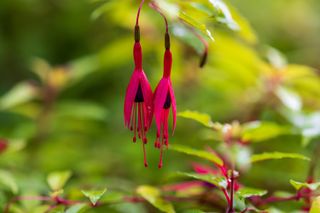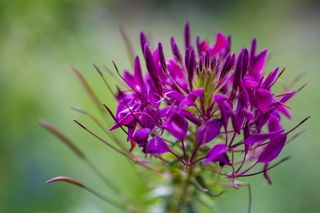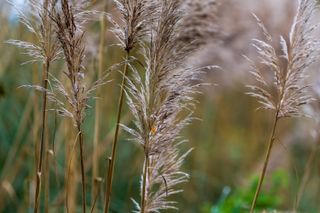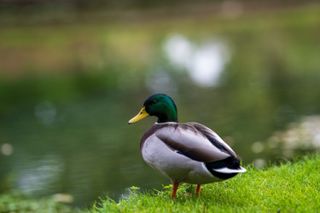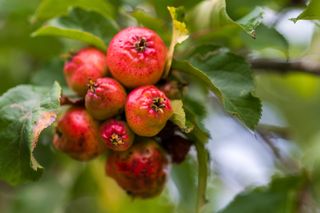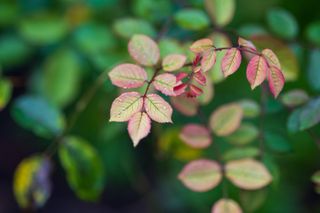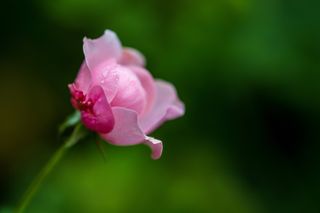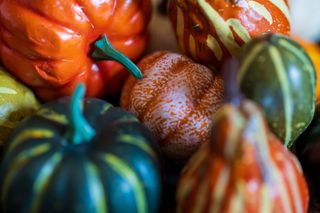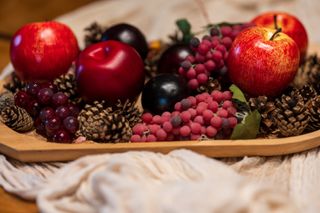 Nikon Z 135mm f/1.8 S Plena: Lab results
We run a range of lab tests under controlled conditions, using the Imatest Master testing suite. Photos of test charts are taken across the range of apertures and zooms (where available), then analyzed for sharpness, distortion and chromatic aberrations.

We use Imatest SFR (spatial frequency response) charts and analysis software to plot lens resolution at the center of the image frame, corners and mid-point distances, across the range of aperture settings and, with zoom lenses, at four different focal lengths. The tests also measure distortion and color fringing (chromatic aberration).

Sharpness: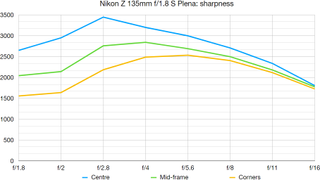 It's a testament to the Plena's design that wide-open sharpness is so excellent right across the entire image frame. Stop down to between apertures between f/2.8 and f/11 and the lens is scary-sharp from edge to edge and corner to corner.

Fringing: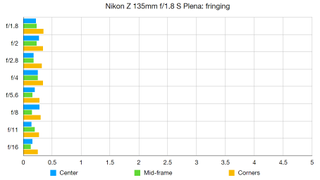 There's remarkably little axial chromatic aberration, even wide-open at f/1.8, while lateral chromatic aberration (more commonly noticeable towards the edges and corners of the frame) is also extremely minimal. And that's without any automatic correction being applied.

Distortion: 1.01
There's a slight touch of pincushion distortion but it's of such a low order that you'll generally not notice it in real-world shooting, compared with taking shots of test charts. Either way, automatic in-camera correction is available.
Nikon Z 135mm f/1.8 S Plena: Verdict
The Collins English Dictionary gives one definition of the word Plena as 'the condition or quality of being full'. This NIKKOR lens is certainly full of goodness. It's packed with top-quality glass, high-tech coatings, a super-fast autofocus system and a really well-rounded 11-blade diaphragm. Build quality is robust and handling is refined. The clincher is that it delivers absolutely exquisite image quality, making it one of the best NIKKOR lenses of all time, and one of my personal favorites.