Watch the Fujifilm X-Summit today – live announcement of new camera & lenses
Fujifilm's first X-Summit event held in New York is today – watch it with us LIVE below and get the camera news as it happens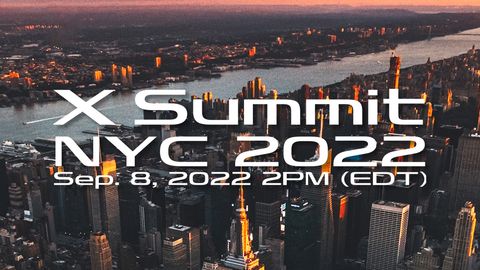 (Image: © Fujfiilm/Bryan Minear)
Fujifilm's second X-Summit of 2022 takes place today, and we are here to bring you all the news as it happens. We've just heard about the brand new Fujifilm X-H2, which is everything we hoped for and more, plus a new GF56mm f/1.2 and GFX 20-35mm f/4 zoom. Plus we get a peak of two tilt-shift lenses for the GFX medium format cameras that will launch in 2023.
The Fujifilm X system has seen some fantastic flagship APS-C cameras since its launch 10 years ago, and the best Fujifilm cameras offer specs to suit many types of photographers.
At the last X-Summit just four months ago, the company announced the incredible Fujifilm X-H2S – but also promised that at the next summit it would be announcing a sister camera with a record-breaking 40-megapixel camera – to be called the Fujifilm X-H2. And now it's here (or it will be at the end of September).
Here are links to all the key news and stories from today's event:
• Fujifilm X-H2 tears up APS-C camera rule-book
• Hands-on: Fujifilm X-H2 review
• Fujinon XF56mmF1.2 R WR gets a makeover
• This is the widest Fujinon lens yet for Fujifilm GFX medium format cameras
Today's Fujifilm X Summit took place in New York at 2PM Eastern Daylight Time (EDT)/ 6PM GMT (7pm BST). The whole presentation was shown live on Fujifilm's YouTube channel – you can also watch it via the link below! The main presentation is over, but you can see how the information was revealed in real time below, along with our live commentary.
Why you can trust our Fujifilm coverage
Why you can trust our Fujifilm coverage
Rod has been writing about photography and digital cameras since they first appeared, and has used and reviewed practically every interchangeable lens camera launched in the past 20 years. Rod has reported from many Fujifilm X-Summit events, thinks the Fujifilm X30 is the best compact camera ever and has several Fujifilm camera bodies in his own collection.
Refresh
With the Fujifilm X-Summit just hours away, it's worth reflecting on just how much Fujifilm has done to strengthen two key camera formats: APS-C and medium format. Its APS-C X-mount cameras have restored the professional prestige of a format that's long been treated by camera makers as a kind of secondary 'compensation' format for photographers who can't stretch to a full frame system, while Fujifilm's GFX cameras have modernised the medium format concept and made it affordable too.
Alone amongst camera makers, Fujifilm has sidestepped full frame altogether in favor of two formats which it considers faster and more portable, or simply better. History will decide if Fujifilm was right, but it's given fans of both formats camera systems that it, and they, can be proud of.
If Fujifilm does announce a 40MP X-H2 at the X-Summit, let's just think what that means. First, it leaves Canon's 32.5MP sensor in the dust, as used by the Canon EOS R7, EOS M6 II and EOS 90D. Second, it will leave it nipping at the heels of high-resolution full frame cameras like the Nikon Z7 II, Panasonic Lumix S1R and Canon EOS R5. Yes, it's a smaller format sensor, but still...
With just a few minutes to go now until the start of the Fujifilm X-Summit NYC 2022, the wait will soon be over!
Reading the comments on YouTube, there's some pretty wild theories going on there! We'll find out for sure in just a couple of minutes ;-)
The intros have started... it's go go go!
Yugi Igarashi presenting, talking about the accolades and testimonials for the X-H2s.
The XF150-600mm has been selling strongly, just like the X-H2S, and Fujifilm is increasing production to cut waiting times. And now...
X-Trans CMOS HR with 40MP and the Fujifilm X-H2!
So the 40MP X-H2 is official, and Fujifilm is claiming image quality beyond the realms of the APS-C format. The body looks a lot like the X-H2S – a LOT like it.
The world's finest pixel pitch. An APS-C sensor that can express the finest details. The highest resolution APS-C sensor in the world.
7728 x 5125 pixels!
And that means... the X-H2 can shoot 8K video. That was always the rumor, but at last it's confirmed.
We're watching a pretty compelling size and resolution demonstration, and Fujifilm is saying if even 40MP isn't enough... get a GFX! It has a point.
8K 30p 4:2:2 10-bit internal recording, Apple ProRes supported, but no talk of 8K 60p. But you can record RAW via HDMI.
A pro photog is telling us how impressive the X-H2 resolution is, and he's ready to compare it to the GFX system – I'm guessing the GFX 50S II, not the GFX 100S. Still, Fujifilm has done a neat job of closing the gap between APS-C and medium format – in the Fujifilm world, there's no room left for full frame!
So as well as 40MP and 8K video we also get IBIS and 160MP multi-shot! This shifts the sensor by half a pixel between shots to get full RGB color data and 160MP images. It seems like an embarrassment of riches on a camera with this level of native resolution, but everyone is doing it now, so why not Fujfilm?
It uses the electronic shutter to minimize camera shake, and from the demo it looks like it takes a few seconds and records 20 images which must be combined with Pixel Shift Combiner software – so not in-camera?
Fujifilm is also claiming the X-Trans CMOS 5 HR sensor offers low noise and high dynamic range, and has F-Log and F-Log2 for video.
And what's this... a maximum electronic shutter speed of a crazy 1/180,000sec compared to the current 1/32,000 sec. Now I need to do some maths, but will there every be light bright enough?
So now there's more, beyond the sensor tech. The X-H2 shares the same platform as the X-H2S, including design, controls and interface – so that's why it looked so similar to the X-H2S at the start!
OK, so now there are some new lenses...
So. the XF18mm f/1.4 already announced was designed with the higher resolution sensor in mind, as was the XF23mm f/1.4 and XF33mm f/1.4. Nothing new yet, just a bit of context.
So now?
It's a new XF56mm f/1.2 R WR. So that's an updated replacement, the, rather than a new lens as such. On the APS-C format, that's a classic 'portrait' focal length.
The new Type II lens has been designed for more sharpness with 13 lens elements rather than the original's 11.
The focus group weight 3x more than the original so needed a new higher powered AF actuator. Fujifilm has also concentrated on bokeh alongside sharpness, designing bokeh without 'color bleeding'.
Fujifilm has also shortened the focus distance to make this lens useful for more than just portraiture to reflect what people were actually using it for – the new lens has a minimum focus distance of just 50cm – and the optical configuration has been developed with close focusing in mind.
Now we're hearing from a street photographer who uses this lens for shallow depth of field – quite a departure from the usual 35mm equivalent focal length for street shooters. Everyone has their own style. This guy likes the size, the subject separation and the new weather resistance!
OK, so now it looks like we're heading into some GFX news with Fujifilm's Global and Regional Grant Awards.
Now there's going to be a "second chapter" with the GFX Challenge Grant Program 2022. The application period starts today and ends November 30. Visit fujifilm-x.com.
And now some GFX news...
So the GF20-35mm zoom, already on the GFX lens roadmap, is officially announced, with a 108° maximum angle of view. Quick mental maths... that's roughly equivalent to a 16-28mm, right? That's preeeettty wide for medium format!
It's only 725g, which is pretty impressive for a constant f/4 medium format ultra-wide lens. It uses a double-cam design to achieve its small size. Not only that, it has an internal zoom, reducing the risk of giving it an expensive whack on walls and doorways. We know, we've done it.
The X-H2 will be available at the end of September for $1,999, and with the XF16-80mm for $2,499. The XF56mm f/1.2 will also be available at the end of September for $999.
And now we're going live to the X Summit 2022 at New York... and I can see our esteemed Content Director Chris George three rows from the front. Hi, Chris! (waves)
So while we watch the live show, let's just digest a couple of key facts from the recorded presentation.
The Fujifilm X-H2 and its 40MP sensor is pretty much what we expected, and the 8K video too. Shame it's not 60p, but come on, let's not get greedy!
The key takeaway for me, though, is the price – $1,999! That is pretty amazing. Let's just have a quick reality check here. This is a 40MP camera shooting 8K video for less than $2,000. So it's not a full frame sensor, true, but in terms of RAW specs, that undercuts comparable full frame rivals by a mile.
The panelists are full of praise for the X-H2 (no surprises there) but there are some interesting comments from YouTube viewers.
Grahm Doughty notes the X-H2s is great for video yet missing features that seem easy to implement. Will we ever get shutter angle? False color or waveforms? Or tap-on-subject/object tracking in video?
Some good points there. Neither the X-H2S nor the X-H2, for all their video capabilities, go all-out for filmmakers and cinematographers. They are still firmly hybrid cameras.
How long will it be, I wonder, before Fujifilm goes full on at the cine camera market?
Right now, the X Summit live panel show is taking questions from the audience. The main news announcements are over, so I'm going to hand the baton to my colleague Chris George, who is live in New York with the full story on the X-H2, what it's like to use and how it compares. I'll put links at the end of the intro to this live reports.
So thanks for tuning in to this Fujifilm X Summit 2022 live report – it's been a blast!
No - it is not all over. Not just one more thing - but two more things. We see two new Tilt-Shift lenses for the GFX camera system. We were promised one in the roadmap - but we now know two are coming – 30mm f/5.6 (the ideal for architecture), and a 110mm f/5.6 Macro (ideal for product photography). We'll try and track down more info on them at the after party, or at Fujikana!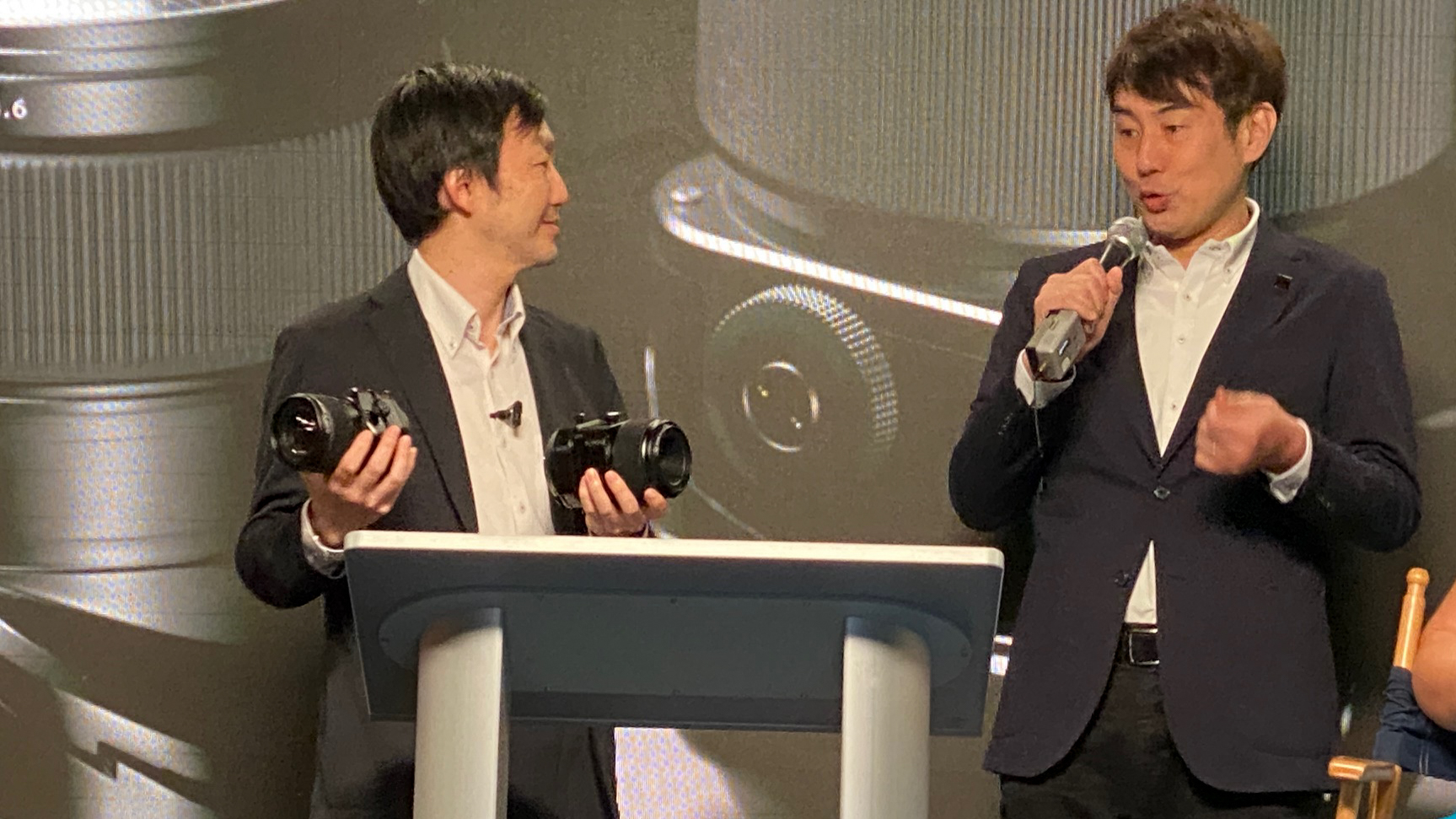 Not long until the next Fujifilm event… Fujikina 2022 is being held this Saturday September 10, which is being dubbed "the must-attend event" for all things Fujifilm. The event is also being held in New York City - this is the first time this get-together has been held outside Japan.
Fujikina – located at The Glasshouse on 12th Avenue – features talks from X - photographers, camera demonstrations and hands-on studio sessions, plus galleries from popular photographers, filmmakers, and creators.
You do need to register to attend Fujikina NYC 2022, which you can still do here if you're near New York on the day and interested in attending.
Get the Digital Camera World Newsletter
The best camera deals, reviews, product advice, and unmissable photography news, direct to your inbox!
Thank you for signing up to Digital Camera World. You will receive a verification email shortly.
There was a problem. Please refresh the page and try again.