Yes, we know it's only September, but it's never too early to start thinking about the holidays! Christmas photo cards might not be at the top of your priorities right now, but why not get them over and done with before the mania of Black Friday and Christmas really begins.
Luckily, Mixbook has recently announced its 2020 Holiday Card Collection, featuring some beautifully festive designs complete with deep burgundy reds, dark forest greens and with a sprinkling of gold foil as the cherry on the Christmas cake. And, if you were looking for an incentive to get your Christmas cards sorted now, Mixbook is currently offering 50% off all of its photo cards.
• Read more: Best photo cards
Creating a Mixbook Christmas photo card is simple and easy with its web-based creator tool. All you need to do is upload your photos and then place them on the card itself to create a unique design that your friends and family will love.
You can currently get 50% off these Christmas photo cards – but don't delay, as we don't know how long this deal will be running for!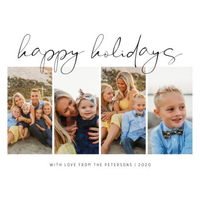 50% off Christmas photo cards
You can currently grab 50% off the Mixbook 2020 Holiday Card Collection. This is a fantastic way to do some early prep for the holidays and save a little money too!
Read more
Best photo books
Best photo printing online: top services from around the web
Best canvas print services
Best photo albums