Now you can shoot underwater down to a depth of 10m (33ft) with the Hasselblad X1D II 50c, with this custom made waterproof housing from AquaTech. Developed jointly by the two companies, it allows Hasselblad's medium format camera to go to places it's never been before.
The AquaTech Reflex Water Housing is designed to be portable yet strong. It weighs 1.6kg (3.52lbs) and uses a combination of glass filled polycarbonate construction and controls made from stainless steel, anodised aluminium and high strength plastics. The aim is to offer easy control with protection against saltwater corrosion.
The new Reflex X1D II 50C means you can get medium-format Hasselblad image quality in underwater photography, and it's been achieved while maintaining a good degree of camera control. There are two electronic shutter buttons to allow shooting in either the vertical or horizontal format, and you can activate the camera's back buttons for menu navigation and other settings.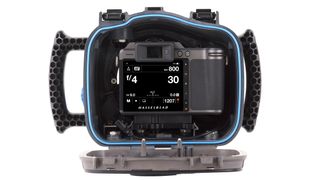 Design and features
Why you can trust Digital Camera World Our expert reviewers spend hours testing and comparing products and services so you can choose the best for you. Find out how we test.
The Reflex X1D II 50C has a hinged, sealed back for inserting the camera and is large enough to accommodate an X1D II 50c with any current XCD lens fitted. There are twin handles/grips for holding the case underwater. The case allows access to the following camera controls: Menu; AE Lock; AF Drive; Browse; Rectangle; Star; and Cross / Delete.
The case's exterior dimensions are W 210mm x L 135mm x H 190mm. In addition to the REFLEX Water Housing itself, you get the Back Plate with Controls, a Camera Plate for mounting X1D II ;a Cable Release for the Electronic Shutter and a Tool Kit.
The REFLEX Water Housing for the Hasselblad X1D II 50C will cost approximately $1695 excluding tax, or €1795 including VAT when purchased through European retailers only.
Read more:
• The best medium format cameras
• Best underwater cameras
• Best cameras for professionals
• Hasselblad X1D II 50c review
• Best Hasselblad XCD lenses